Maddon shows confidence in rookie Happ
Prospect, Heyward both slotted in Saturday's lineup before rain postponed game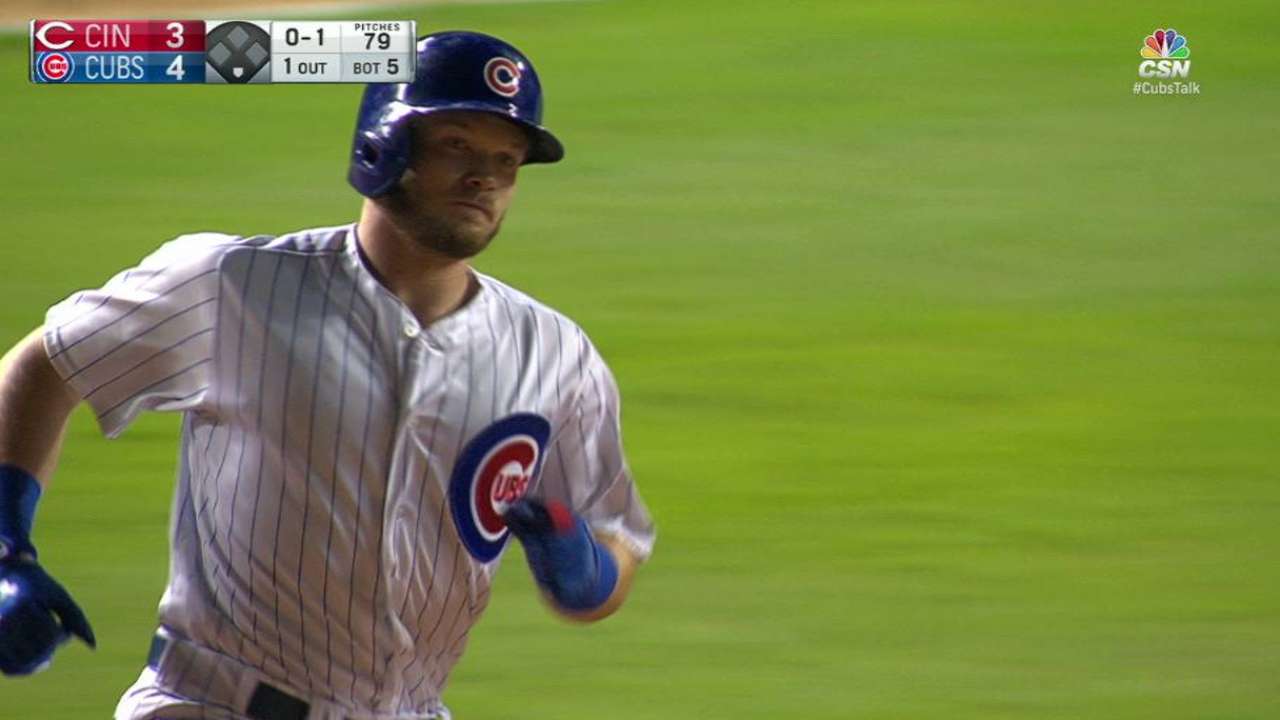 CHICAGO -- The game itself never happened, but the message was still sent.
Slotted at right field in Saturday's Cubs lineup was Jason Heyward, who is now expected to be activated Sunday for the first time since May 5 after injuring a finger on his right hand. But it wasn't his name that sent the message, but rather rookie Ian Happ's sitting one spot above.
"He's done a really good job," Cubs manager Joe Maddon said of Happ, the Cubs' No. 2 prospect according to MLBPipeline.com. "At the plate, on defense, running the bases -- he's done a really nice job."
Nice enough to stick around, at least for the time being.
With the return of Heyward imminent, Maddon had a decision to make about who he would send down. Happ might've seemed a logical choice, at least initially, but he was able to show he belonged, Maddon said, with his play on the field.
So instead, the Cubs on Saturday were likely to send Tommy La Stella down to activate Heyward, in addition to sending down right-hander Pierce Johnson for right-hander Dylan Floro. Neither move was completed because of the rainout and nothing is official yet, but Maddon said it was "more than likely" Saturday's plan would be carried out Sunday.
Through six games, Happ is hitting .333 with two home runs, four RBIs, five walks and a .462 on-base percentage.
"Happy to be in the lineup again," Happ said of seeing his name on the board Saturday. "[I'm] starting to get a feel for the first time playing in the outfield with these guys constantly."
In addition to the production and feel for the game, one thing Maddon said he likes about Happ is the flexibility he allows for in the lineup. That was on display Saturday, even if it was just on the videoboard.
With Kyle Schwarber in a bit of a slump -- though Maddon said some of that is due to the shift he faces at the plate -- the manager said having Happ around means he can tinker with things in the lineup. An example he gave was moving Ben Zobrist ahead of Schwarber at the top of the order and seeing if that might open things up for his left fielder.
"If, in fact, Zo can get on a little more often," Maddon said, "it might move that second baseman out of that spot [on the shift]."
As for Happ's future role, he said he hasn't had any conversations about at-bats or playing time and is simply focusing on the "confutation of the work process." That mentality is one of the several reasons Maddon identified that Happ was still in the clubhouse Saturday, having earned his spot on the roster for now.
"He's not overwhelmed," Maddon said. "And that's probably the most impressive part of it."
Scott Chasen is a reporter for MLB.com based in Chicago. This story was not subject to the approval of Major League Baseball or its clubs.