Riddle making most of 'huge opportunity'
Marlins prospect dazzles on defense, improving at plate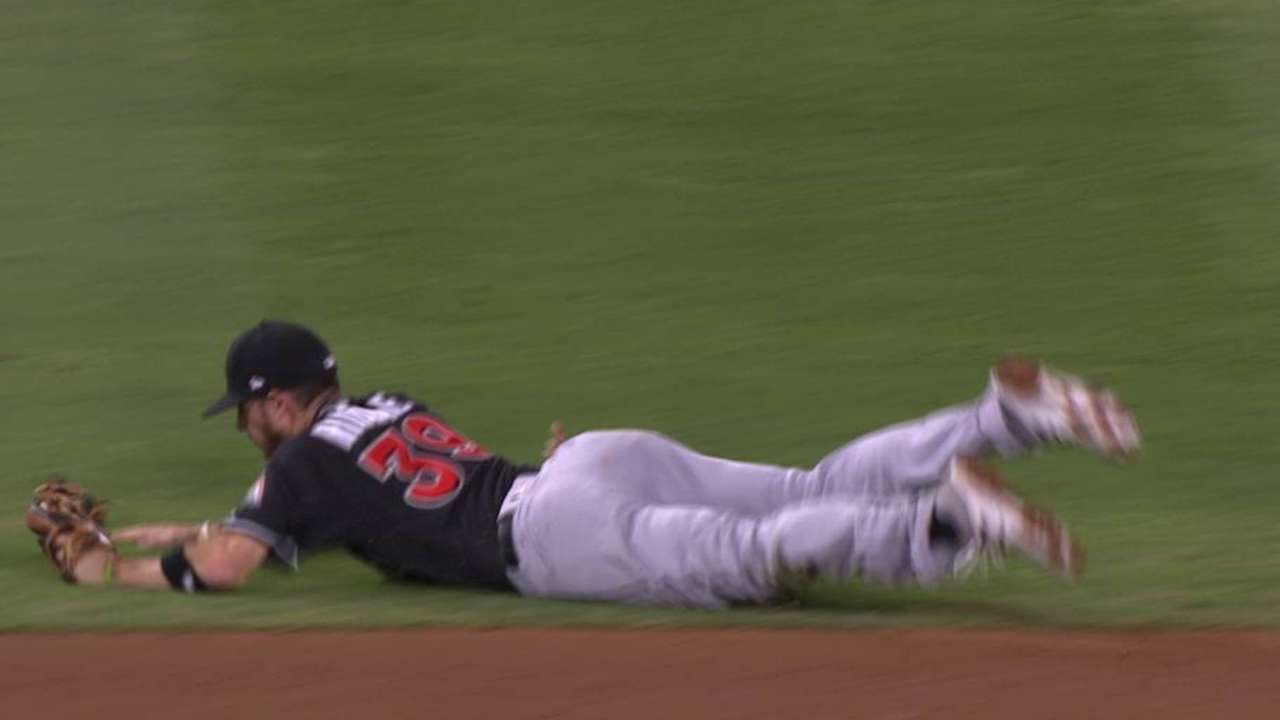 LOS ANGELES -- Rookie J.T. Riddle is doing all he can to make the most of an opportunity to get regular playing time as the starting shortstop for the Marlins.
With Adeiny Hechavarria (left oblique strain) and Miguel Rojas (right thumb fracture) on the disabled list, Riddle is now playing consistently with the Marlins.
"It's a huge opportunity," Riddle said after the Marlins' 7-2 loss to the Dodgers on Friday. "I'm sitting there in Spring Training and you don't sit there and hope people get hurt just so you get a chance, that's not how I wanted it to go. But when guys go down, I get a chance to step in and come up here and play every day and try to help the team."
Riddle, the Marlins' No. 12 prospect, according to MLBPipeline.com, made two highlight-reel plays in the field, doubled and drove in a run on Friday night.
In the first inning, Riddle saved a run with a tough play in the hole for the third out, preventing the Dodgers from pulling away after they scored an early run. With two runners in scoring position, Riddle ranged to his right and made a sliding stop on a sharp grounder from Yasiel Puig. Riddle slid on one knee on the edge of the outfield grass, popped up and fired a strike across the diamond to end the Dodgers' rally.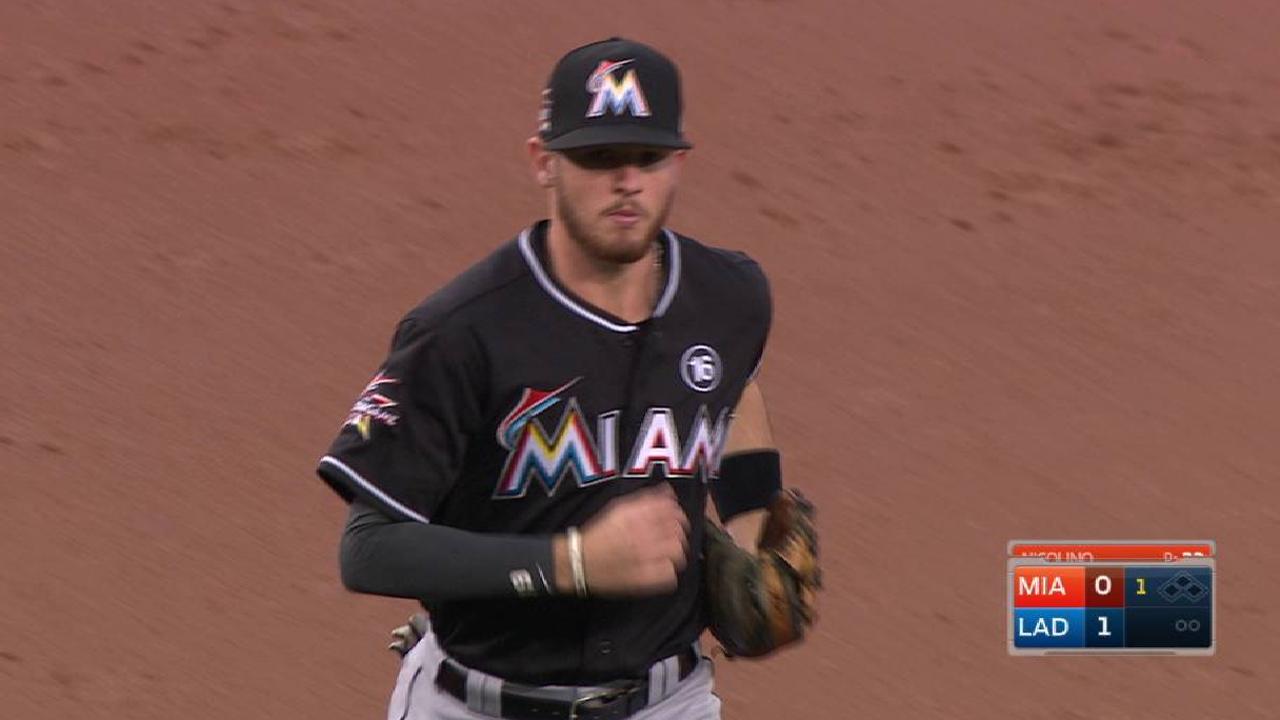 While Riddle made three other routine plays throughout the game, he made another difficult play to rob Enrique Hernandez of a hit in the fifth inning. Once again, Riddle covered ground to his right and slid to field a bouncing grounder, going down on all fours to snag the ball, and quickly got to his feet to make the throw for the second out.
"Defense is kind of my go-to thing," Riddle said. "Swinging the bat comes and goes, but defense you can be solid every single night and help the team. I definitely pride myself on my glove."
Those are the types of defensive plays a starting Major League shortstop needs to make.
"He's been really good with the glove and he's getting better with the bat," Marlins manager Don Mattingly said. "He's a guy that's got a really good clock, steady hands. He's calm and he's a guy -- you can already see it -- he's going to be able to play big league shortstop and he's getting better with the bat, and that's what's going to be the determining factor in how good he's going to be."
At the plate, Riddle had the Marlins' only extra-base hit off Dodgers starter Alex Wood. He slapped a double the other way down the left-field line in the second, one of six hits the Marlins managed against the left-hander. Riddle lifted a sacrifice fly to center to score J.T. Realmuto as the Marlins pushed across two runs in the ninth. Riddle finished 1-for-3 to raise his average 10 points to .216.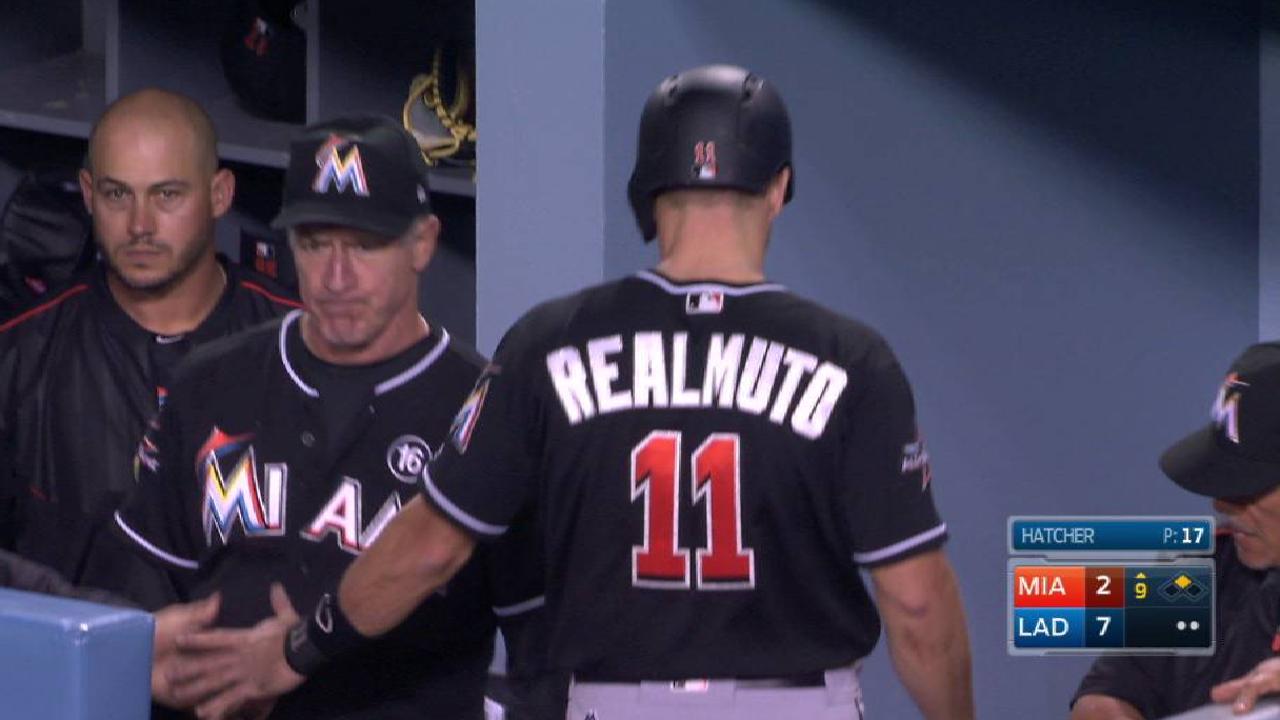 "I feel much more comfortable now than I did the first two weeks when I was here, especially at the plate," said Riddle, who had a stint with Miami from April 9-18. "Defensively, after the first couple games, I felt all right. I'm much more comfortable at the plate now."
Austin Laymance is a reporter for MLB.com based in Los Angeles. He covered the Marlins on Friday. This story was not subject to the approval of Major League Baseball or its clubs.