Excited to be back, Melancon locks down win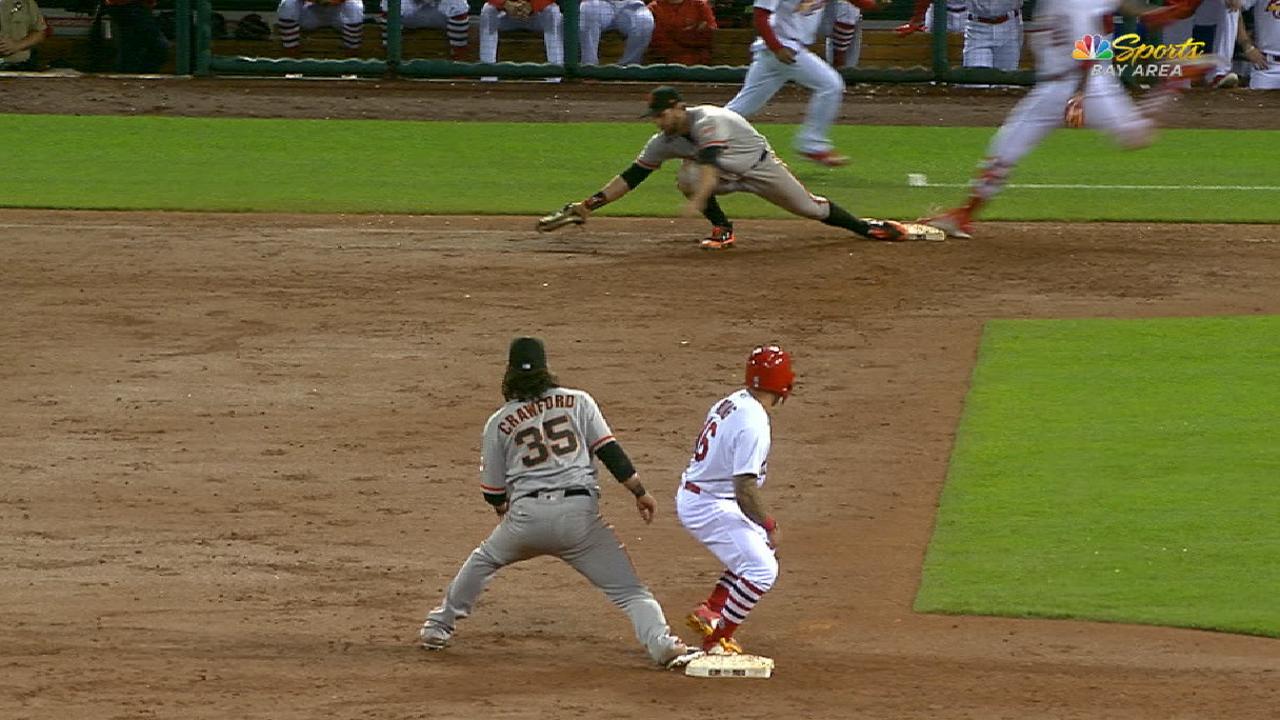 ST. LOUIS -- Mark Melancon had some jitters in his first game back from the disabled list. The Giants closer even enjoyed them.
Making his first appearance since being activated off the DL on Wednesday, the veteran right-hander closed out Friday night's wild 6-5 win over the Cardinals at Busch Stadium with a scoreless ninth inning for his seventh save of the season.
"It was good," he said. "It was fun to get a little bit of jitters in the legs. Definitely it was exciting and it was fun, especially the way the game played out, showing fight late in the game and going back and forth with the score. Yeah, that was great. I enjoyed those jitters."
Melancon, who recorded his 175th save in 200 career opportunities, allowed a leadoff single to Kolten Wong, retired pinch-hitter Matt Adams on a flyout and then got Dexter Fowler to hit into a 1-6-3 double play to end it after a replay review confirmed the game-ending out at first.
"Mark was good," Giants manager Bruce Bochy said. "He gave up a hit but made his pitches after that. That's experience working for you, where a couple innings earlier we walked a guy and then an 0-2 mistake. That's just where experience comes in handy. We got the big double play. Great job on everybody turning that double play, including [Brandon] Belt. I thought [Melancon] looked good, healthy and it's good to have him back."
After taking a 3-2 lead in the top of the seventh that included Cardinals manager Mike Matheny getting ejected and a 46-minute rain delay, Giants relievers Steven Okert and George Kontos surrendered three runs in the bottom of the inning. Okert walked the first batter he faced and then allowed a single. Kontos followed by serving up a three-run home run to Dexter Fowler.
The Giants' bullpen bounced back with scoreless frames from Bryan Morris (1-0) and Melancon in the eighth and ninth innings.
Melancon said Morris, his Pirates teammate in 2013-14, was "nasty."
"That was awesome," he said. "That's the Bryan Morris I know. I've been with him for a while and that power sink is really good."
Melancon, who signed a four-year, $62 million deal with the Giants this offseason as a free agent, had been on the DL with a mild right pronator strain. Now he's back healthy and again set to solidify the back of the San Francisco bullpen.
"It's a lot of confidence just heading into the end of the game," said Giants starter Matt Moore, who allowed two run on five hits over six innings Friday. "Premier closer, the type of guy that he is and the intangibles that he brings to the team is big. More than just him closing ballgames, I think it just adds confidence to our team overall."
Nate Latsch is a contributor to MLB.com and covered the Giants on Friday. This story was not subject to the approval of Major League Baseball or its clubs.