Vargas delivers in pinch with tying home run
MINNEAPOLIS -- With the way the Twins have rotated designated hitters this season based on matchups, it was Kennys Vargas' turn to open the game on the bench with Robbie Grossman getting the start against the Royals on Friday.
It paid dividends early with Grossman hitting a solo homer in the fourth and going 2-for-4 with a walk, and allowed the luxury of having Vargas' power bat available to pinch-hit late in the game. It worked out to perfection. With one out in the ninth, Vargas belted a tying two-run homer off closer Kelvin Herrera to help the Twins in an eventual 4-3 win in 10 innings.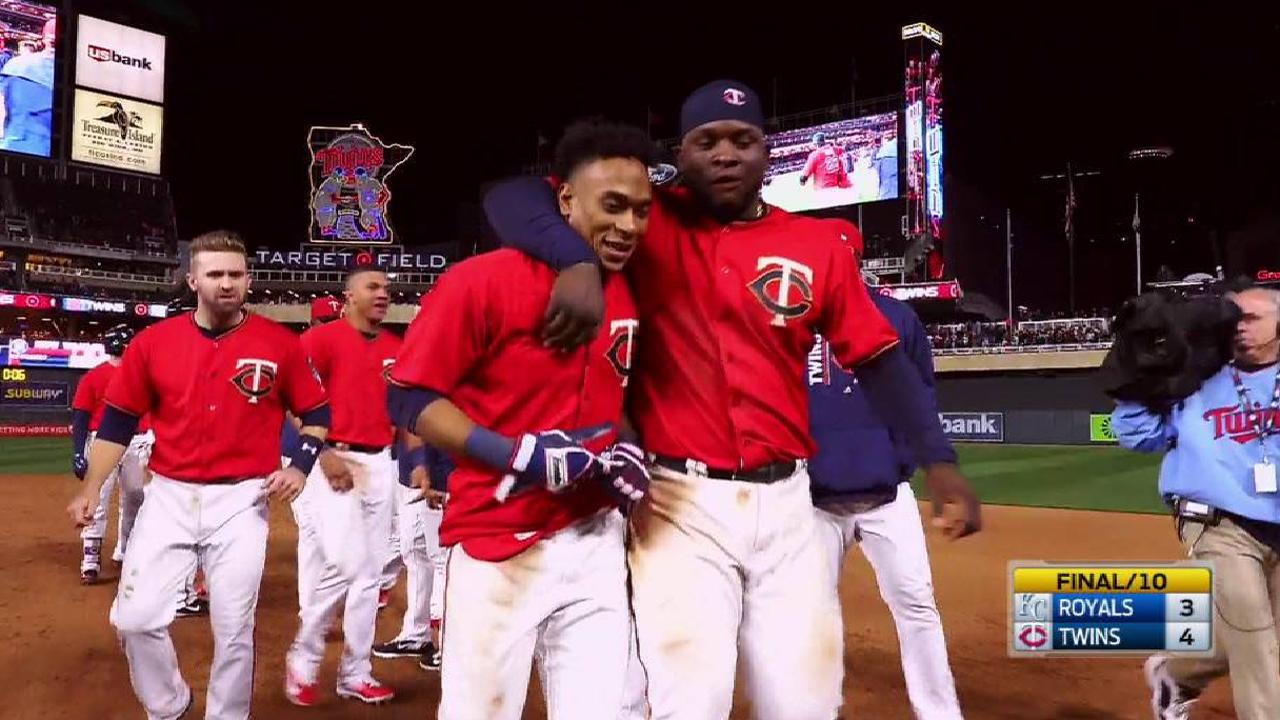 It proved the importance of having depth, especially the value of Vargas' power, as the switch-hitter now has five homers and 15 RBIs in 17 games since being called up on April 23. Vargas said he started to prepare himself in the sixth for a potential at-bat, and jumped on a 1-0 changeup that caught too much of the plate.
"Mentally, you prepare yourself for the at-bat, and you try to put a hard swing and try to elevate the ball," Vargas said. "Just try to get a homer."
The homer was absolutely crushed, leaving the bat at 108.4 mph and traveling a projected 438 feet into the second deck in right. It was the second-farthest homer Vargas has hit since 2015, per Statcast™, as his career best is 451 feet.
"I just expect fastball all the time and I just reacted to that changeup," Vargas said. "I knew I put a good swing on it and knew I got that one."
Herrera said he was trying to get the ball down to Vargas, but Herrera left it up and Vargas capitalized. Vargas has excelled against changeups this year, hitting .353 against them with three homers after batting .143 with no homers against them last year.
"I didn't finish the pitch," Herrera said. "In my mind, I want him to chase a pitch there. He's got pop. That was just poor execution from me."
Vargas has tried to balance not playing every day and is hitting .233/.254/.517 after falling into a bit of a slump over the last week. But left-hander Hector Santiago said Friday was indicative of what Vargas can do and why he's on the roster.
"When he's in there, he can impact the game with one swing of the bat like he did today," Santiago said. "I think if he's in there a lot more and sees more pitches, he could be a great factor for this lineup. It's tough because we have three guys who can DH and Grossman and [Eduardo Escobar] are swinging it well. But Vargas can come off the bench and do that. But you want to see him do that for four at-bats a night because he has the potential to do that four times."
Rhett Bollinger has covered the Twins for MLB.com since 2011. Follow him on Twitter @RhettBollinger and listen to his podcast. This story was not subject to the approval of Major League Baseball or its clubs.