Clippard wildness part of tough night for 'pen
Warren allows 3 runs in seventh; veteran loses command before Longoria's go-ahead hit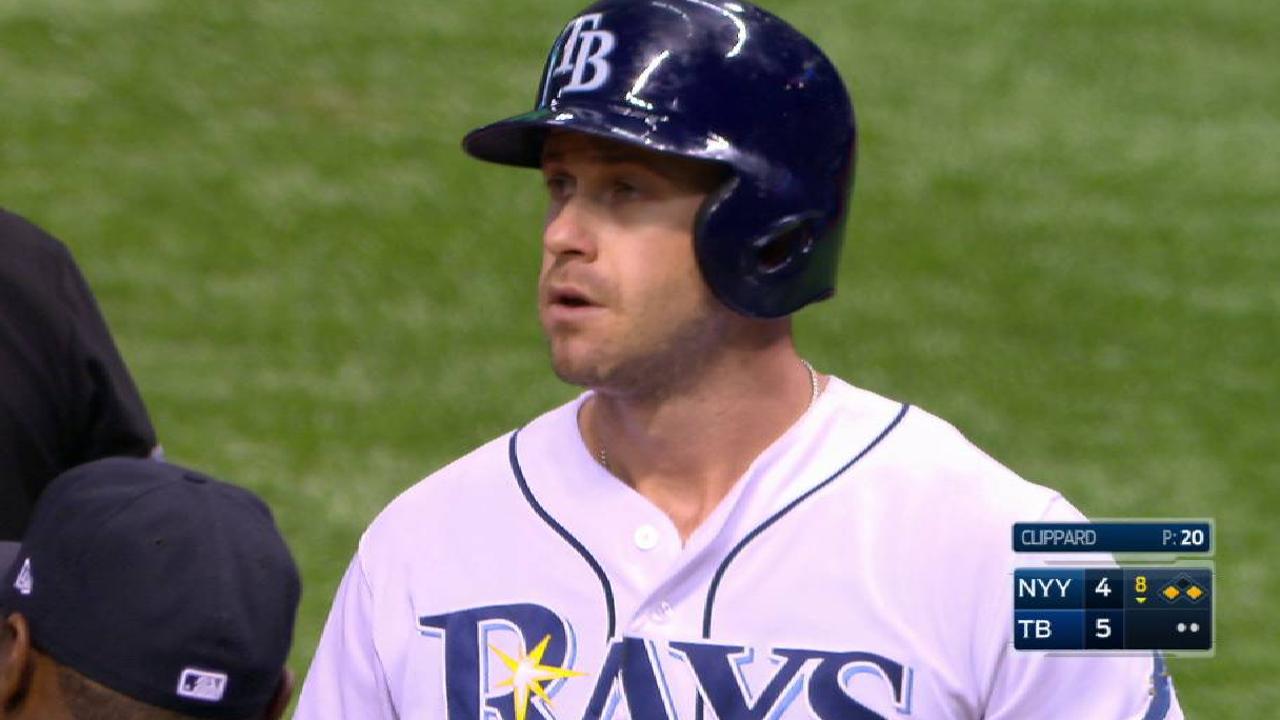 ST. PETERSBURG -- The game-winning hit was credited to Evan Longoria, who has spent the equivalent of a full season in his career beating up on Yankees pitching, but Tyler Clippard pinpointed the turning point of Friday's 5-4 loss to the Rays a few batters earlier.
The Yankees' right-hander issued a one-out walk to Derek Norris and then lost Kevin Kiermaier to a four-pitch free pass in the eighth inning, an uncharacteristic and untimely lapse in command as the club continues to adjust its relief hierarchy in the wake of Aroldis Chapman's injury.
"That was the story. I just wasn't as sharp tonight with my fastball command," Clippard said. "I think I threw Kiermaier three changeups in a row for balls, and I haven't done that in a long time. It was just one of those nights. I did make some good pitches, but not enough."
The Yanks fell to 17-3 when leading after six innings as Longoria made Clippard pay for a so-so splitter, driving it through the left side of the infield to collect his 102nd RBI in 156 career games against the Yankees, the most of any active player.
"He's hurt us in the past, and he's a heck of a hitter and a heck of a player," Yankees bench coach Rob Thomson said. "He's the guy that you don't really want to beat you."
Thomson was holding the lineup card on Friday as Joe Girardi attended his daughter Serena's high school graduation, and the fill-in skipper didn't get many lucky bounces as his team took its sixth loss in nine games. Luis Severino burned 30 of his 89 pitches in the first inning, prompting the Yanks to call to the bullpen earlier than they'd ideally have liked.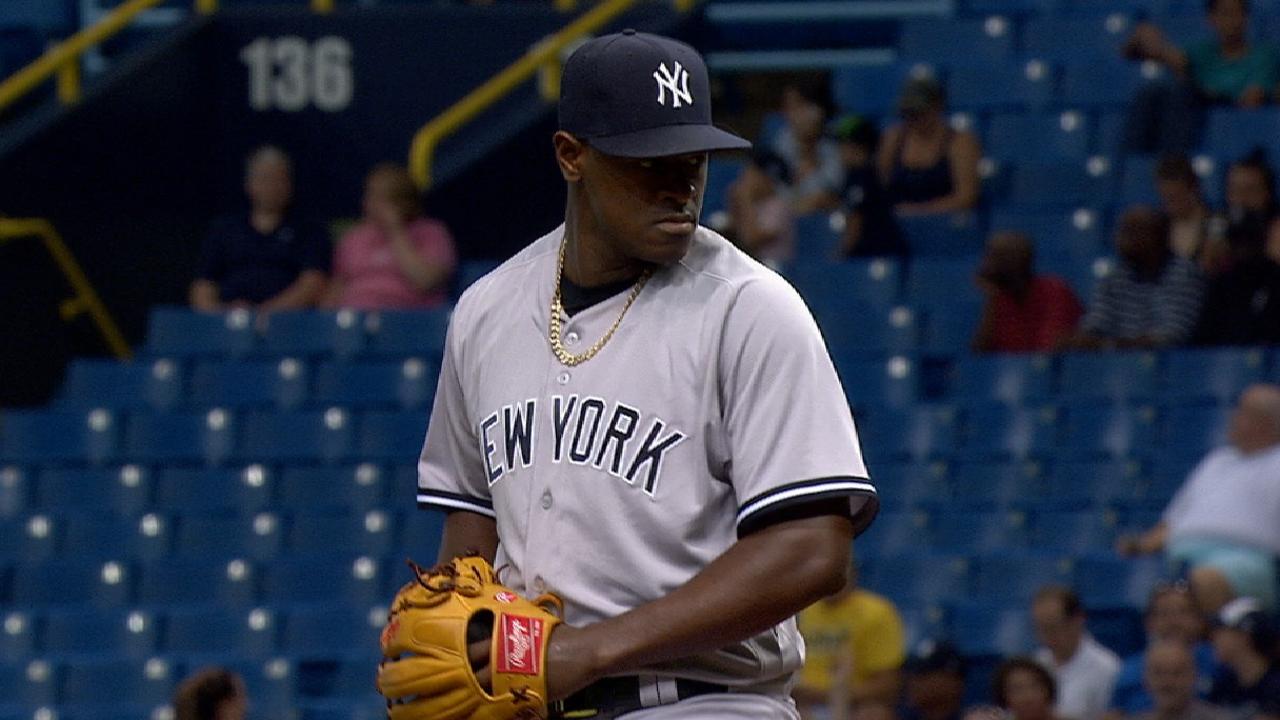 "Severino is tough. He's been tough on a number of teams this year," Rays manager Kevin Cash said. "He was tough on us, but we kind of picked our spot and made it work."
Jonathan Holder worked a strong sixth before Adam Warren and his 1.19 ERA entered for the seventh, a situation that normally would go to Clippard. Corey Dickerson lined a soft single past a diving Starlin Castro before Kiermaier and Longoria followed with well-struck hits, loading the bases with none out.
Logan Morrison fouled off three straight pitches before lifting a deep sacrifice fly to center field, tying the game, and Thomson went to Chasen Shreve a batter later. Cash countered by sending up Rickie Weeks Jr. in place of Colby Rasmus.
Shreve thought he might have struck out Weeks looking at a 2-2 fastball, but home-plate umpire Quinn Wolcott didn't budge. On the next pitch, Weeks chopped a grounder down the third-base line that scooted under Ronald Torreyes' glove for a two-run double.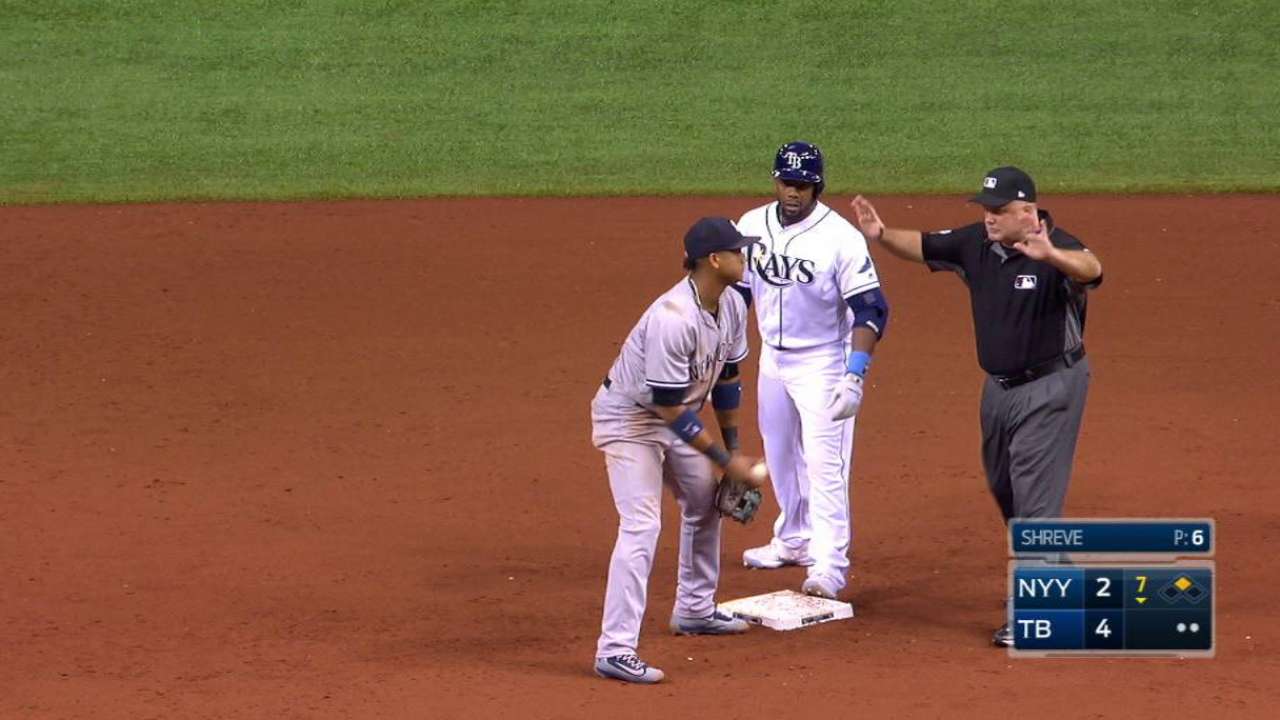 "Really, Shrevey did the job," Thomson said. "He got a weak ground ball and Toe just got a little bit of an in-between hop and it got by him."
"That's a play that I know I can make and that I've made before many times," Torreyes said.
After Matt Holliday tied the game with a two-run homer in the eighth, the Yanks went quietly in the ninth against Alex Colome, with Thomson declining to send up Gary Sanchez or Aaron Hicks to pinch-hit. Thomson explained that he was trying to give Sanchez a full day off.
"To get the game to that point, it should never happen," Clippard said. "The walks to Norris and Kiermaier are what killed me."
Bryan Hoch has covered the Yankees for MLB.com since 2007. Follow him on Twitter @bryanhoch and on Facebook. This story was not subject to the approval of Major League Baseball or its clubs.