Padres mull next step after Weaver's outing
Club has lost all nine of 12-year veteran's starts this season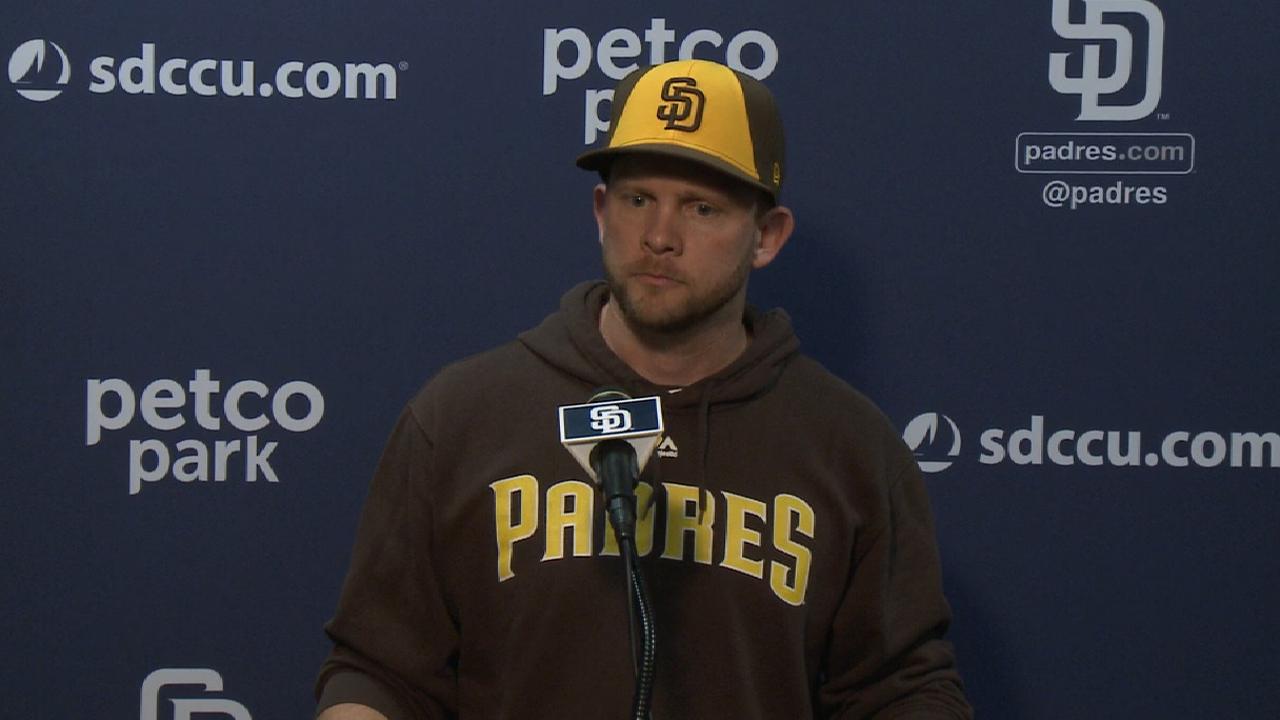 SAN DIEGO -- Jered Weaver sauntered toward the home dugout, a smattering of boos ringing through Petco Park. Unable to record the third out, Weaver exited Friday's 10-1 loss to Arizona having allowed seven runs in the top of the first.
If this was the ending, it certainly wasn't befitting of an otherwise outstanding 12-year career for the veteran right-hander.
"It's frustrating," said a visably dispirited Weaver after the game. "It's hard to go out there and struggle the way that I have been. It's not easy. I've made 330 starts here in my career. That's the first time I've ever been booed off the mound. It's definitely frustrating. I wish I could give these fans what they want to see, and what they deserve. And not only the fans, but my team and teammates."
In his prime, Weaver was a bona fide ace. The veteran right-hander pitched 11 seasons for the Angels, making three All-Star teams and finishing in the top five of the American League Cy Young Award voting three times. He won 150 games for the Halos and posted a 3.55 ERA.
But since he signed a one-year deal with the Padres in February, Weaver has struggled to make the most out of a fastball that rarely hits 85 mph. On Friday, he allowed two home runs before he had recorded his second out, the 15th and 16th dingers he's allowed this season.
"It was rough, there's no other way to say it," said Padres manager Andy Green. "It's tough watching somebody who cares so much struggle like that in the first inning. He was throwing his heart and soul out there with what he has."
Afterward, Green noted that the Padres would discuss their next course of action with Weaver. Two weeks ago, executive chairman Ron Fowler said Weaver was on "a short leash" after allowing 22 runs in a three-start stretch. Weaver temporarily quelled those questions with six innings of one-run ball in Chicago on Sunday.
But Friday's loss sent Weaver's ERA skyrocketing to 7.44, and the Padres have lost all nine of his starts. Should Trevor Cahill return from his right-shoulder strain next week, that could spell Weaver's departure. But even if Cahill isn't healthy, the Padres have a handful of Triple-A options -- notably prospects Dinelson Lamet and Walker Lockett -- who have been knocking on the door of the big leagues.
Green noted that the Padres "talk after every start for every guy to find out what the best path is."
"Weave has been the consummate professional," he added. "He gives you what he's got every single day, he's competed for his entire career."
Said Padres first baseman Wil Myers: "He's obviously had a great career. It's tough. It's tough to see a guy like that who's had so much success, struggle here. But the thing about Weaver is, he's been such a great teammate here. I think everybody here has learned something from him. The game can humble anyone at any time."
Through nine starts in San Diego, Weaver could certainly attest to that.
So, in his mind, what's the next step?
"Keep showing up to the field," he said. "And keep grinding my [butt] off."
AJ Cassavell covers the Padres for MLB.com. Follow him on Twitter @ajcassavell. This story was not subject to the approval of Major League Baseball or its clubs.