Statcast of the Day: Conforto king of the oppo
Mets outfielder leads all lefties in opposite-field home runs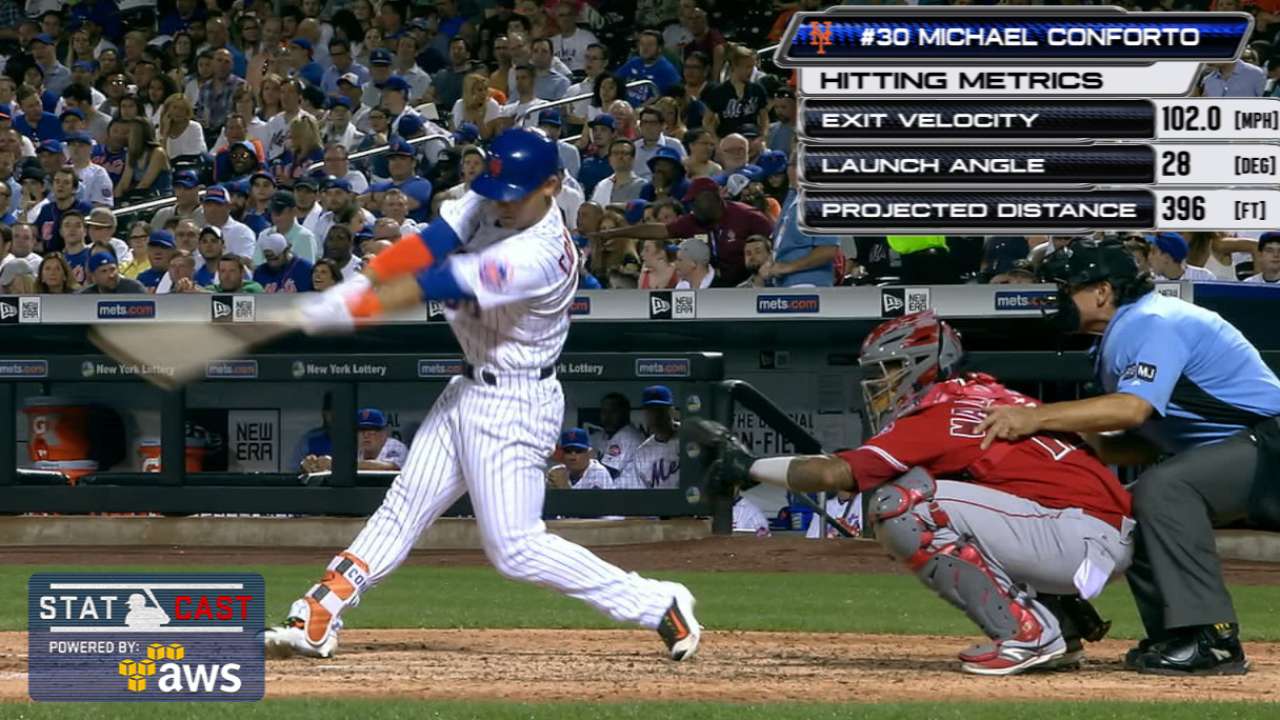 NEW YORK -- Michael Conforto's swing isn't getting any less smooth. The Mets' leadoff man hit his 11th home run of the season Friday night in their 3-0 series-opening win against the Angels at Citi Field, helping New York snap a seven-game losing streak. Like the majority of the ones before it, this one was a shot to the opposite field.
Conforto's 102-mph line drive in the bottom of the seventh inning, which went a projected 396 feet according to Statcast™, was his seventh opposite-field homer of 2017. That's more than any other left-handed hitter in the Majors. The next closest, Chris Davis and Freddie Freeman, have five each.
"I can tell you that who I am as a hitter, my identity is to use all fields," Conforto said. "What we're doing now, we've put it into my routine to make sure I'm staying where I need to -- and that's using all fields, hitting the ball where it's pitched, and that's the way I play the best."
Three of Conforto's seven opposite-field home runs, including Friday's on an outside-corner slider from Angels reliever Jose Alvarez, have come against left-handers. That's also most in the Majors.
"He's just being himself," manager Terry Collins said. "He's not trying to do anything except hit it hard. He's got enough power that it takes care of itself."
Entering play Friday, no other team in the Majors had gotten more opposite-field home runs from its left-handed hitters than the seven Conforto has now provided the Mets.
Since he first came up in 2015, 15 of Conforto's 32 career home runs have gone to the left side. That 46.9-percent rate is the highest among the 78 MLB lefties with 25-plus homers in that time frame. He ranks above some of the elite left-handed hitters in the game -- Freeman, Joey Votto, Eric Hosmer and Davis round out the top five.
"What Michael Conforto's doing is exactly what we saw when he first got here: He hit the ball all over the field," Collins said. "That's what he's doing right now. That's what got him to the big leagues."
Conforto also had another opposite-field hit in Friday's game, stroking a 106-mph single to left to open the home half of the first. He finished 2-for-3, raising his batting average to .319 and his OPS to 1.067, both tops on the Mets.
He consistently has driven the ball the other way in a season reminiscent of his breakout rookie effort, and looks night-and-day different from the hitter that slumped heavily through much of 2016.
"I went home and worked on some things [in the offseason], took some time to reflect and kind of just realized where my strengths are," Conforto said. "That's going the other way if I need to. I feel like I have the power to go to all fields."
David Adler is a reporter for MLB.com based in New York. Follow him on Twitter at @_dadler. This story was not subject to the approval of Major League Baseball or its clubs.