Bounce goes Rays' way to cap key rally
3 straight singles set up LoMo's tying sac fly; Weeks' chopper with 2 outs puts club up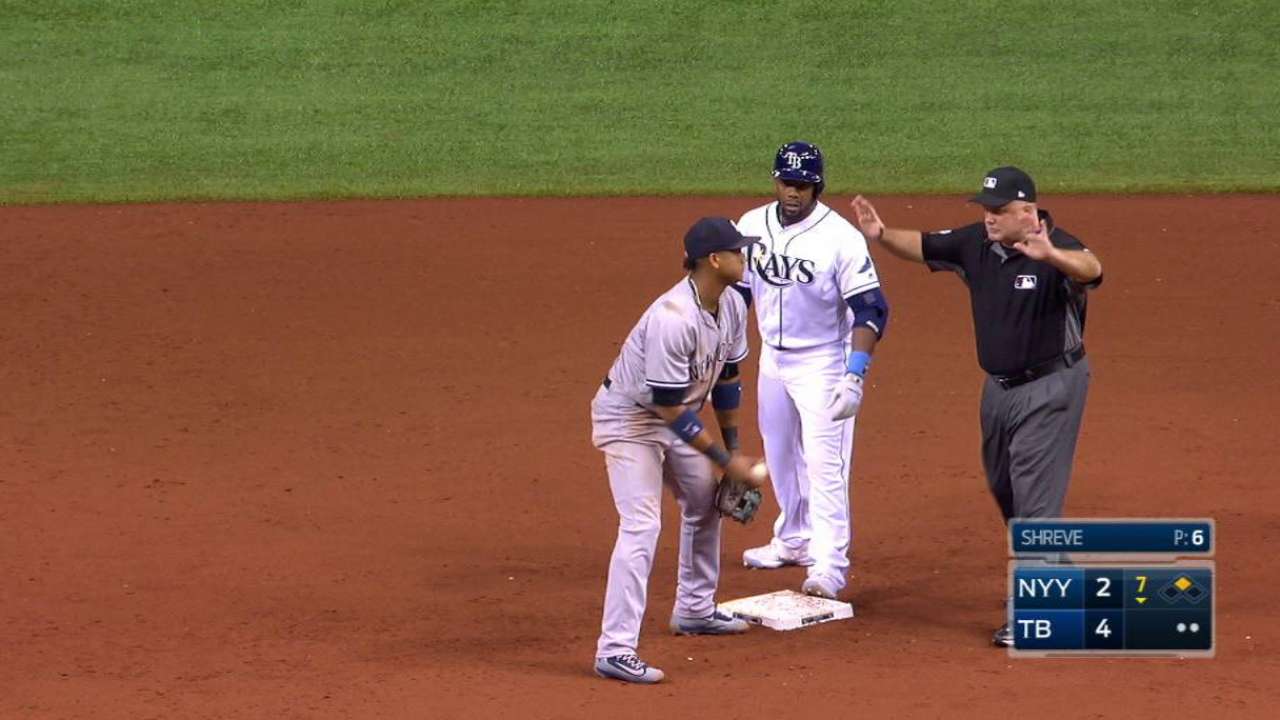 ST. PETERSBURG -- Rickie Weeks Jr. came off the bench in the bottom of the seventh inning on Friday night with one objective in mind.
"Get a hit," Weeks said after the Rays' 5-4 win over the Yankees. "And I got a hit."
Weeks was able to work Yanks reliever Chasen Shreve into a full count before hitting a high chopper to the left side that bounced under the glove of third baseman Ronald Torreyes and into left field, allowing Kevin Kiermaier and Evan Longoria to score and give the Rays a 4-2 lead.
It's been a rough start for Weeks, whose clutch hit raised his average to .221, but he was brought in for situations like this when the Rays needed a strong at-bat from a veteran hitter. While Weeks had hoped to carve out an everyday role when he came to Spring Training, he said he's going to make the most of the opportunities he is given.
"That's just how I am," Weeks said. "You have a job to do and that's what I try to do. The biggest thing is try to go up there and see some pitches and get a hit."
Manager Kevin Cash said Weeks was due some good fortune after some good at-bats that didn't yield results.
"Really happy for Weeks to come up and get the big hit there and knock in two," Cash said. "We did a lot of good things offensively tonight."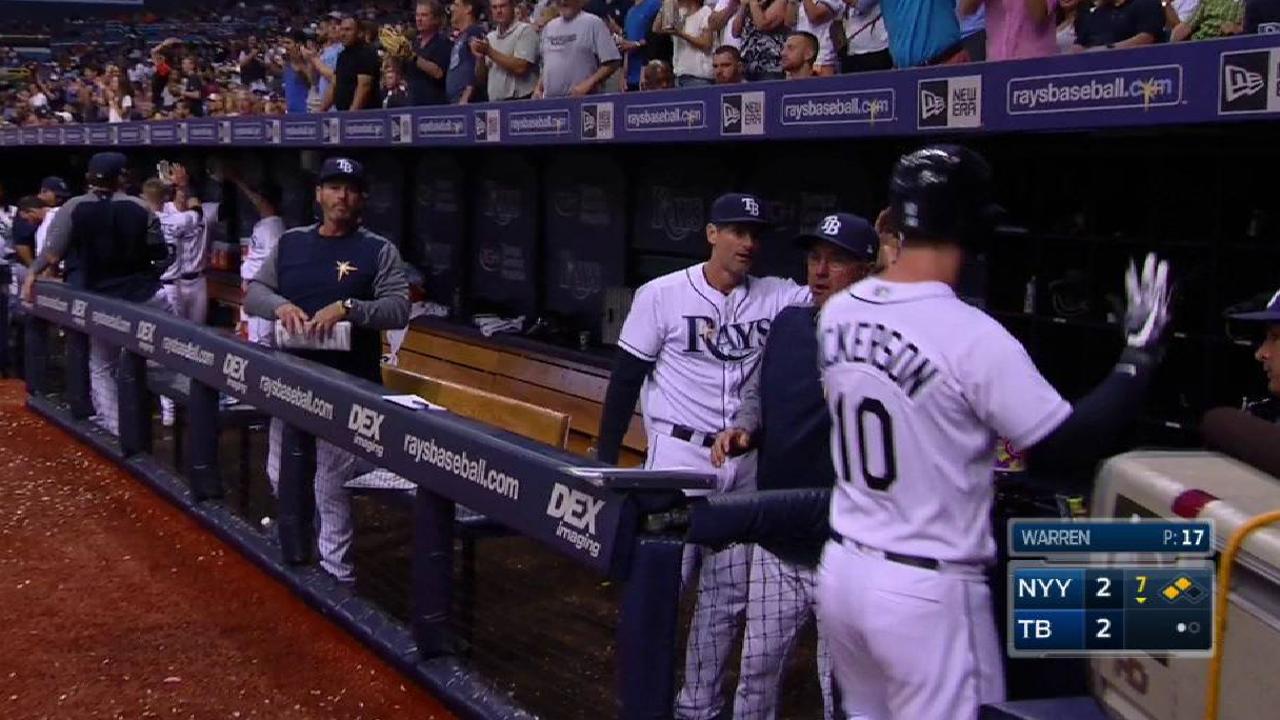 The Rays scored three in the inning after loading the bases with no outs against reliever Adam Warren. Logan Morrison tied the game at 2 with a sacrifice fly to deep center after Corey Dickerson, Kiermaier and Longoria reached base on consecutive singles. Steven Souza Jr. then struck out, leaving a two-out opportunity for Weeks.
"I think there's a lot of belief in this room," Longoria said. "We've played from behind, we've played ahead, we've done a lot of different things this year and put ourselves in some situations where we've had success, and you can build off of those things. The guys just feel pretty confident now that whatever the situation is, we've got a chance to win."
The offense in the late innings is a big reason the Rays have climbed back to .500. Cash said players are showing confidence in their abilities to come through late in games.
"The biggest hits come late in ballgames and when games are tight," Cash said. "I think we've got a lot of people in this clubhouse that want to be in those situations. It seems like one through nine, whether it's their turn or someone else's, they are extremely eager to be up there, and it's worked out well."
Corey Long is a contributor to MLB.com based in St. Petersburg. This story was not subject to the approval of Major League Baseball or its clubs.