Gallo's HR off lefty sets Statcast Era mark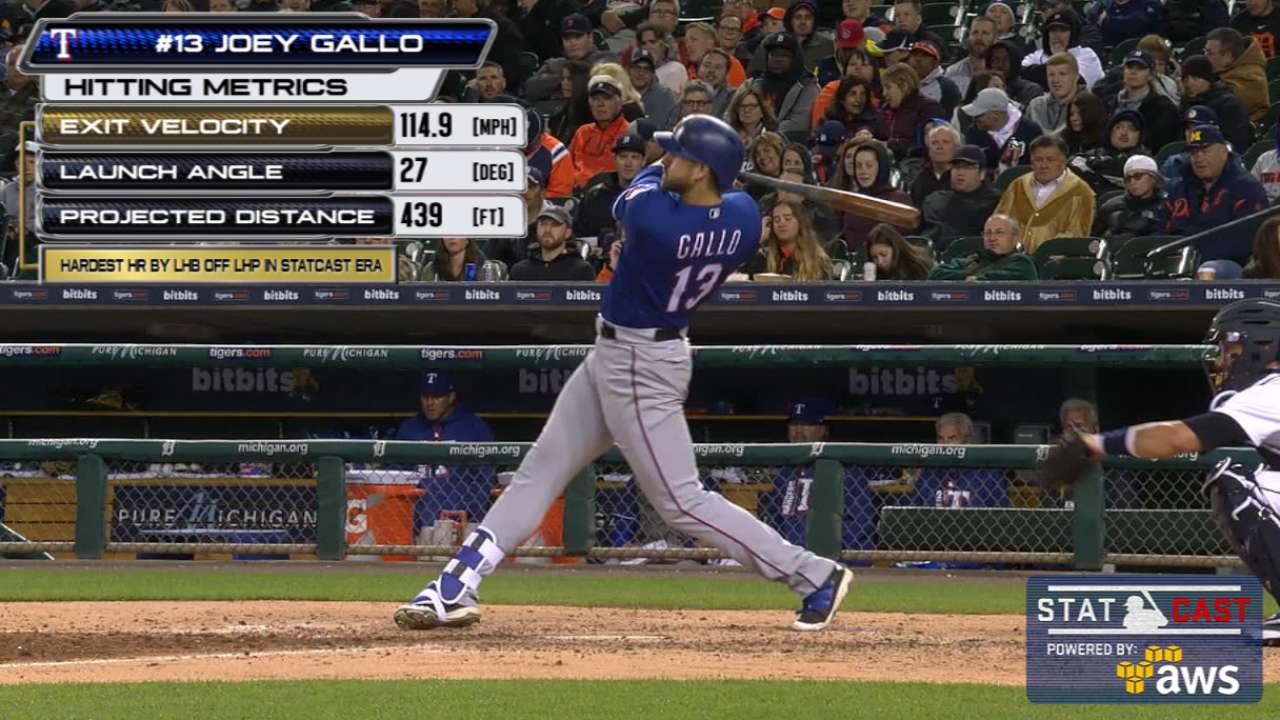 DETROIT -- Rangers third baseman Joey Gallo may be having trouble with left-handed pitching this season, but he made Statcast™ history on Friday night with his two-run homer in the sixth inning off Tigers southpaw Daniel Norris.
Gallo's blast left the bat with an exit velocity of 114.9 mph. That's the hardest-hit home run by a left-handed hitter against a lefty in the three years of Statcast™. It also ultimately provided the winning margin in the Rangers' 5-3 victory over the Tigers.
"It ended up being pretty big," Gallo said. "That's what is great about my skill set and what is tough. There are a lot of ups and downs. I can go 0-for-3 with two strikeouts and the next day come out and win the game with one swing of the bat. I have to learn to deal with it."
Gallo had struck out his first two times against Norris before coming up with one on and two out, and the Rangers leading 3-1. Gallo crushed a 2-0 fastball into the right-field seats that Statcast™ estimated at a distance of 439 feet. The exit velocity broke Gallo's own record for hardest-hit home run for a lefty versus a lefty. Gallo's second Major League home run in 2015 off Zach Duke was clocked at 114.6 mph.
Gallo entered the game 4-for-30 off left-handers. He now has five hits, all for extra bases: two doubles and three home runs.
"It was huge to be able to add runs there," Rangers manager Jeff Banister said. "Any time the other team is scratching back, to get a home run like that, it's instant offense. It gave us some length so our bullpen could go out and pitch and be aggressive."
Mike Napoli has also had his travails against left-handers this year and was able to come up big against Norris.
Napoli hit his ninth home run of the season in the fourth, but only his second off a southpaw. He entered the game batting .138 with a .276 slugging percentage against them, well below his career marks of .273 with a .511 slugging percentage.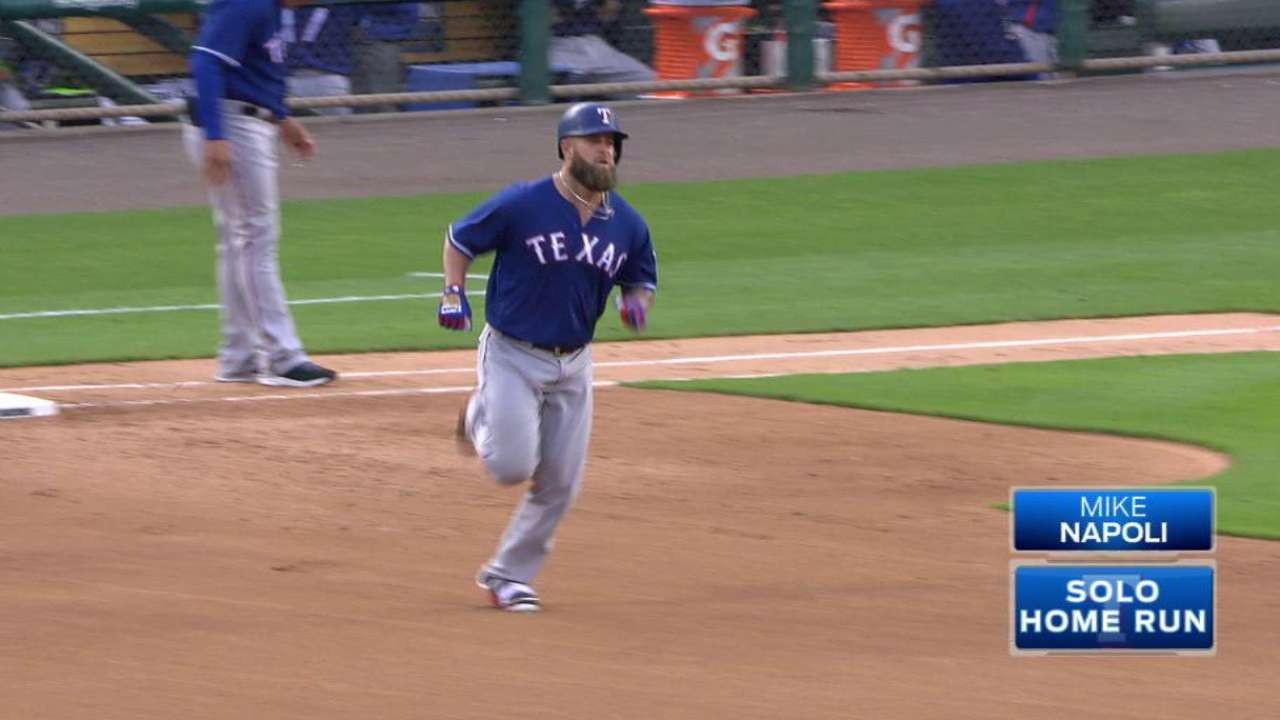 Napoli also entered the game averaging one home run every 16.11 at-bats against left-handers. That was the eighth best among active players with at least 750 at-bats against them. He has two in 32 at-bats this season.
"When I am comfortable and feeling good, I'm confident against right-handers and left-handers," Napoli said. "I like facing left-handers, I've felt good against them my whole career. I'm just worried about getting my timing and separation right."
The Rangers began the night hitting .203 against left-handers, the lowest average in the American League. Their .314 slugging percentage was the third lowest.
T.R. Sullivan has covered the Rangers since 1989, and for MLB.com since 2006. Follow him on Twitter @Sullivan_Ranger and listen to his podcast. This story was not subject to the approval of Major League Baseball or its clubs.