Herrera unfazed by early-season hitting slump
Phillies center fielder ended 0-for-13 stretch with single Friday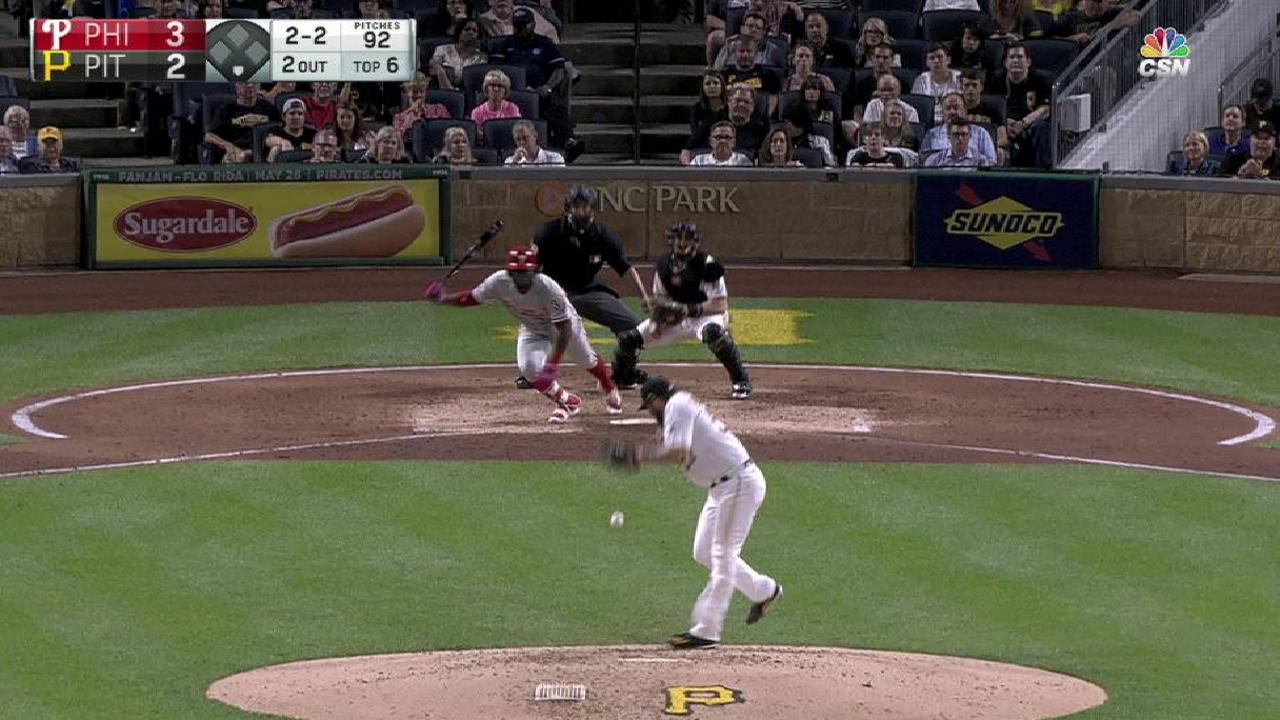 PITTSBURGH -- Odubel Herrera sported a black T-shirt Friday afternoon at PNC Park. It had "Torito" written in gold lettering on the back, the No. 37 written in gold on his sleeve and the Venezuelan flag stitched over his heart.
Herrera said somebody from Philadelphia made it for him. Somebody suggested he sell them.
"When I start hitting again," Herrera said through the Phillies' interpreter before a 7-2 victory over the Pirates.
When is that going to happen?
"Soon," he said in English, laughing. "Starting tonight. Yeah, baby."
Herrera singled in an 11-pitch at-bat in the sixth inning to snap a 0-for-13 slump. He finished the night 1 for 4. After Friday's win, Herrera is hitting .242 with 10 doubles, three home runs, 13 RBIs and a .663 OPS in 165 plate appearances.
"He really battled that at-bat," Phillies manager Pete Mackanin said. "He knows what his average is, and he knows that he's not been hitting as well as he can. Hopefully he's got a little bit of fire in his belly now, and he's going to go out there and start focusing harder."
"I swear to God I'm putting in the work," Herrera said. "It's frustrating, because I think I'm doing what I'm supposed to do. When I'm at the plate I feel like I'm going to make good contact with the ball. But it's not really happening for me. I really don't know what's going on."
Herrera said he feels he has been swinging at too many pitches outside the strike zone. Statcast™ numbers show he had swung at 21.1 percent of pitches outside the strike zone this season, compared to 19.9 percent last season. That is not a huge discrepancy, but it exists. He also is walking less and striking out more.
"I haven't been as disciplined as last year," Herrera said. "I have to go back to that."
But Herrera has not lost his confidence. He was at ease talking about his early-season slump Friday because he believes it will end.
"I know what I'm capable of," Herrera said. "I'm mad at myself because I know that I can do better. I know I'm capable of doing better things."
At least Herrera's defense has been solid. He has made four "five-star" catches this season, according to Statcast™. That is the most in baseball. Five-star catches are caught 25 percent of the time or less.
"I've been able to concentrate more in the game," he said. "I'm locked into the game and focused. All the work I've done with Juan Samuel has been very helpful, too. Every pitch I'm focused. I'm focused on every single pitch.
"If I'm not hitting the ball maybe I can make up for it by being a good defensive player. Maybe I can take hits away from the other team."
Todd Zolecki has covered the Phillies since 2003, and for MLB.com since 2009. Follow him on Twitter and Facebook and listen to his podcast. This story was not subject to the approval of Major League Baseball or its clubs.