Longo's 4th hit trumps Yanks' rally, lifts Rays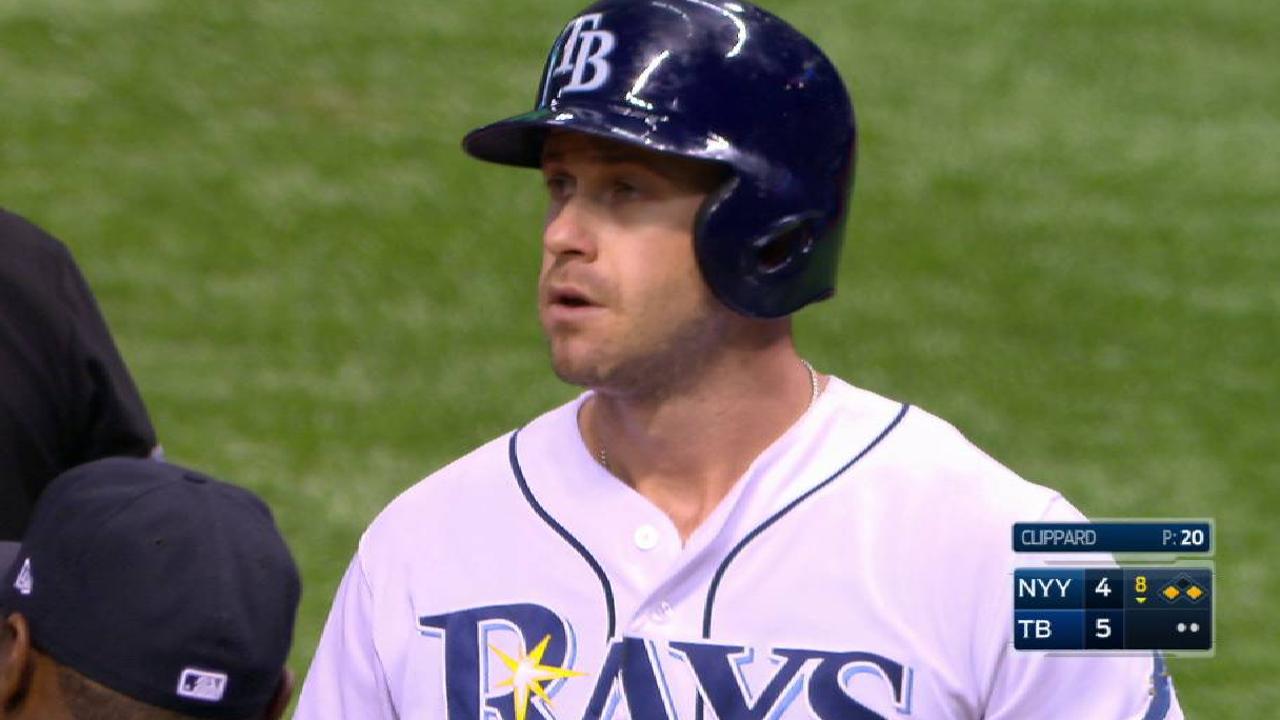 ST. PETERSBURG -- Evan Longoria enjoyed another big night against the Yankees, tying his career high with a four-hit performance that included a tiebreaking eighth-inning single, which lifted the Rays to a 5-4 victory on Friday night at Tropicana Field.
Longoria's 102 RBIs against the Yankees are the most of any active player against them, and he added to that tally by driving home Derek Norris with a single to left field off Tyler Clippard. It was Longoria's seventh career four-hit game, coming after he began the game in an 0-for-12 skid.
"I felt like I was due," Longoria said. "I always feel like I'm due when I'm struggling, but it was a good game to break out in. We needed a win in the division. We're looking up at these guys. It was a good one to take right there. We've had some tough ones against them where we've been close late and haven't been able to come through. Today was a good start."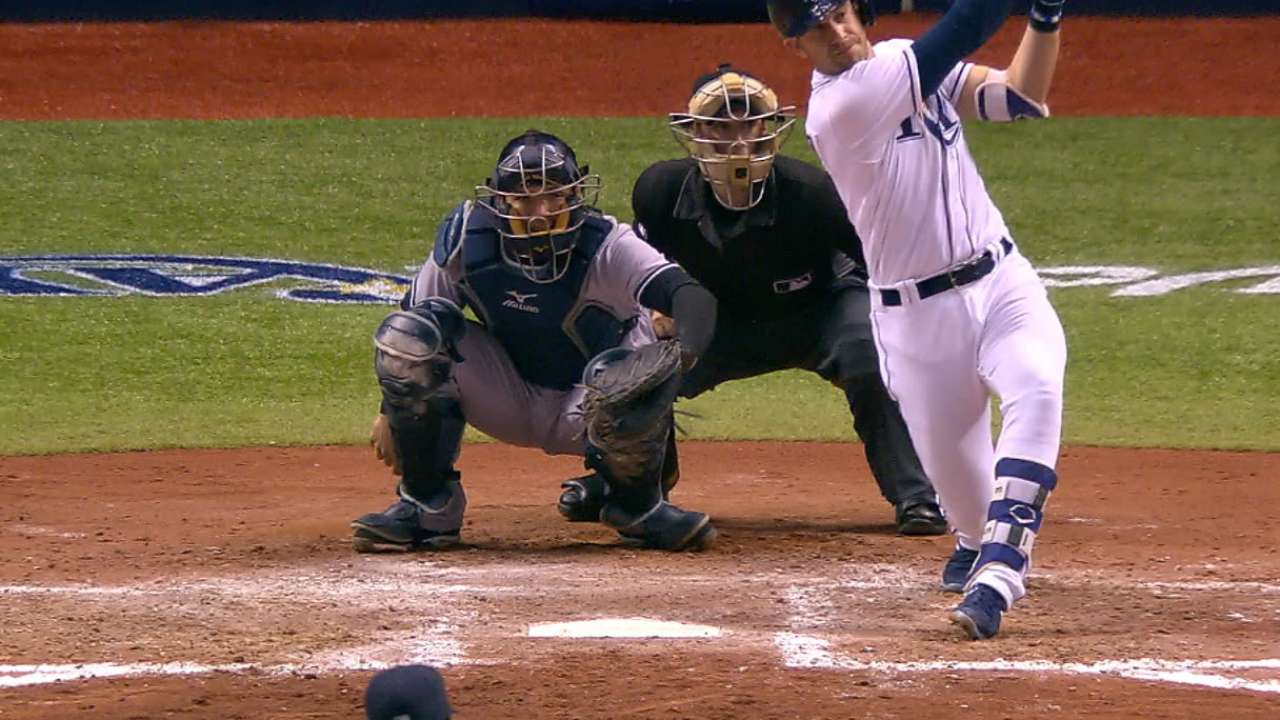 Tampa Bay (22-22) returned to the break-even mark for the first time since May 6, withstanding Matt Holliday's game-tying homer in the eighth off Ryne Stanek.
"Ryne Stanek is going to be fine," Rays manager Kevin Cash said of the rookie reliever. "I know his outings haven't been the cleanest yet, but it's kind of the luxury of the style of games that we play. We don't have many separated games to get a guy's feet wet, so he's been in some high-leverage situations in his first three appearances, but he's going to be a better pitcher and learn from some of those experiences going forward."
Danny Farquhar picked up the win after inducing Aaron Judge to hit into an inning-ending double play in the eighth. Alex Colome worked the ninth for his 11th save.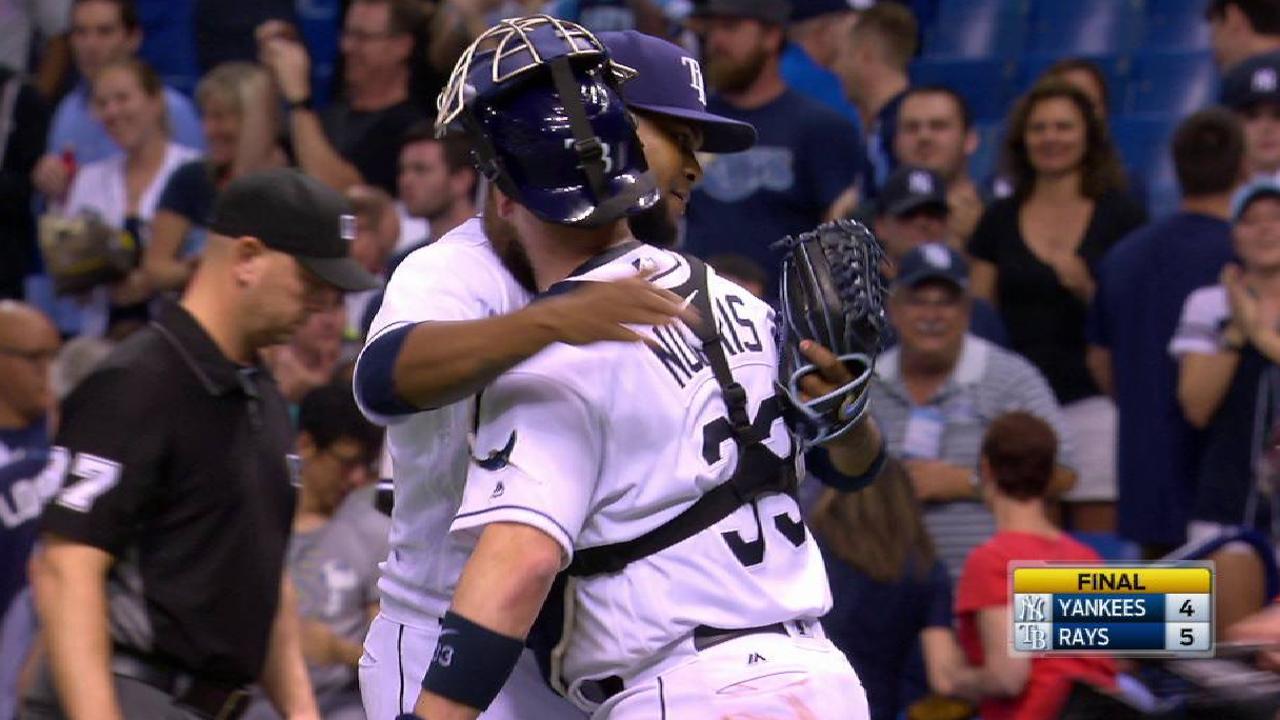 Logan Morrison drove in two runs, including one on a bases-loaded sacrifice fly that tied the game in a three-run Tampa Bay seventh. Rickie Weeks Jr. came off the bench to deliver a pinch-hit two-run double that bounced under third baseman Ronald Torreyes' glove.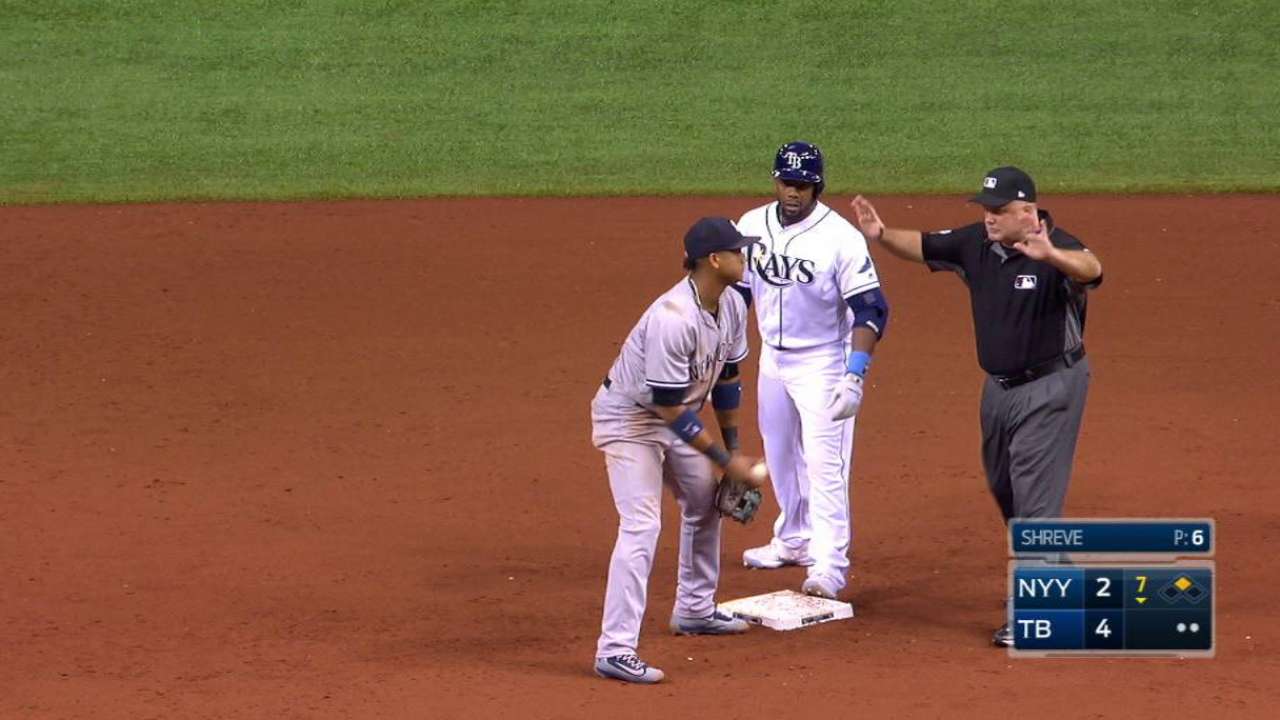 "That's a play that I know I can make and that I've made before many times," Torreyes said through an interpreter.
• Bounce goes Rays' way to cap rally
Starlin Castro and Jacoby Ellsbury drove home runs against Rays starter Erasmo Ramirez, who permitted two runs and six hits over 5 1/3 innings in his second start of the year. Yankees starter Luis Severino permitted a run on five hits over five innings, throwing 30 of his 89 pitches in the first inning.
"I thought he started commanding his pitches a little bit better and getting some quicker outs, controlling his pitch count a little bit," said Yankees bench coach Rob Thomson, who managed the club with Joe Girardi attending his daughter Serena's high school graduation. "The first inning took it out of him, but I'm proud of him for fighting."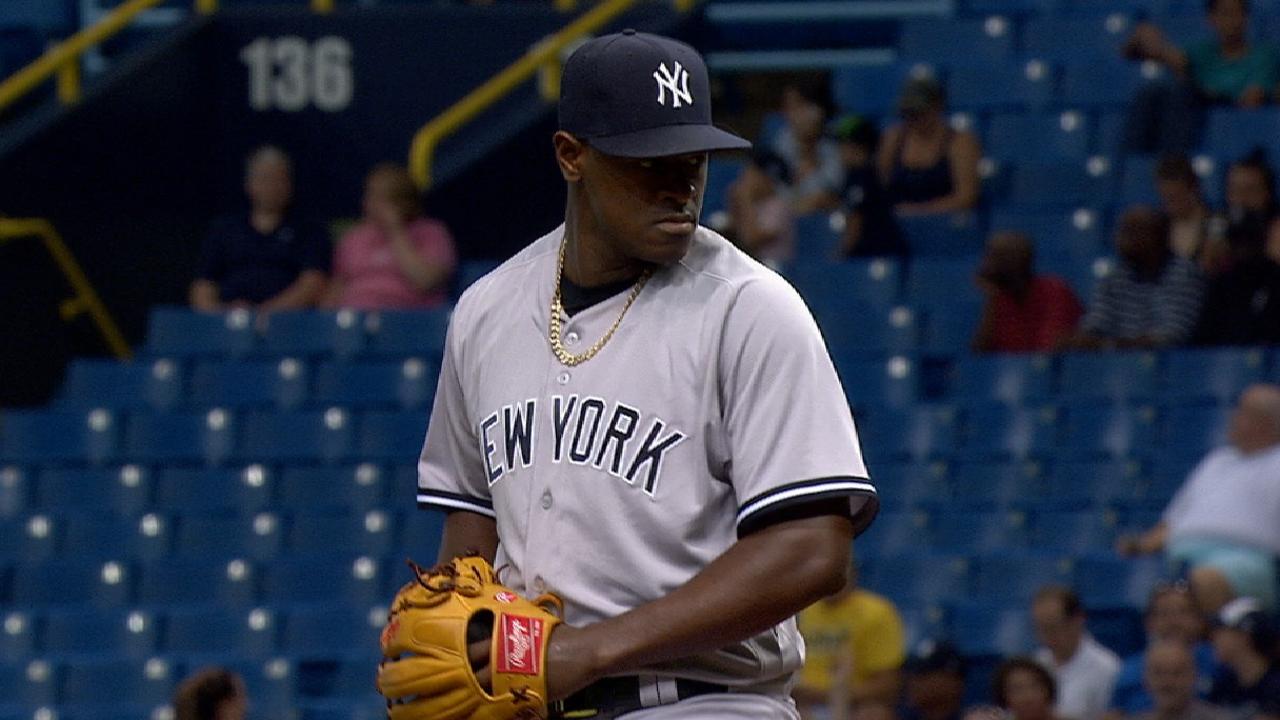 MOMENTS THAT MATTERED
Driving them home: Chasen Shreve thought that he had Weeks struck out on a 2-2 fastball that appeared to be too close to take, but home-plate umpire Quinn Wolcott didn't flinch. The next pitch was an 83-mph splitter that Weeks chopped softly down the third-base line and past Torreyes. Kevin Kiermaier and Longoria raced home on what was scored as a two-run double, giving Tampa Bay its first lead of the night.
"It was borderline. Could have gone either way," Shreve said. "Usually when it's a count like that and you spot your fastball like that, usually they give it to you. Doesn't mean it's a strike or not. Close pitch."
We're new here: Tampa Bay's inexperienced bullpen gave up the lead in the top half of the eighth. Jose Alvarado, 21, issued a leadoff walk to Brett Gardner before retiring Ellsbury on a popout. Cash called upon Stanek, who uncorked a wild pitch before serving up Holliday's eighth home run of the year. The homer came on a 100.2-mph fastball from the 25-year-old rookie.
"They are learning as we go," Cash said. "That's on me for putting them out there, but that's where we are at. Alvarado has been tremendous for us since he's been up here. I was very impressed that he came back and found a way to get a popup from Ellsbury after walking the guy."
AFTER FURTHER REVIEW
The Rays successfully challenged a call at first base in the top of the fourth inning, as Didi Gregorius was initially ruled safe on a ground ball to Longoria at third. A review of 48 seconds overturned the call.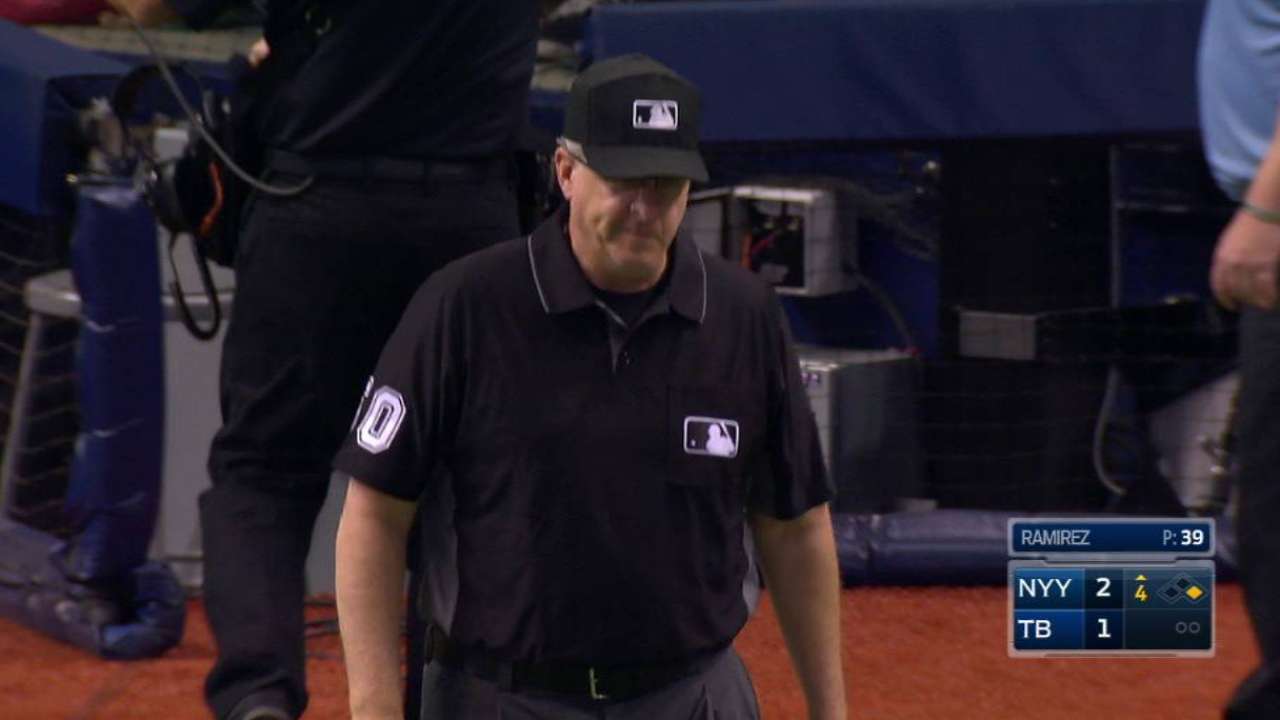 WHAT'S NEXT
Yankees: Masahiro Tanaka (5-2, 5.80 ERA) will make the start on Saturday at 4:10 p.m. ET when the Yankees play the second game of their weekend set at Tropicana Field. Tanaka is looking to bounce back from a rough outing against the Astros in which he permitted a career-high eight runs, serving up four homers in just 1 2/3 innings.
Rays: Matt Andriese (3-1, 3.18 ERA) will be on the mound opposite Tanaka. Andriese is 2-0 in his past three starts and has 20 strikeouts during that span. He got a no-decision after going six innings and giving up one run on six hits in his first appearance against the Yankees on April 13.
Watch every out-of-market regular-season game live on MLB.TV.
Bryan Hoch has covered the Yankees for MLB.com since 2007. Follow him on Twitter @bryanhoch and on Facebook.

Corey Long is a contributor to MLB.com based in St. Petersburg.

This story was not subject to the approval of Major League Baseball or its clubs.