Turner lands on DL with hamstring strain
'It's a big blow,' Roberts says of losing NL's leading hitter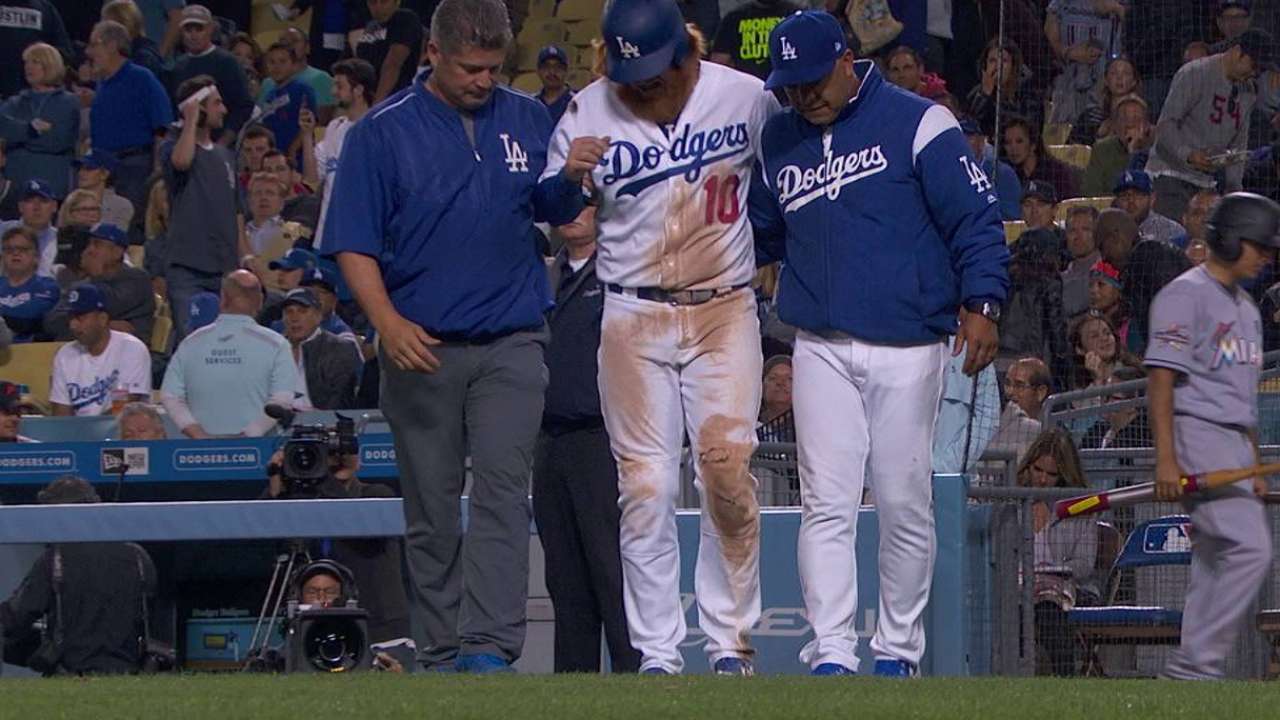 LOS ANGELES -- Manager Dave Roberts said he's hopeful Justin Turner will be playing "in a couple of weeks," but Turner would not speculate how long he will be sidelined by a Grade 1 right hamstring strain that put the National League's leading hitter on the 10-day disabled list on Friday.
"I think it's too early to tell," Turner said. "We'll just take it day to day and try to get it 100 percent."
The third baseman was injured Thursday night rounding third base as he tried to score from second base on a two-out single by Yasmani Grandal in the seventh inning of the Dodgers' 7-2 win over Miami. Outfielder Brett Eibner was recalled from Triple-A Oklahoma City to take his place.
"My second or third step past third base, it kind of grabbed on me, almost like a cramp," said Turner, who was easily thrown out at home. "In hindsight, I should have stopped right then and there. Tried to make my way home. Don't think it had any effect on the injury. The good news was the MRI, it's a Grade 1 strain, something I've come back from fairly quickly.
"I actually felt worse this morning than I expected, so the MRI results coming back the way they did was a very positive thing. I did a strength test last night that was pretty good, that was a good sign, but did a strength test again after the MRI and that was a good sign."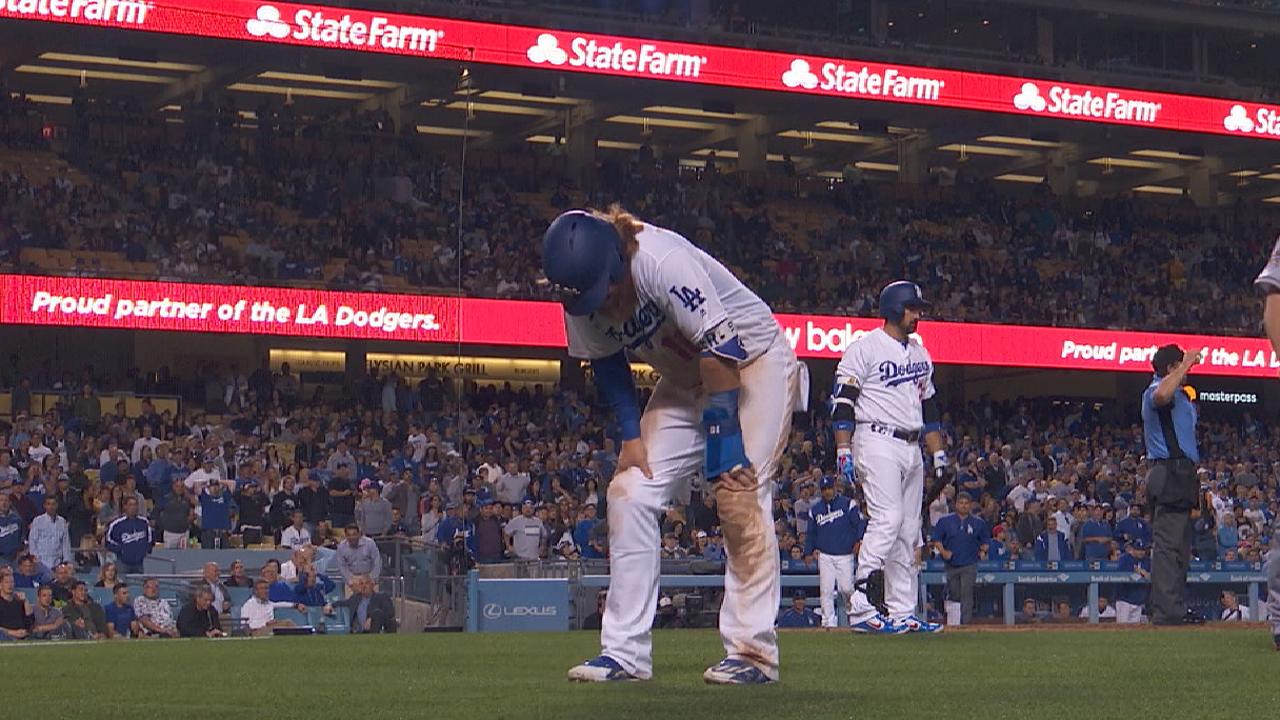 Turner was a part-time player when he suffered a hamstring strain in 2014 and said he missed 15 days. Officially, he was on the DL from June 29-July 18. Coincidentally, that time Turner was also hurt running the bases while having just recovered from a sore calf. He said on Friday that he's been dealing with a sore calf for the past week. He did not play in San Francisco on Monday.
"Just a fluke thing," he said. "I've been dealing with my calf for around eight days and wasn't moving around very good and that finally got to a point where it was feeling good. I was running around the bases, even stole a base last night, believe it or not. Then a little hitch in the hammy. It stinks, but there wasn't anything I could have done differently."
Turner, signed to a four-year, $64 million contract during the winter, was leading the National League with a .379 batting average and has a .946 OPS. Chris Taylor and Enrique Hernandez are his likely replacements at third base until Logan Forsythe returns from the disabled list early next week. Manager Dave Roberts said Forsythe, the starting second baseman who is healing from a hamstring strain, will see playing time at third base.
"It's a big blow," said Roberts. "All the components to help you win baseball games are what J.T. does."
Turner, Forsythe, Franklin Gutierrez and Kenta Maeda have been placed on the disabled list this year with hamstring strains.
Ken Gurnick has covered the Dodgers since 1989, and for MLB.com since 2001. This story was not subject to the approval of Major League Baseball or its clubs.