Taylor stepping up in center field for Nats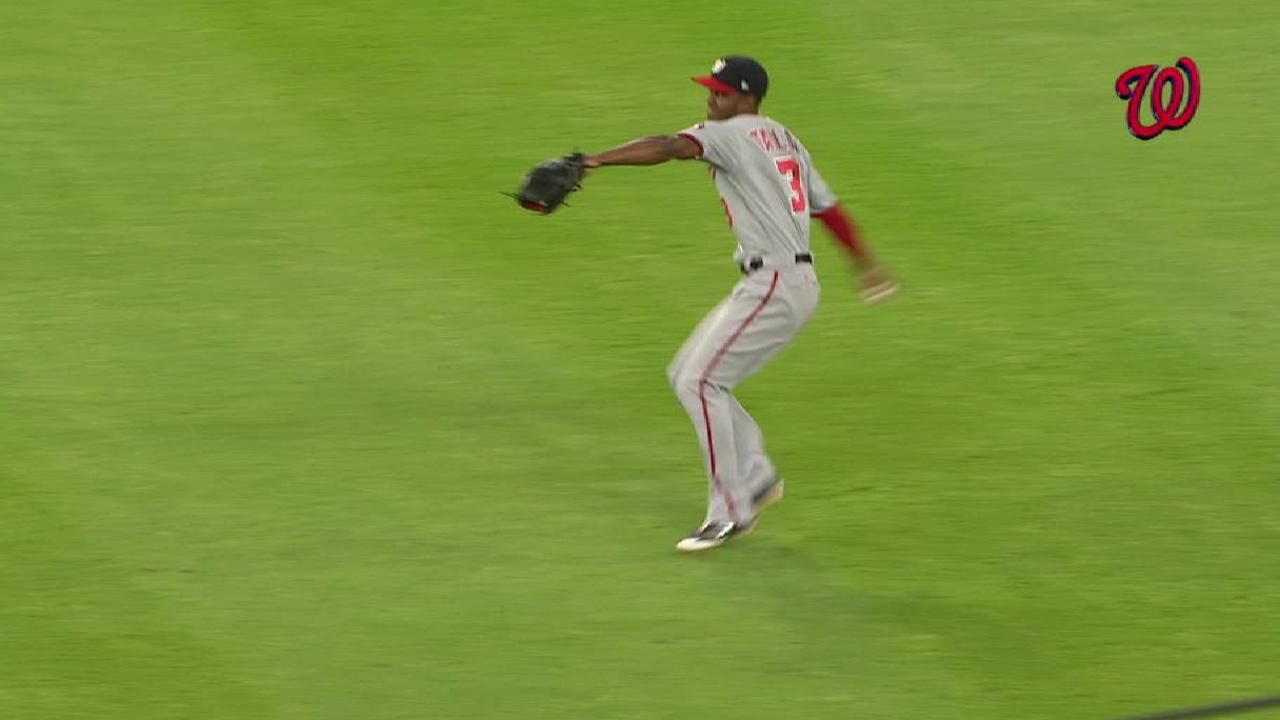 ATLANTA -- Michael Taylor has made the most of his chance as the Nationals' starting center fielder since they lost Adam Eaton to a torn ACL.
He was one of the few bright spots in the Nats' 7-4 loss to the Braves on Friday night at SunTrust Park, collecting a pair of hits and an outfield assist. Taylor has a seven-game hitting streak, in which he has hit .407 with two doubles, a triple and a pair of home runs.
"Just trying to relax and not do too much," Taylor said.
That simplified approach has helped Taylor stay comfortable at the plate lately, and he's hitting .338 since April 29, the day Eaton landed on the disabled list.
Taylor has always been a steady defender, and he showed off his brilliant arm in the sixth inning when Dansby Swanson tried to score from second on a single up the middle by Ender Inciarte. Taylor read the play and fired a laser toward home plate to throw out Swanson and save a run.
[DIKEMBE MUTOMBO FINGER WAG GOES HERE]

Michael A. Taylor showing off his arm in center! pic.twitter.com/IhAoWar02B

— Washington Nationals (@Nationals) May 20, 2017
"He's getting hits, and he's throwing people out and playing good defense, so he's doing his thing," Nationals manager Dusty Baker said.
If Taylor can maintain his current production, it will help ease concerns that the Nationals will have to acquire help in center field near the non-waiver Trade Deadline. It is their deepest position within the organization, and perhaps they could promote one of their prospects in the Minors should Taylor begin to struggle.
While his play has been encouraging, however, Taylor did enter Friday's game with a high batting average of balls in play at .417 and a strikeout rate of 37.5 percent, the highest of his career. But Taylor did get off to a slow start before picking it up lately. And he pointed to the benefit of playing every day that has given him the ability to make it through tough stretches where the strikeouts -- always his biggest issue at the plate -- begin to pile up.
"I feel like I've done that this year," Taylor said earlier this week. "In years past, things have kind of snowballed a bit on me. I feel like I kind of have a foundation now. As long as I stay there, at least it gives me a chance to compete."
Jamal Collier covers the Nationals for MLB.com. Follow him on Twitter at @jamalcollier. This story was not subject to the approval of Major League Baseball or its clubs.