Altuve, McCullers 'Team Up' for charitable night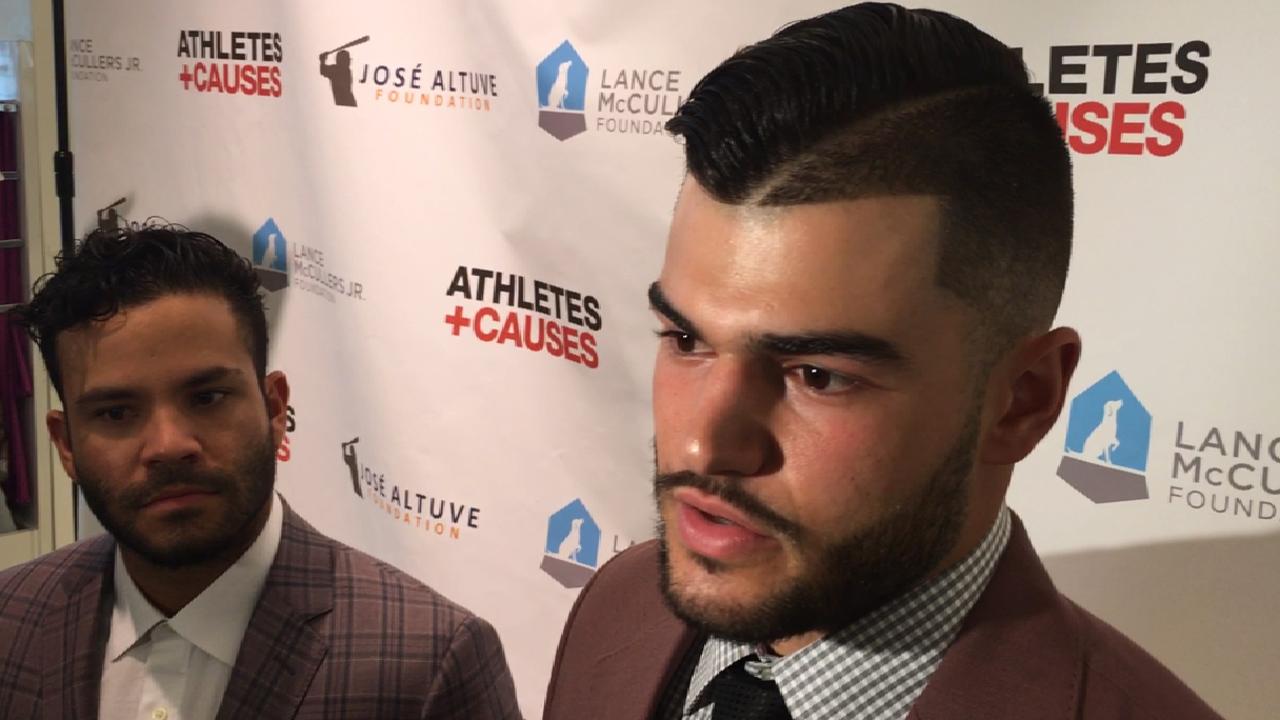 HOUSTON -- Astros second baseman Jose Altuve and starting pitcher Lance McCullers Jr. may seem like an unlikely pair. They're from different countries, play different positions and took different paths to the big leagues -- Altuve as a 16-year-old Venezuelan who wouldn't take no for an answer, and McCullers as the can't-miss son of a Major League pitcher who was a high Draft pick.
The two rising stars joined forces on Thursday night with several of their teammates at a charity event they organized called "Team Up for Kids and K9s," which raised money for respective their foundations. It was held at Tootsies, a designer women's clothing store.
"It's just two Astros teammates coming together that want to give back to the Houston community, and we thought it would be good to do an event together and shine the spotlight on some awesome causes," said McCullers, who was joined by his wife, Kara.
The Lance McCullers Jr. Foundation, a non-profit organization managed by Athletes and Causes, supports pet shelters in Houston. Meanwhile, Altuve unveiled the Jose Altuve Foundation, which on Thursday was raising money to support the Sunshine Kids, a foundation that benefits kids with cancer.
Tonight, @LMcCullers43 and @JoseAltuve27 hosted an event benefitting @LMcCullersJrFdn and @SunshineKidsOrg through Jose Altuve Foundation! pic.twitter.com/rSo62zziqo

— Houston Astros (@astros) May 19, 2017
"I'm very proud of this first event and be with Lance and my teammates," said Altuve, who was escorted by his wife, Nina. "It is great and I appreciate his support and everybody that is here."
The star-studded event include Astros players Dallas Keuchel, Carlos Correa, Alex Bregman, Charlie Morton, Collin McHugh and Joe Musgrove, pitching coach Brent Strom and Hall of Fame second baseman Craig Biggio, who's a national spokesman for the Sunshine Kids.
The players mingled with fans who paid to attend the event. What's more, there were pieces of art, autographed merchandise and other items up for auction, including dinners with Altuve and McCullers and tickets to an upcoming game.
"It's real important to get the help from us and I'm really happy to be doing this event," Altuve said. "I know everybody that is going to be coming here is going to be doing it with a purpose. It's not just to be here, it's to help the Sunshine Kids and Lance's foundation, and hopefully we're going to do more stuff like this."
The goal of the Lance McCullers Jr. Foundation is to invest time and resources into the promotion of pet adoptions, raising awareness for shelters and programs, and promote adoption over euthanizing. Several adoptions dogs were at the event Thursday.
"Animals and dogs, in particular, are really close to my heart," McCullers said. "I grew up with a lot of animals throughout my life, and I have adopted two of them as well. I think the love and the purpose they bring and the fact that you think you're saving an animal, but they're kind of saving you in a way.
"I want to get the message out there, man, that there's a lot of dogs and you don't have to go to a breeder, you don't have to go to a puppy store. There are plenty of dogs right down the street that are from here in Houston that for just $100, $200, you change their life."
Brian McTaggart has covered the Astros since 2004, and for MLB.com since 2009. Follow @brianmctaggart on Twitter and listen to his podcast. This story was not subject to the approval of Major League Baseball or its clubs.