Inbox: Astros targeting starter for trade?
Beat reporter Brian McTaggart answers questions from fans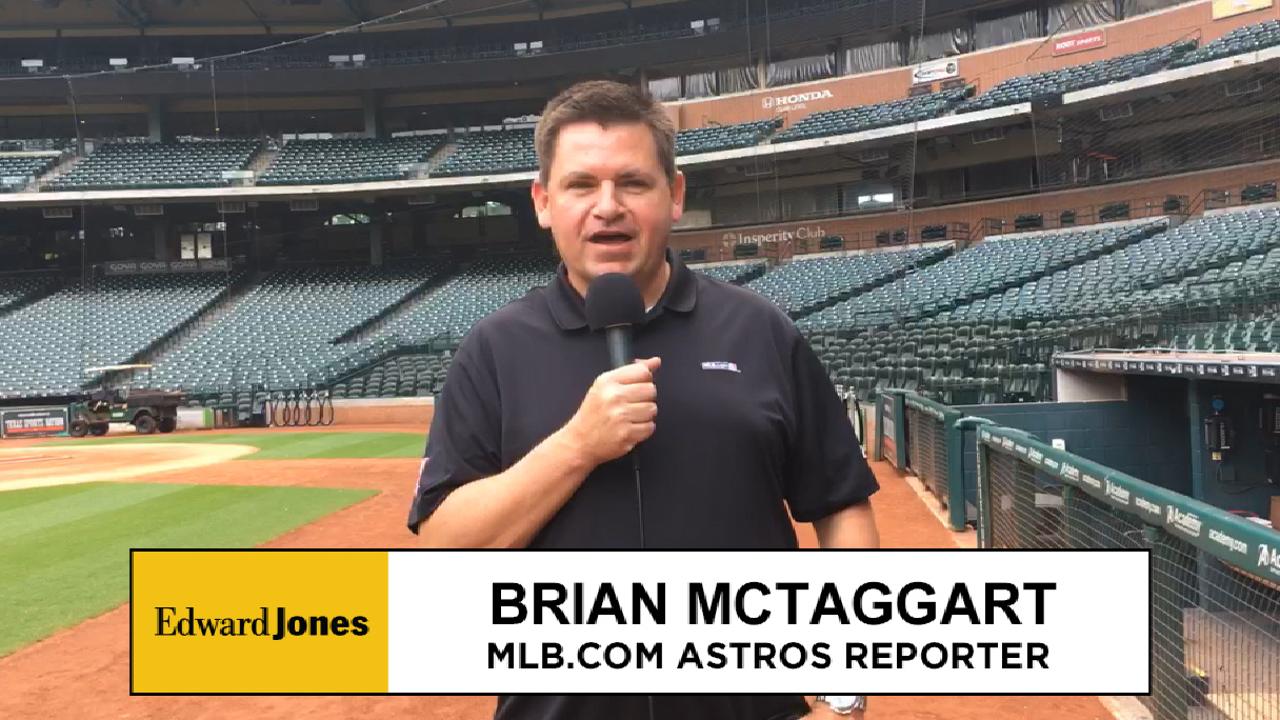 HOUSTON -- The team with the best record in baseball will open a 10-game homestand on Friday against the Indians. The Astros (29-12) are baseball's biggest story through the first quarter of the season and rank first in the American League in runs scored and have the league's lowest ERA.
So with all that good stuff going on in Houston, let's open the mailbox and see what's on the minds of the fans:
Ken Rosenthal recently wrote an article on the Astros and Pirates possibly being a match for Gerrit Cole. Do you agree?
-- Alex R., Houston
Cole would certainly fit the bill for the kind of starter the Astros need. A former No. 1 overall pick, Cole won 19 games two years ago and has a 2.84 ERA through nine starts this year for the Pirates. Cole would be another top-of-the-rotation arm and is under control for a couple of more years, which makes him even more desirable.
Of course, the Pirates aren't going give Cole away. They're going to want to at least one of the Astros' top prospects and a couple of other prospects, which will probably make fans a little queasy. But, the Astros could cement their place as baseball's best team and bolster their rotation for the postseason with the addition of a pitcher like Cole.
Are the Astros a better team without Jose Altuve having to be its best player? He's having a "down" year by his standards.
-- Dustin M., Houston
Whether Altuve is having a "down" year is debatable. He's hitting .311 with an .896 OPS, which would be the second-highest OPS of his career (last year he had a .926 OPS), but your point is valid. Even when he was scuffling earlier in the season, the Astros didn't skip a beat. That's the result of a deep lineup that doesn't have any holes.
In prior seasons, when Altuve went in a slump, the Astros usually had trouble scoring runs. But this team is so deep and talented that it can absorb slumps to Altuve, George Springer, Brian McCann or anybody else. Something tells me Altuve's numbers will be where we expect them to be at the end of the year.
The team has been great, especially the bullpen. As we know, injuries are bound to happen. Who are the guys that are next in line to help out the 'pen? Does [James Hoyt] move into a more late-inning role down the stretch?
-- Steve P., Sugar Land, Texas
At the rate Hoyt has piled up the strikeouts since he's come up, it looks like he's here to stay. If he continues to be effective and induce so many swings and misses, Hoyt will be used in higher-leverage situations and earn more trust of manager A.J. Hinch, especially is someone else struggles. Beyond Dayan Diaz, there are really not any arms at Triple-A Fresno the team is likely to use in relief this year. If you're wondering who's next in the bullpen, it's probably someone who's on another team.
Seems like a high amount of fielding errors the Astros were able to overcome on the road trip, has Hinch said anything about this? Eventually errors will catch up with you.
-- John P., Port Lavaca, Texas
Yes, Hinch has said a few times he'd like the team to shore up its defense, including turning more double plays. Yuli Gurriel had a rough series defensively at first base in New York, but the Astros were scoring so many runs they were able to overcome the miscues. Still, at some point an error could prove to be costly, and improving defense will continue to be an area of emphasis.
With how well the Astros outfielders have been playing, there's no need yet to bring up players from Triple-A, but Derek Fisher has been fantastic so far for Fresno. Do you think he would be included in a midseason trade, or do the Astros see him as too valuable to include at this point?
-- Jason M., Belton, Texas
Yes, Fisher -- the Astros' No. 4 prospect per MLBPipeline.com -- has been terrific and probably is ready to be challenged at the big league level, but barring injury, it's not going to happen in Houston any time soon. Whose spot would Fisher take? Springer, Josh Reddick,Carlos Beltran, Jake Marisnick and Norichika Aoki aren't going anywhere, and Fisher isn't going to come up to be a part-time player. A young player needs to play every day.
The Astros nearly dealt Fisher to the Phillies in the Ken Giles trade following the 2015 season, but he stayed with Houston after the deal was reworked following concerns about Vince Velasquez's elbow. Either way, the Astros have a talented young player on their hands in Fisher, who figures to benefit them on the field or in the trade market.
Brian McTaggart has covered the Astros since 2004, and for MLB.com since 2009. Follow @brianmctaggart on Twitter and listen to his podcast. This story was not subject to the approval of Major League Baseball or its clubs.