Healthy Cosart out to 'run with the opportunity'
In first start in a month, righty allows 1 run in 5 frames, could solidify rotation spot for a while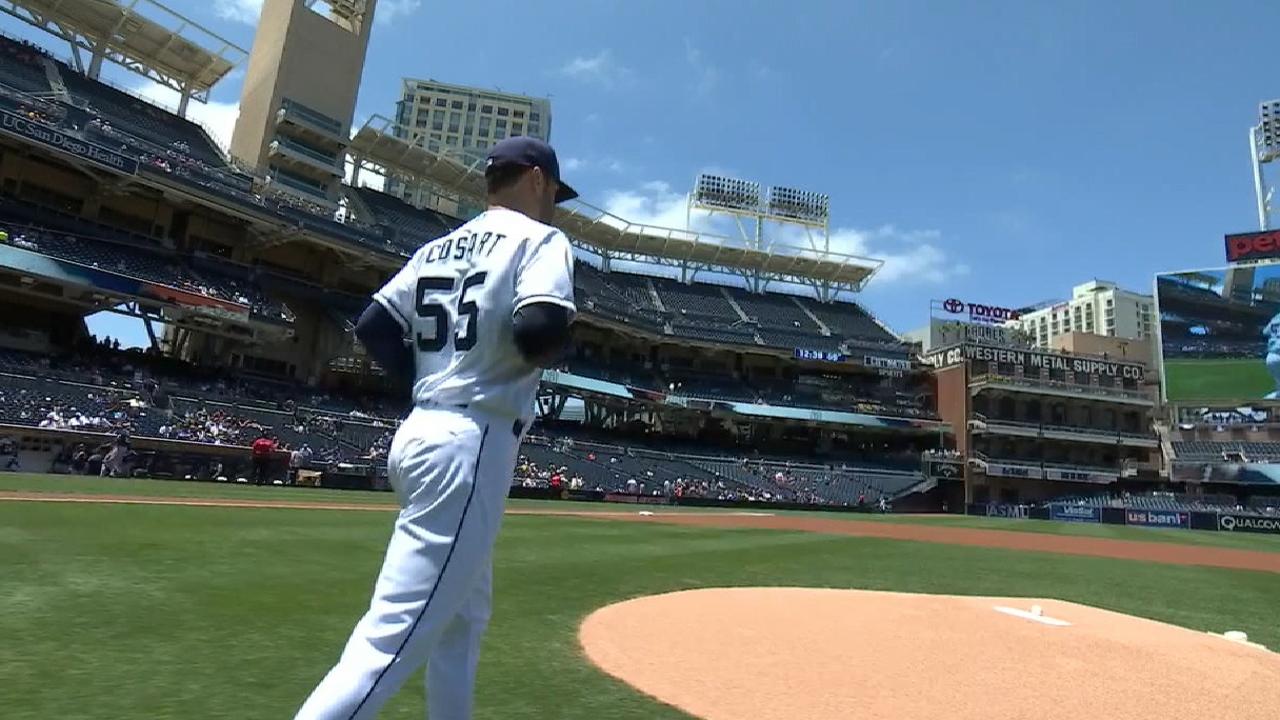 SAN DIEGO -- Milwaukee's Eric Sogard led off the game Thursday with a flare into right field. Travis Shaw opened the following frame with a slow, shift-beating chopper through the left side. In the third, Zach Davies opened with a bouncer to short that was booted by Allen Cordoba.
They were the type of tough-luck moments that have come back to haunt Jarred Cosart in the past. But in Thursday's 4-2 loss to Milwaukee, the Padres' right-hander was masterful at escaping trouble in his return to the Major League mound after a month-long absence.
"I actually felt really relaxed, which was kind of surprising to me," said Cosart, who allowed one run over five innings. "I tried to prepare myself last night for a little extra nerves, a little extra rust."
Cosart hadn't appeared for the Padres since April 18, a start he left early with a right hamstring strain. He last pitched in a May 7 rehab outing with Triple-A El Paso. Cosart was recalled on Sunday, but he didn't learn he'd be starting until Wednesday, when Trevor Cahill was placed on the disabled list with a right shoulder strain.
Padres skipper Andy Green was emphatic in his belief that Cosart's return marked an opportunity for the 26-year-old right-hander to stake his claim for a rotation spot. Green came away impressed on Thursday.
"Mentally, he was in a really good place today in the dugout," Green said. "Those situations that have snowballed in the past didn't snowball at all today. There's no doubt about the stuff, no doubt about the arm strength, the ability to pitch. We're very encouraged about his future."
Of course, the same platitudes have been uttered about Cosart before. Since his 2013 debut with Houston, Cosart has struggled to remain healthy.
In 2014, he battled an oblique injury. The following year, he went through a bout with vertigo. Last season, Cosart suffered a groin injury in early September, before his season eventually ended because of a bone spur in his elbow that required surgery. That laundry list made it all the more difficult for Cosart to stomach his most recent trip to the DL.
"I went on the DL one time in my entire Minor League career, so obviously it was extremely frustrating," said Cosart. "But I think I'm at a point with my body and workout and health, that I can go out there and give us a chance to win every five days."
Cosart has once again been given that opportunity. The extent of Cahill's injury remains unknown, meaning Cosart has his place in the rotation for the foreseeable future.
"My job is to make it tough on them if it comes to a decision as to who to put in the bullpen," Cosart said. "That's all I'm going to try to do."
When healthy, he's certainly done his part. Cosart has been on a limited pitch count in all three of his starts. But he's allowed just one earned run in his 12 2/3 innings as a starter.
Should he get another turn in the rotation, his short leash would likely come off.
"Every time you come to a big league clubhouse, you try to take advantage of the opportunity," Cosart said. "It's an honor to be here. ... As a starter, I'm going to try to run with the opportunity."
AJ Cassavell covers the Padres for MLB.com. Follow him on Twitter @ajcassavell. This story was not subject to the approval of Major League Baseball or its clubs.