Statcast Pod: No more easy thefts vs. Lester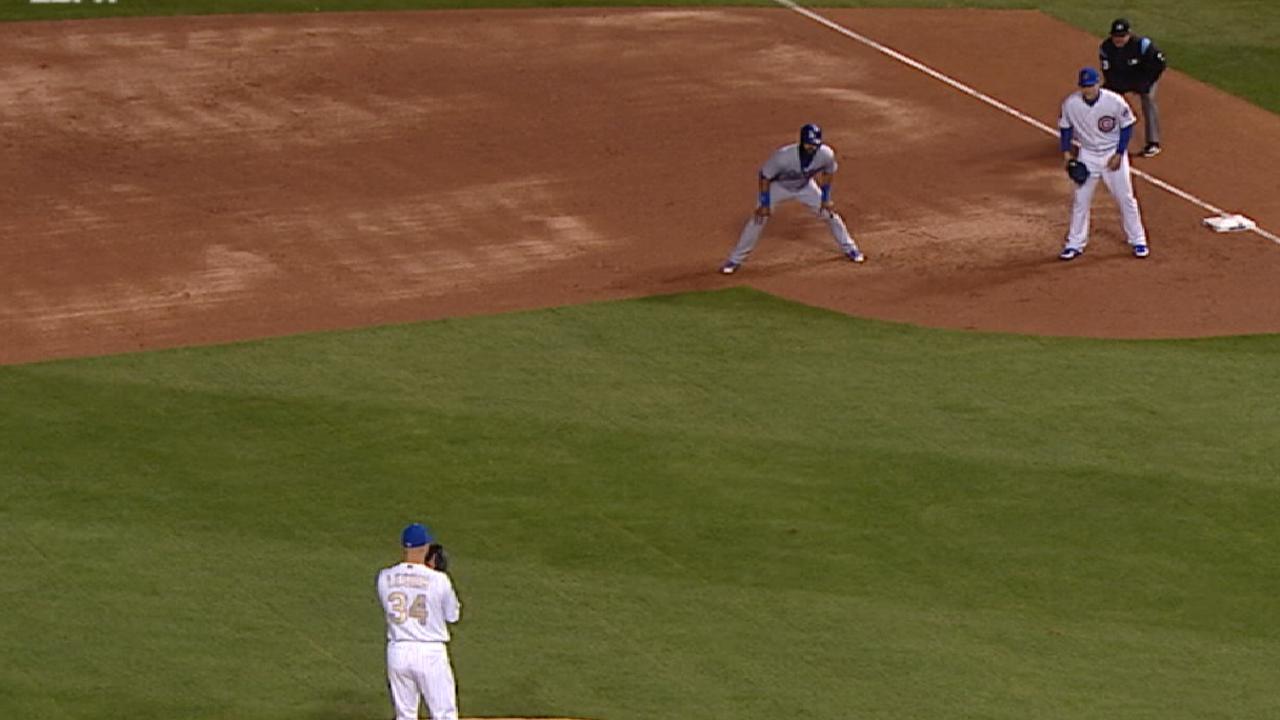 The following is a transcript of a segment from this week's episode of the Statcast™ Podcast. To hear more from Statcast™ expert and columnist Mike Petriello and MLB.com director of content Matt Meyers, subscribe by clicking here.
This week in the Statcast™ podcast, Petriello and Meyers tackle one of the more mind-boggling stories of the young season -- how stealing bases off Jon Lester suddenly became a bad thing to try.
Petriello: One of the biggest stories of the past couple years, but especially now since we can measure these things, is Jon Lester. Jon Lester has a well-known inability to throw to first. He just cannot hold runners on. The big story was David Ross retired and David Ross is excellent behind the plate. The thinking was: without David Ross --
Meyers: Who was his personal catcher.
Petriello: -- would he be able to succeed? I always thought that was kind of silly because Jon Lester had, like, a decade of quality performance before he ever got with David Ross. It wasn't an issue in Boston, with Jason Varitek or whoever his catcher was at the time.
Meyers: I honestly don't remember. How far back did his throwing-to-first issue go? Remember, he had like a two-year stretch where he didn't throw to first or something?
Petriello: Yeah, there were years where he did not throw to first. I think it's been most of his career. I think we only noticed it more recently. But this has been an issue for a long time.
Meyers: He hadn't had an intentional walk in like five years. But this year, because of the new rule, he already has like three.
Petriello: So the thinking was, he loses his personal catcher, he loses David Ross, he is with Willson Contreras, who is barely a year into his Major League career. How is this going to work? Were the guys on the bases going to abuse him? And Matt came up with this amazing stat. So far this year, they have caught seven runners stealing, Jon Lester has. And the next best guy, four. That's Carlos Carrasco, Wily Peralta. That's amazing to me.
Meyers: Jon Lester, among pitchers, leads the Majors in caught stealings against, with seven. Runners are 6-for-13 against him, but they're still below 50 percent success rate. Teams are hurting their cause by trying to steal against Jon Lester, in a major way.
Petriello: It turns out losing David Ross almost didn't kill him as much because, well, one reason is that Willson Contreras is actually really good behind the plate. He's got a cannon back there. It's interesting. His pop time really didn't improve on Ross, but it really didn't need to. It needed to just really hold steady. If you look at last year, David Ross, when Jon Lester was pitching, his pop time was 1.94 to second base. That's a little above the Major League average, which is 1.99, 2 on the dot. Willson Contreras this year? 1.93. It's basically identical. So they really didn't lose anything by going from the veteran to the rookie.
Meyers: Jon Lester's release times with a runner on first base are a little faster than they were last year. It's down from 1.2 seconds to 1.15 seconds. So I guess in the world of stealing bases, where every fraction of a second counts, that's something. But it's hard to attribute much.
Petriello: That's half of one-tenth of a second. He's holding guys on a little better with a guy on first base. With second only, last year, he was allowing a secondary lead of just over 15 feet. This year, it's 14.7 feet. That's something, I guess. He's maybe doing a little of a better job. I also think Willson Contreras has a really good pop time and a strong arm.
Meyers: Last year in the postseason, it became a really big story. Every time he started, it was a really big story, especially against the Indians. But teams weren't actually that successful against him in the postseason. Though, sometimes when they were, it was crazy -- they'd have like 25-foot secondary leads and steal a base with no trouble. It's almost like you have to dare him to throw to first. You have to take such a big lead, you almost have to taunt him before he throws to first base.
Petriello: I never understood, like in the NLCS last year, why these guys who are 30 feet off the base didn't just go. They should have gone all the time. The best explanation I heard was: the one time you're that far off the base and he throws you out, you look like an enormous idiot. And nobody wants to look like that in the playoffs, on national TV. I don't know if that's the reason. It passes the smell test, I guess. But you have to be aggressive in these situations. You have to.
Meyers: I'll give the hat-tip to Jeff Sullivan at FanGraphs for tweeting out something about this that alerted me to it. But I was floored when I saw Jon Lester is leading the league in caught stealings by a pitcher.