MLB.com Columnist
Phil Rogers
Maddon toying with idea of 2 utility men
Happ showing he has skills to stay on Cubs' active roster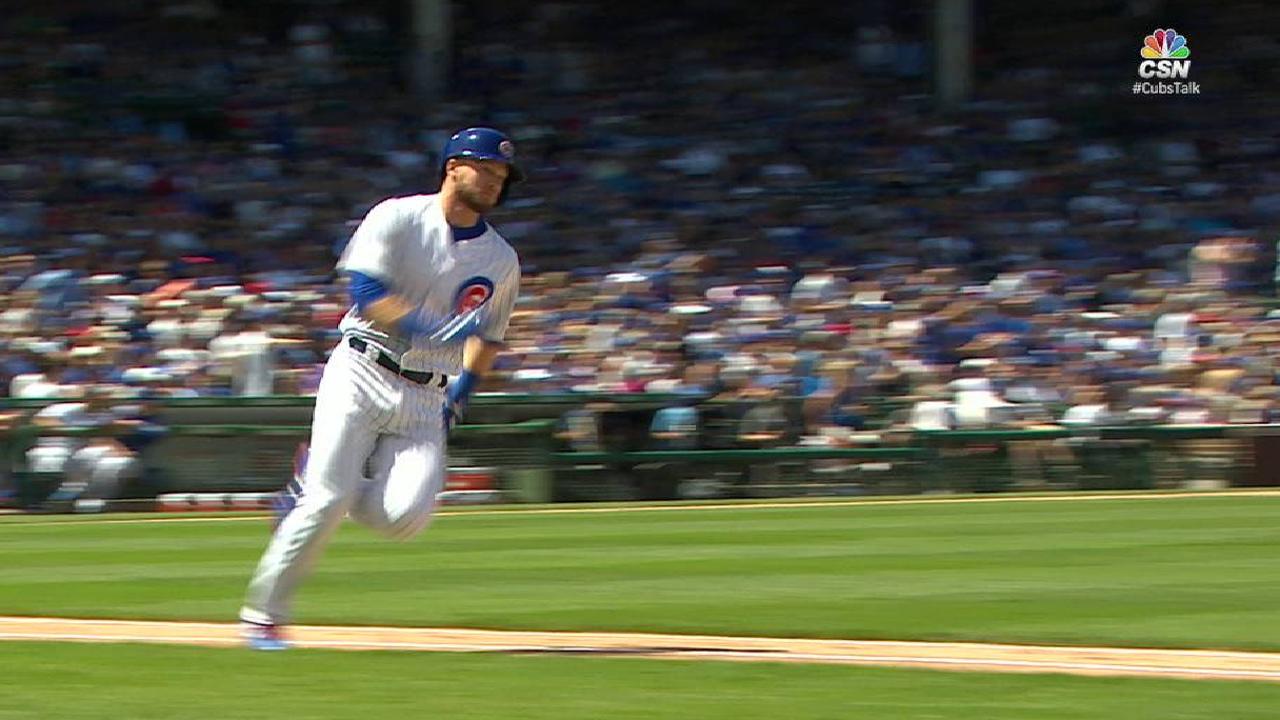 CHICAGO -- Sure, baseball had utility men before. But it took the free thinking of Joe Maddon's one-in-a-billion brain to add the capital letters.
We're about to find out if it's time to take the idea of the Super Utility man to a new level.
Ian Happ, who is the organization's No. 2 prospect according to MLBPipeline.com, presents an opportunity for the Cubs to up the ante by having two of those talented everywhere men on a 25-man roster.
Sounds like a stretch to ask a manager to find at-bats for 10 semi-regulars without going to pure platoons, but with Maddon, you never know what's possible. The more positions a player can play the better, especially on the short benches created by deeper bullpens.
Minor League teams had moved marginal players -- players like Maddon was during his brief professional career -- around forever. But when Maddon did it with the upwardly mobile Ben Zobrist on the big stage, when the low-budget Rays were one of the American League's best teams, it became an innovation that would quickly be copied.
Zobrist started all over Tropicana Field in 2009, written into Maddon's lineup everywhere but pitcher and catcher. Zobrist has brought that same versatility to Wrigley Field, where he was the World Series MVP when Maddon's team broke the Cubs' 108-year championship drought last season.
Happ, a 22-year-old switch hitter who was a first-round pick in the 2015 Draft after dominating college pitching at the University of Cincinnati, has hit his way to the top rung. He needed only 227 Minor League games to do it, following the path blazed by Kris Bryant and Kyle Schwarber. Happ got his first shot when Jason Heyward landed on the disabled list last weekend.
Happ has played only five games in the Major Leagues, but he has done enough in that short time to create the possibility that he might remain when Heyward returns, even though the Cubs are already at least two players deep at every position.
"I'm seeing an interesting all-over-the-map guy,'' Maddon said of Happ, who was 2-for-4 with a double and a walk in Thursday's 9-5 victory over the Reds.
Happ is hitting .353 with two home runs, five walks and a 1.324 OPS while making starts in all three outfield spots.
Happ was primarily a second baseman at Triple-A Iowa, but he also played all over the outfield there. It's going to be fascinating to see whether Maddon and president of baseball operations Theo Epstein believe they can fit Happ's bat into the mix as something of a high level Plan B.
Outside of the catchers, first baseman Anthony Rizzo, shortstop Addison Russell and left fielder Schwarber are the only Cubs regulars who don't move around on something of a regular basis (and Schwarber is the team's third catcher).
Bryant, the 2016 National League MVP Award winner, has moved from third base to right field, and he even got an inning in center field this season. He started 36 games in left field last season, when Schwarber was recovering from a knee injury.
Maddon laughs when he remembers analysts saying it was unfair to move Bryant around.
"He likes it,'' Maddon said. "Last year [I was] getting all this feedback like it's going to impede him from being this or that. … I heard it for two years. [He won the] Rookie of the Year [Award] and MVP; that's not being impeded.''
To the contrary, Maddon says.
"There's a freshness about it when you are confident that you can [play multiple positions],'' Maddon said. "When you come to the ballpark and all of a sudden you see your name at third base or left field, wherever, it's kind of cool to be moved around a little bit. I think it actually takes pressure off your offense. You go out there and focus on your defensive position, and then you go up and hit and react.''
Maddon is a firm believer that players increase their value by playing multiple positions. Zobrist, whom the Cubs signed to a four-year, $56 milion contract after he played for the Royals' World Series-winning team in 2015, is a prime example.
"We have these young guys that are really good, are willing to do this, and now's the time to do it with them,'' Maddon said. "If you wait a couple years and ask 'em to start moving around, that's when it becomes more difficult. But when you're doing it young and it's part of their landscape, it becomes part of their landscape, it becomes easier. It's good for them, and it's good for us.''
With left-hander Amir Garrett starting for the Reds on Thursday, Happ replaced Schwarber in left field. Happ lined hard to right field his first time up and then pulled a double down the left-field line.
Happ was hitting .298 with six home runs and a .977 OPS in 26 games at Iowa. His recent power (five homers in 60 at-bats in Spring Training) has been something of a revelation as his early reputation was for controlling the strike zone and getting on base.
In his first game at Wrigley Field against the Reds on Tuesday night, Happ blasted a homer into the left-field seats in the fifth inning, but Maddon was most impressed with his trip to the plate in the sixth inning. With reliever Blake Wood in a jam, Reds manager Bryan Price ordered Rizzo intentionally walked to get to Happ, who was batting cleanup.
Happ worked a 3-2 count and then walked, bringing in a run.
"The natural situation there is this young player expands the strike zone, gets too eager and the pitcher can throw whatever he wants,'' Maddon said. "He found out he couldn't. [Happ] spit on a couple of sliders down and finally there's a ball in the dirt to draw his walk. … If we can maintain that method, that poise, there's no telling what he can do.''
There's no telling what Maddon can do, either.
Is it time for a team to go two deep on Super Utility men? We'll find out when Heyward comes off the disabled list.
Tough call?
"Is it tough or is it easy?'' Maddon said, chuckling.
Phil Rogers is a columnist for MLB.com. This story was not subject to the approval of Major League Baseball or its clubs.