Collins snaps 0-for-30 skid in historic fashion
Tigers outfielder first since at least 1913 to have multi-homer game after such a hitless streak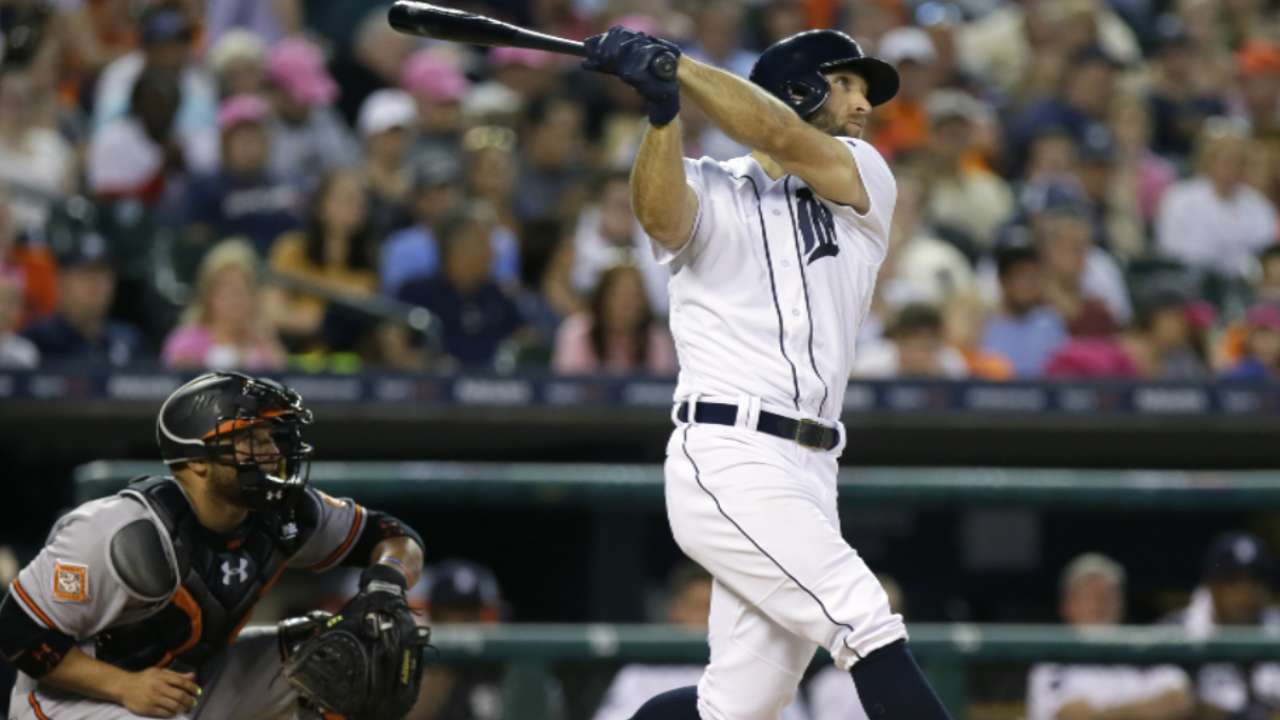 DETROIT -- Tigers manager Brad Ausmus spoke before Wednesday's game about how center fielder Tyler Collins, who was stuck in an 0-for-30 skid, was continuing to put together quality at-bats despite not connecting for base hits. Collins broke out just hours later and snapped his slump with two homers, a double and four RBIs.
"Tonight, I liked the at-bats that he was having, and I also liked the results," Ausmus deadpanned after Detroit beat Baltimore, 5-4.
According to STATS, Inc., Collins became the first player on record (since at least 1913) to enter a game in an 0-for-30 slump or longer and hit multiple home runs in a game. Collins' double in the eighth gave him 10 total bases in four plate appearances. He had just 30 total bases in 106 plate appearances coming into the game.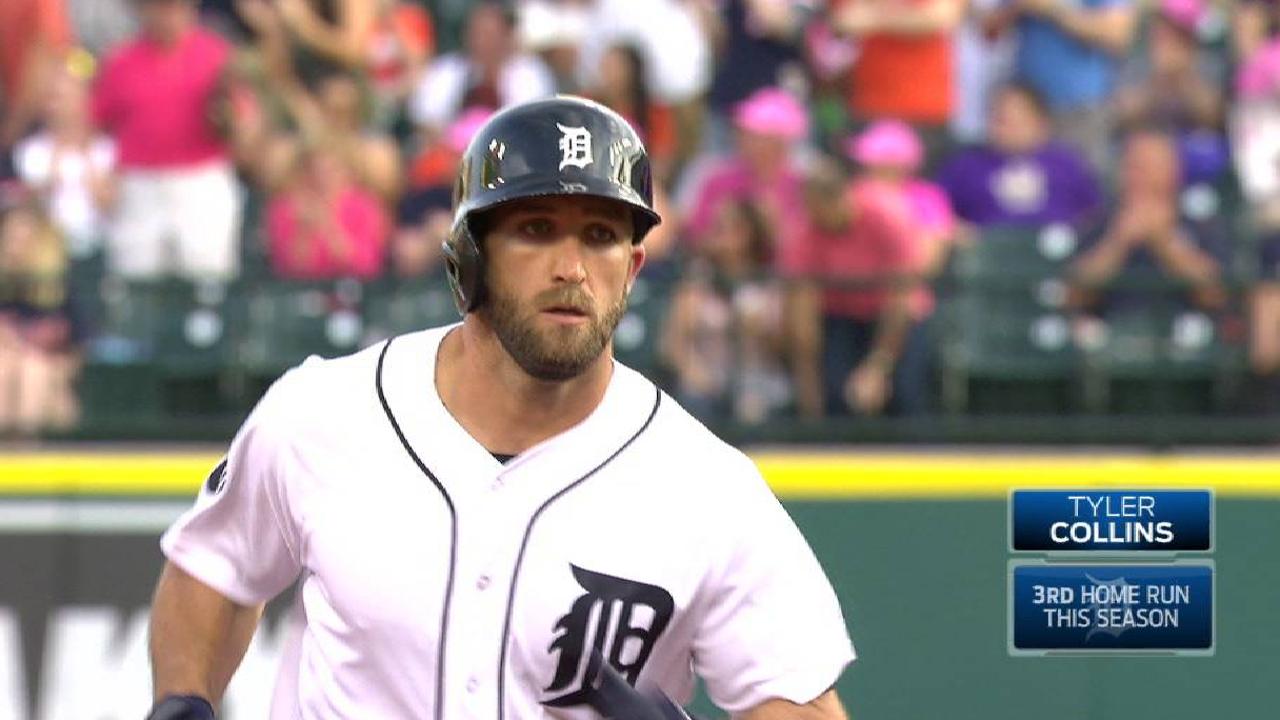 Collins, whose batting average dropped from .313 to .216 during the slump, had his woes magnified in the Tigers' 13-11 loss to the Orioles on Tuesday. Twice in extra innings, Baltimore intentionally walked red-hot Detroit slugger J.D. Martinez to pitch to Collins with the bases loaded and two outs. Twice, he stranded the runners.
"I know it's statistically an 0-for-30, but I felt great throughout the whole time," Collins said. "I hit a lot of hard balls, but that's just baseball. So you can't get beat up by it, you know?"
Collins was a difference maker, in a good way, on Wednesday. In the second inning, with the Tigers down, 1-0, he sent a slider from Baltimore starter Ubaldo Jimenez over the left-center fence for a solo shot. Then with two out in the fifth, on another Jimenez slider, Collins pulled a 379-foot home run into the right-field seats. It was his first career multi-homer game, and it gave the Tigers the lead for good.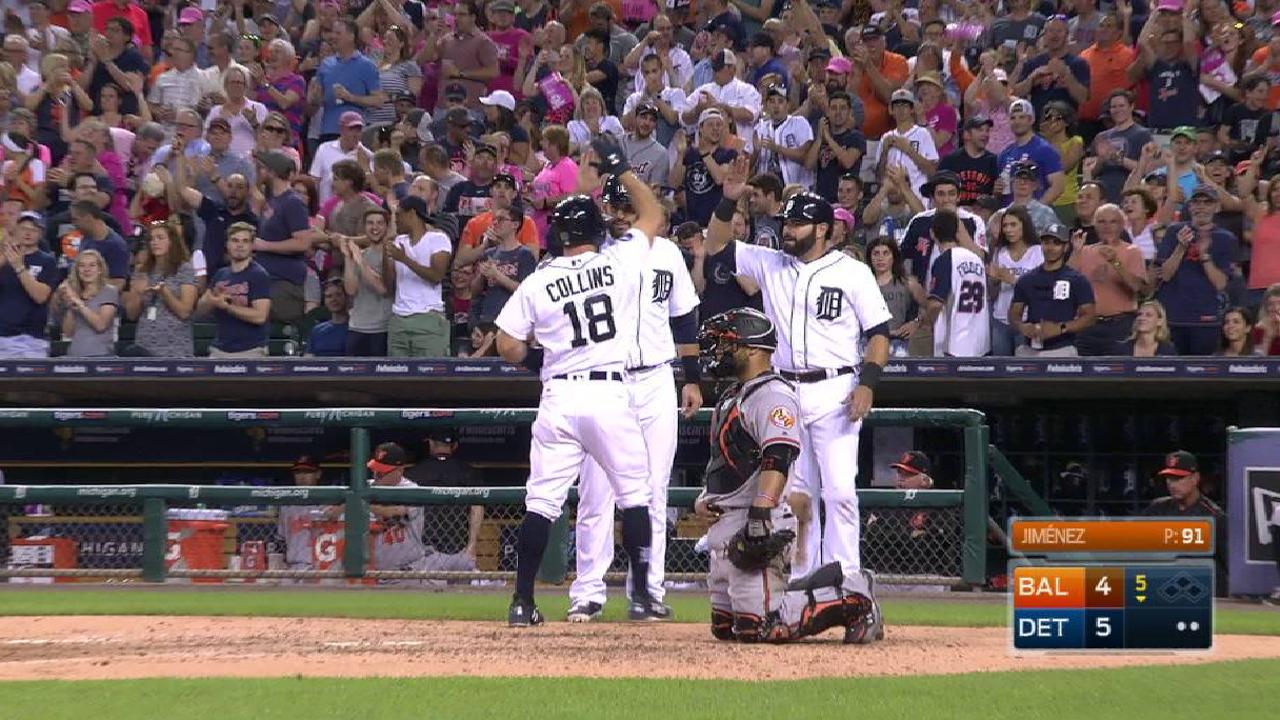 Despite Collins' recent struggles, Ausmus saw him as an asset because he's a lefty hitter and can cover the necessary ground in center. The manager continued to stress Collins' efforts in the batter's box, too.
"It's limited in terms of who we can stick in center," Ausmus said. "For me, the main thing was he wasn't having bad at-bats. So that's why I stuck with him."
Hits or no hits, Collins keeps a balanced attitude when it comes to on-field success. Tigers starting pitcher Michael Fulmer said there wasn't much emotion from Collins after either of his home runs, but that's just his personality. He expects to get the job done.
"He's been kind of frustrated with himself a little bit, but the thing about baseball and about T.C. is he's got a short memory," Fulmer said. "So for him to have a good night tonight, obviously it was a huge asset to the team, it's really good to see out of him."
Jordan Horrobin is a reporter for MLB.com based in Detroit. This story was not subject to the approval of Major League Baseball or its clubs.