X-rays on Freeman's left hand inconclusive
Braves first baseman to undergo further testing after being hit by pitch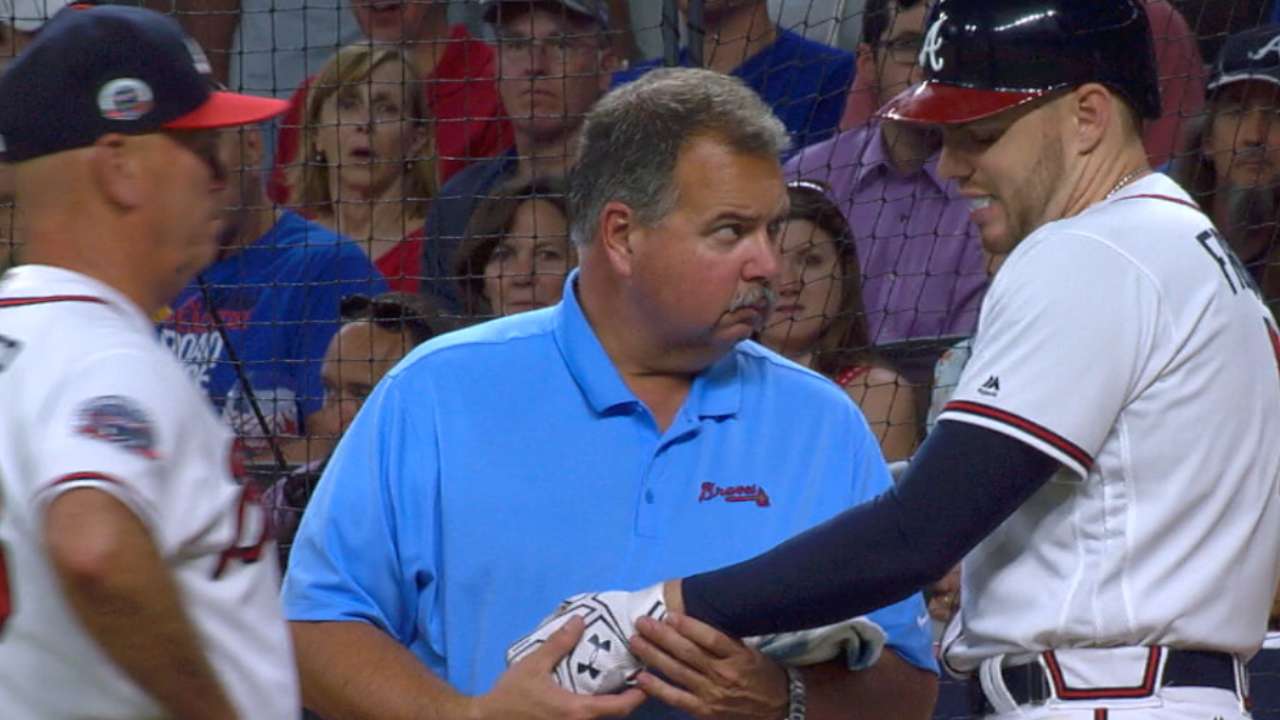 ATLANTA -- Instead of savoring a third consecutive win over the Blue Jays on Wednesday night, the Braves had no choice but to worry about the possibility Freddie Freeman had possibly suffered a fracture when he was by a pitch near the bottom of his left hand.
Freeman exited this 8-4 win over the Blue Jays in the fifth inning after he was hit flush by Aaron Loup's 94-mph fastball. The Braves simply announced the results were inconclusive and the first baseman would undergo further testing on Thursday.
This likely means there was too much swelling or scar tissue around the wrist to gain a conclusive diagnosis from the X-rays that were performed at the stadium. Thus Freeman will now undergo a CT scan or an MRI to learn the extent of the damage and gain a sense of how much time he will miss.
"Yeah, there's a hope he's going to be OK," Braves manager Brian Snitker said. "He's not going to be OK. He's going to be sore. We'll know more tomorrow."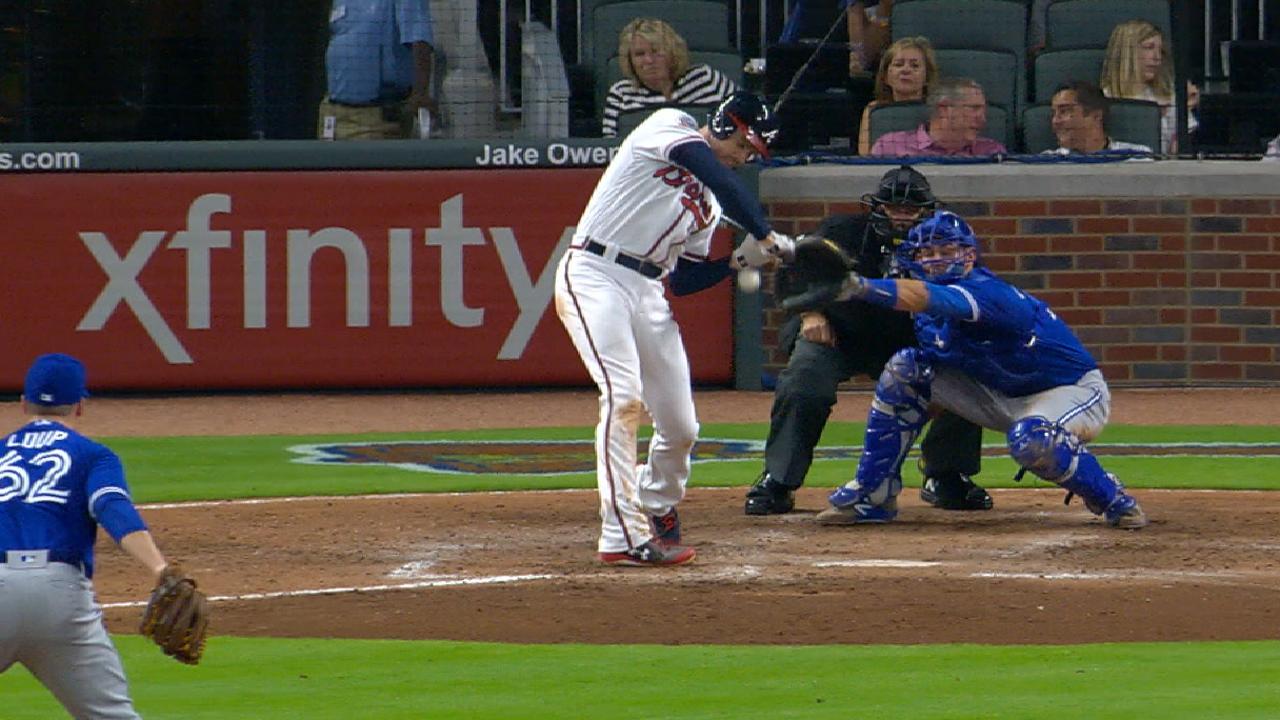 While the Braves might be holding out hope, the postgame mood in the clubhouse certainly wouldn't have been described as optimistic. This wasn't one of those instances where the team could at least say something like "he tested well" or "started feeling better" after exiting the game.
Snitker described Freeman's exit from the game as a "no-brainer" because the 27-year-old veteran couldn't swing the bat.
Freeman also enhanced the immediate concern with the facial expressions he displayed as assistant trainer Jim Lovell ran through a series of on-field tests.
"Obviously, a win is a win and we'll take it, but you're kind of looking at the big picture here," Braves catcher Kurt Suzuki said. "Your best player goes down and gets hit in kind of a freak spot. You're just kind of hoping for the best."
As the Braves have won five of their past six games and moved back to within five games of .500, they have rekindled a sense of optimism that would certainly evaporate if they are forced to spend a significant stretch without Freeman in the middle of their lineup.
Extending the tremendous success he had during last year's second half, Freeman leads the National League with 14 homers and ranks second with a 1.209 OPS. Over his past 162 games, he has tallied 42 home runs and constructed a 1.046 OPS.
When the Mets lost Noah Syndergaard to an injury a few weeks ago, Freeman talked about how the dominant pitcher's absence wasn't good for baseball.
The same will be said of Freeman if fans are denied the chance to see him continue to serve as one of the game's elite offensive threats over the next couple of months.
Mark Bowman has covered the Braves for MLB.com since 2001. This story was not subject to the approval of Major League Baseball or its clubs.