Sogard's big night lifts daughter's spirits
Brewers utility man gets four hits in game after heartbreaking loss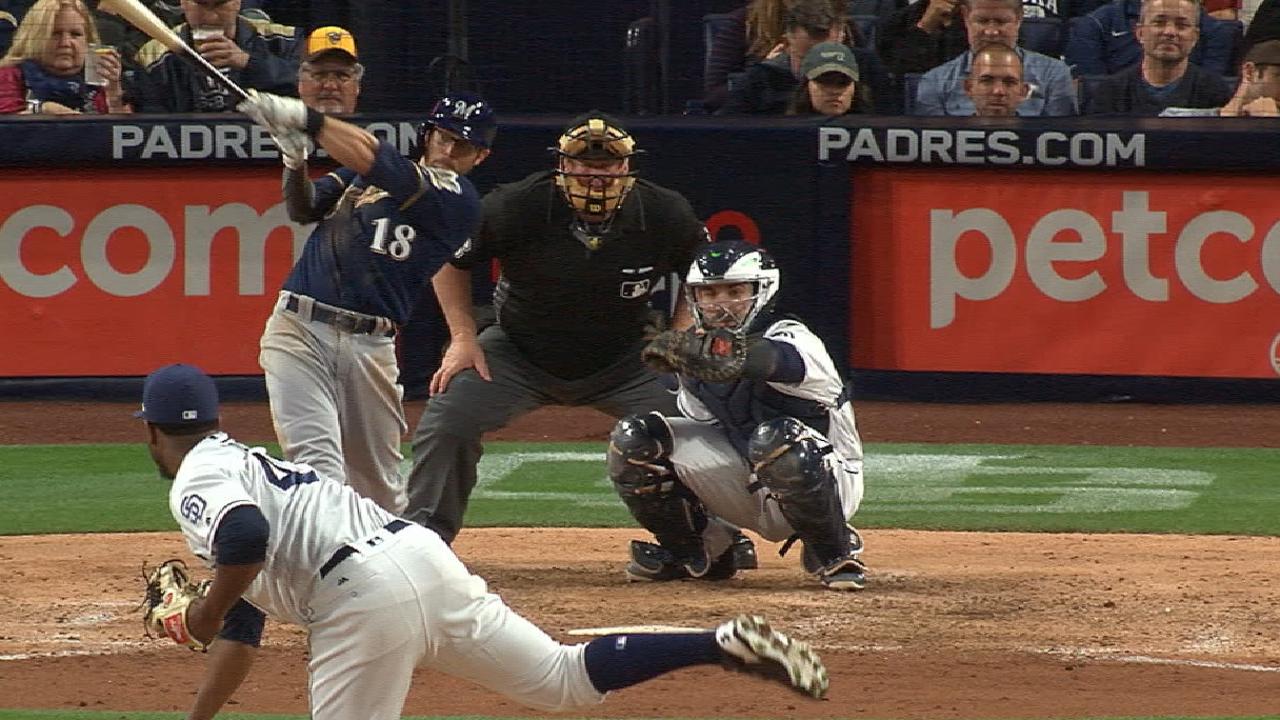 SAN DIEGO -- The cupcakes arrived thanks, in part, to her father's sweet swing.
The Brewers' Eric Sogard's daughter went viral recently with her heartfelt reaction to Monday's heartbreaking loss. Sogard's go-ahead, 10th-inning homer sent the tyke into a frenzy at Petco Park. Then her dad's heroics were eclipsed by Hunter Renfore's two-run, walk-off moonshot.
Three-year-old Saydee, shedding tears, went from being sky-high to realizing dad's team lost, and what's the fun in that?
• Sogard's daughter cries after walk-off loss
So the Padres presented Saydee with some feel-good cupcakes Tuesday.
Her dad brought his potent bat that night and, well, he had a smile, too.
"She likes cupcake more than anything," he said. "She was happy and probably wanted to leave right there."
Since his arrival Friday, Sogard has been icing atop the Brewers' offense. Sogard's career-high four hits on Tuesday helped steer the Crew to a 6-2 win. Then there's the three home runs for a spray hitter who hit five with the Oakland A's from 2013-15.
Sogard is flexing his muscles while swinging with a rebuilt left knee. It's the one that demanded Sogard skip 2016 while it mended from an operation.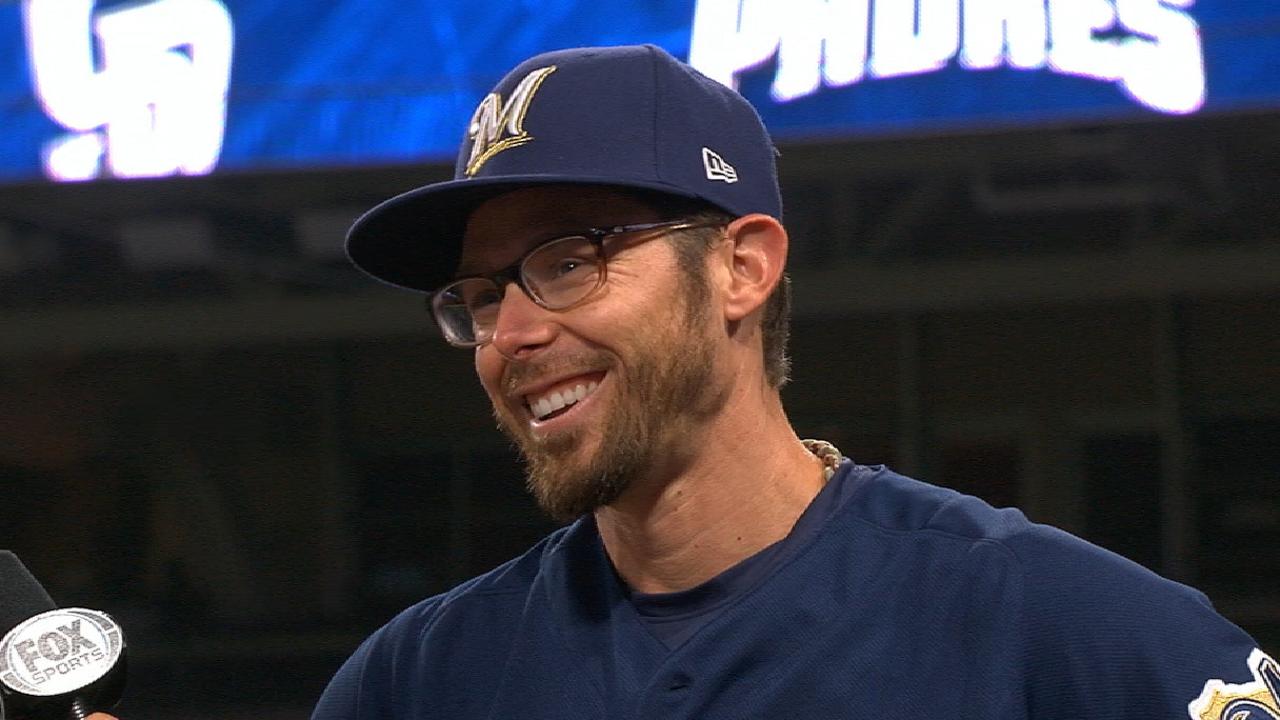 "I'm definitely just grateful to be out there after missing a full year,'' Sogard said. "It puts a different perspective on the game. It allows me to go out and just have some fun."
Sogard admitted there were challenging days, when doubt tagged along to the rehabilitation sessions.
"Obviously after a major surgery like that, you just never know what the future holds,'' he said. "It's an interesting process to go through, but I think it made me better in the long run."
That goes for the Brewers as well, as Sogard's versatility softened the absence of Ryan Braun, Eric Thamesand Travis Shaw. Sogard, who has played shortstop, second and third, came up and smacked big homers, hit safely in five straight plate appearances and more.
Starter Jimmy Nelson presented Sogard's defensive focus on an at-bat to the left-handed hitting Erick Aybar in Tuesday's win. With the shift deployed Sogard, playing third base, adjusted during Nelson's delivery.
"Aybar got a tough pitch on a fastball and hit it down the third-base line," Nelson said. "Sogard made the play on it and gets the out at first.
"Sogard realized what Aybar was trying to do against the shift there. So he read it and as I was throwing the ball he kind of broke to third, and sure enough, Aybar hit a ground ball to him right down the line and he got the out. Instead of it being first and third and no outs and a possible big inning, he gets the out and we get out of things.
"That kind of gets unnoticed."
That might be the only Team Sogard tidbit sliding under the radar. Sogard's comeback is raising eyebrows, and then there's Saydee taking the internet by storm. Although Sogard's four hits helped make sure her eyes stayed dry on Wednesday.
"I wouldn't be a good father,'' he said, "if I made her go through that again."
Jay Paris is a contributor to MLB.com based in San Diego. He covered the Brewers on Wednesday. This story was not subject to the approval of Major League Baseball or its clubs.