Swarzak's scoreless streak ends at 19 1/3
The numbers put up by Anthony Swarzak through his first 15 appearances this season would have been considered outstanding for even the best video gamers in the world.
But as the veteran White Sox right-hander discovered during the Angels' 12-8 victory Wednesday night in Anaheim, even the best of runs come to a temporary halt.
"It's always hard to swallow. It was a tough one out there," Swarzak said. "I faced three guys and gave up three hits. That's never good, I don't care what kind of year you're having, what streak is going on. If you're giving up three consecutive hits to three consecutive batters, that's an issue."
Swarzak relieved Miguel Gonzalez in the sixth inning with two outs, Danny Espinosa on second and the game tied at 4. Martin Maldonado singled to left to break the tie, followed by Cameron Maybin's check swing single up the third-base line to put two on base.
Maybin's roller stayed on the grass to stay fair and wasn't exactly well struck. Mike Trout, who was up next, didn't miss on his opportunity.
Trout launched an 0-1 slider for the reigning American League Most Valuable Player's fifth home run in his last six games, giving the Angels an 8-4 advantage. That no-doubt-about-it blast to left-center ended Swarzak's scoreless streak at 19 2/3 innings and was Trout's first hit in seven career at-bats against the righty.
"Baseball is a funny game sometimes," Swarzak said. "The guy's never touched first base with me pitching. He ends up being the guy I give up the homer."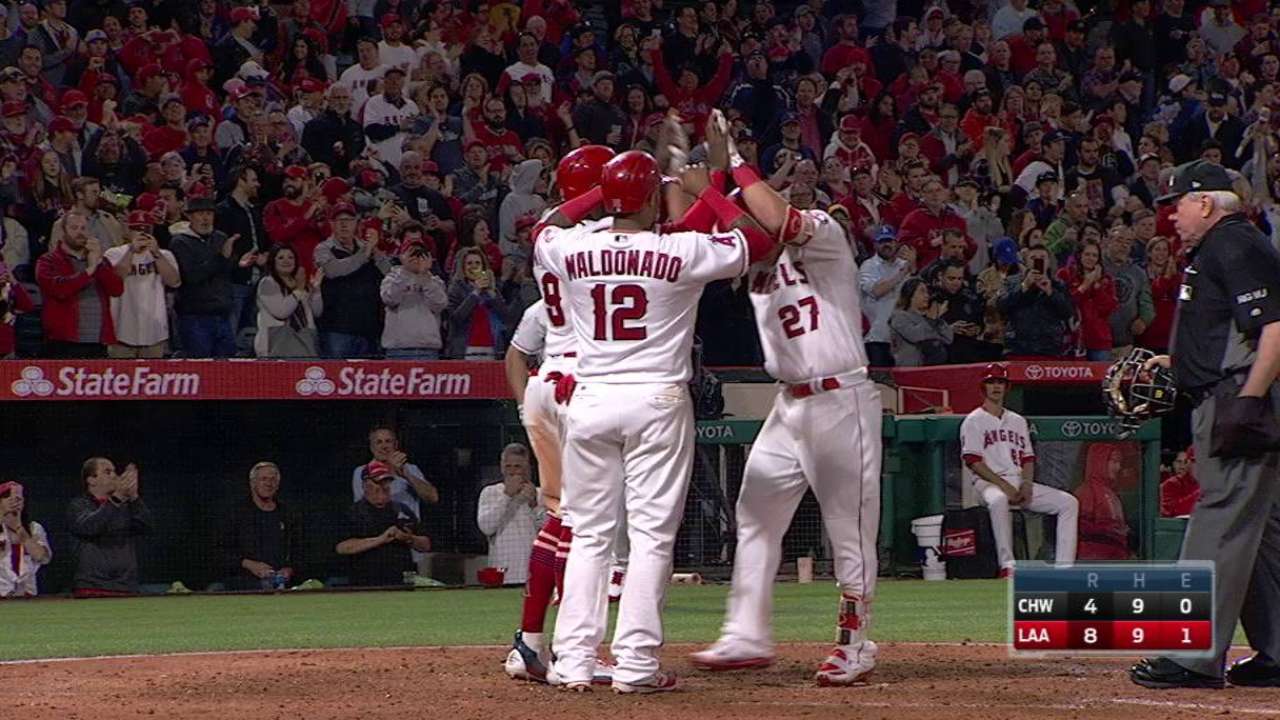 Prior to Wednesday's outing, Swarzak had allowed two hits and one walk over his last 50 batters faced, with 22 strikeouts and two walks. A slight rise in his fastball velocity and a couple of different variations of his slider were keys to Swarzak's almost unreal dominance. He was the only Major League pitcher to work 19-plus innings without allowing a run this season, and his streak left him just short of Dustin Hermanson's franchise record of 21 scoreless innings to start a season.
White Sox starting pitchers have a 0-8 mark with a 6.36 ERA and .294 opponents average against over the last 11 games, so bigger issues exist for the team during this 2-9 funk that has them four games under .500. But Swarzak couldn't get the job done Wednesday in a venue where the White Sox have lost 14 of their last 15 games.
"Through that stretch, I got away with some bad pitches. Nobody's perfect," Swarzak said. "You try to minimize your misses. I've missed this year. I just got away with it.
"Tonight I didn't get away with it. It was kind of the perfect storm. The first guy hits an OK slider to left field and Gonzo's run comes across and scores. Maybin with kind of a check swing, kind of dribbler down the third-base line. That kind of hit I've been avoiding this year, for whatever reason. It's just been going my way.
"There's nothing you can do to stop that type of stuff. Today I just didn't get the next guy. That's what you've got to do. You give up those little 45-foot singles in the infield, you've got to get the next guy."
Scott Merkin has covered the White Sox for MLB.com since 2003. Read his blog, Merk's Works, follow him on Twitter @scottmerkin, on Facebook and listen to his podcast. This story was not subject to the approval of Major League Baseball or its clubs.