Hicks sets stage for Yanks with 3-run homer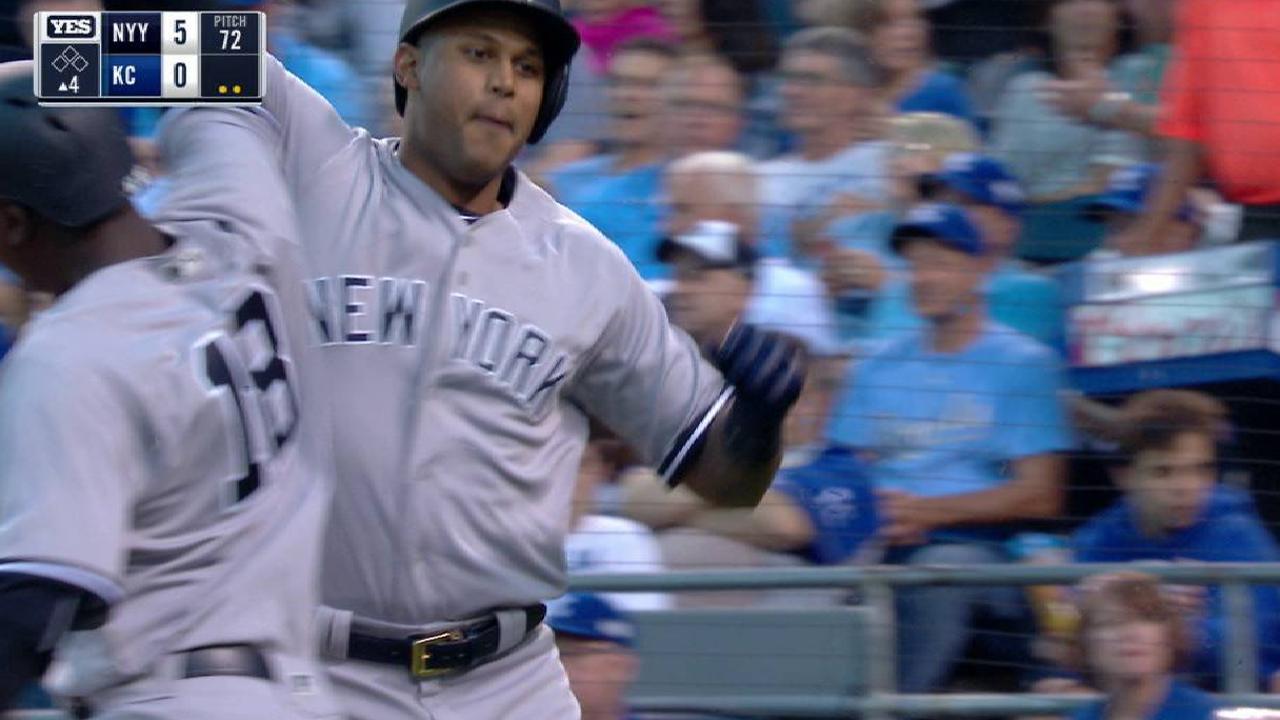 KANSAS CITY -- Yankees fans are starting to see Aaron Hicks unlock the potential that Twins fans had hoped to see in the recent past.
It never quite clicked for Hicks amid much hype in Minnesota, but the Yanks traded for him and are now seeing a nice dividend on that investment.
Against Royals left-hander Jason Vargas, the hottest starting pitcher in Major League Baseball, Hicks delivered a three-run homer in the fourth inning on Wednesday night that boosted the Yankees toward an 11-7 victory.
It was the seventh homer for Hicks, who finished 2-for-4 and lifted his batting average to .326. Dating to last year, Hicks has 12 homers over a 62-game span. He has reached base in 18 of 20 starts this year and is batting .333 with 18 RBIs as a starter.
"I'm just taking some good swings right now," Hicks said. "I'm making solid contact and good things are happening."
The Yankees already led 2-0 in the fourth when Hicks went deep against Vargas with a drive inside the left-field foul pole. It was just the second homer allowed by Vargas this season.
"You have to make sure you lay off the good changeups [against Vargas]," Hicks said. "Make him make a mistake with that changeup and get it up. And when you have him backed into a corner with runners in scoring position, you have to take advantage of it."
Hicks was out in front a bit on his three-run homer, but he managed to keep the ball fair.
"There's a little bit of doubt [about fair or foul] when you are out front that much on a changeup," Hicks said. "Today, it happened to stay fair."
The Yankees' offense has scored at least seven runs in 17 games this season and has accomplished that feat in eight of the last 13 games.
"We're really picking each other up," Hicks said. "If one guy doesn't do it, the next guy comes up and does it. That's how it has to be with an offense. We've been able to come up with big hits in big situations."
Robert Falkoff is a contributor to MLB.com based in Kansas City. This story was not subject to the approval of Major League Baseball or its clubs.