Margot, Renfroe high on NL rookie charts
Notes on Diaz, Hedges, Richard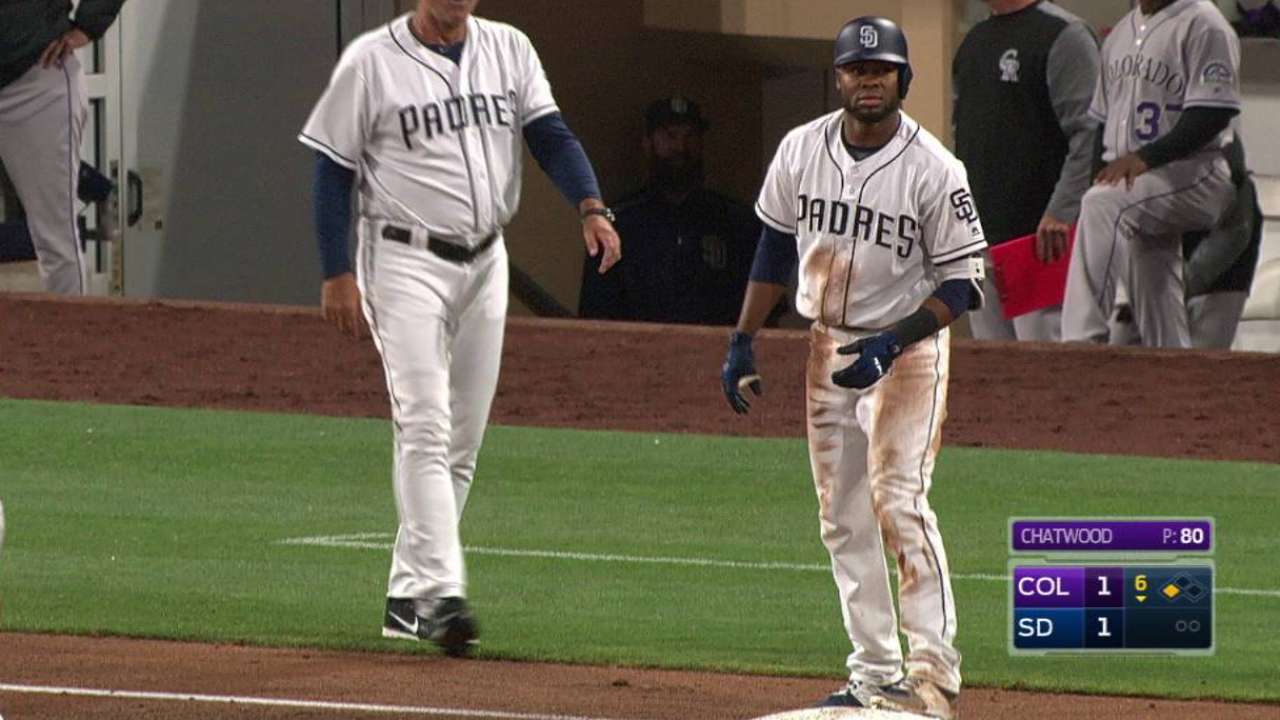 Bill Center, longtime sportswriter for U-T San Diego, is an employee of the Padres.
The National League is packed with Rookie of the Year candidates this season.
Four of them are at Petco Park this week - Padres outfielders Manuel Margot and Hunter Renfroe and Brewers catcher Manny Pina and first baseman Jesus Aguilar.
There are more viable candidates in Dodgers first baseman Cody Bellinger and Rockies pitchers Antonio Senzatela and Kyle Freeland.
So how do the Padres outfielders stack up with other rookies at roughly the quarter-point of the season.
Renfroe is tied with Bellinger for the home run lead among National League rookies with seven and ranks second to Bellinger with 17 RBIs. Renfroe is also tied for the lead among National League rookies in extra-base hits (14) and doubles (seven). And, after tying a Padres' record with an assist in a third straight game Tuesday night, Renfroe leads all rookie outfielders with four assists.
But it is Margot who ranks closer to the top of more rookie statistical categories.
Margot leads all National League rookies in hits (44), multi-hit games (14), total bases (68), triples (3) and stolen bases (five). Renfroe ranks second in hits (31) and total bases (58).
Margot was 1-for-4 with his third triple of the season Tuesday night. But he had already set a Padres' rookie record with 43 hits in the season's first 40 games. The old mark was 40 hits shared by Josh Barfield (2006), Xavier Nady (2003) and Benito Santiago (1987).
Margot and Renfroe lead all National League rookies in games played and plate appearances.
Aguilar leads National League rookies in batting with a .313 average. Pina is second at .312. Margot is fifth at .273. Margot also ranks sixth in on-base percentage (.324) and third in walks (12).
GAME NOTES:
• RHP Miguel Diaz pitched three scoreless innings Tuesday night to lower his earned run average from 9.98 to 8.35. The Rule 5 pick allowed two hits and a walk while striking out two. Diaz has worked four straight scoreless innings in his last two appearances after giving up at least one run in nine of his 10 previous appearances - a total of 17 runs on 16 hits and eight walks in 11 innings.
• C Austin Hedges was 2-for-4 Tuesday and is 9-for-23 with two doubles, a home run, three RBIs and four runs scored in a career-high, six-game hitting streak. He has raised his batting average from .182 to .221 during the streak.
• 1B Wil Myers' 11th home run Tuesday night was his fourth in the last seven games after going seven games without a home run.
Bill Center, longtime sportswriter for U-T San Diego, is an employee of the Padres.