Polanco placed on DL with strained hamstring
Outfielder Ortiz called up in corresponding move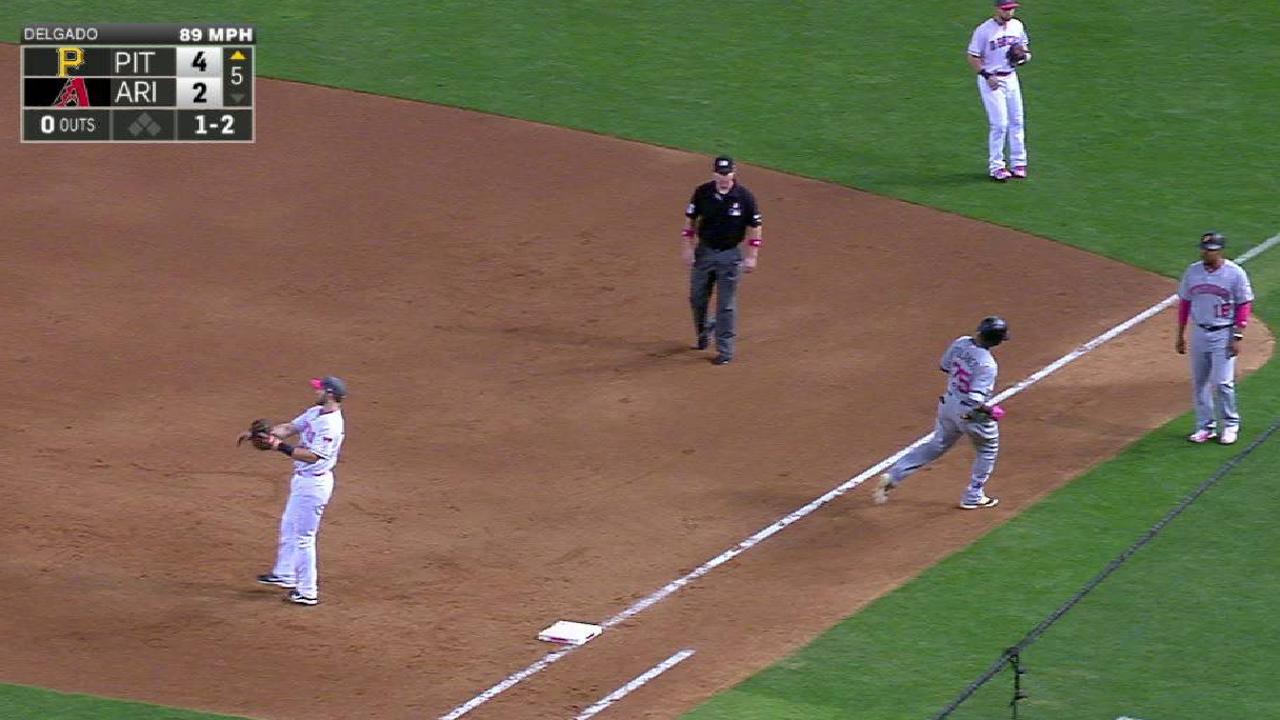 PITTSBURGH -- Just when they were getting back to full strength, the Pirates had to put right fielder Gregory Polanco on the 10-day disabled list Wednesday due to a strained left hamstring.
The assignment is retroactive to Monday. Polanco left Sunday's game in Arizona early after feeling his hamstring tighten up following a long run to track down a fly ball in the third inning. His discomfort was obvious in his next at-bat, and he was removed from the game after that.
Polanco was not available during the Pirates' 8-4 loss to the Nationals on Tuesday at PNC Park, and on Wednesday he was officially placed on the disabled list. The Pirates recalled outfielder Danny Ortiz from Triple-A Indianapolis to take Polanco's spot on the roster.
Over the weekend, Pittsburgh returned to full strength -- as close as the club can be without Jung Ho Kang and Starling Marte, at least -- with the return of third baseman David Freese and super-utility man Adam Frazier.
Polanco will rest the next two days, head athletic trainer Todd Tomczyk said, but the Pirates hope to have him back in their lineup the first day he is eligible to return.
"We feel that we caught this early. If it was up to Gregory, he would rather push through this and want to play," Tomczyk said. "As a staff, we felt it was most important to disengage from game activity and get this right since we have a lot of season left."
For now, it appears Frazier, John Jaso and Jose Osuna will get the majority of starts in the corner outfield. The Pirates are left with only one of their Opening Day outfielders -- Andrew McCutchen, who moved from right to center following Marte's 80-game suspension. The Pirates could also consider giving Josh Harrison more time in the outfield, manager Clint Hurdle said.
Ortiz will serve as a backup and defensive specialist in the outfield. Ortiz, 27, made his Major League debut with the Pirates on April 29, playing the final three innings without an at-bat in Miami.
"It feels great to be back. Having to leave the next day after my first callup, it was a little unfortunate," Ortiz said through interpreter Mike Gonzalez. "At the same time, it was a great experience. Now, I'm excited to be back here, help my team out, help them produce in any way that I can. Now I have a better understanding of what to expect."
General manager Neal Huntington has said the Pirates remain interested in acquiring another outfielder, if the right opportunity presents itself.
"We've had a lot of discussions about who's available, on guys we may be able to get or guys we've targeted," Huntington said. "We haven't been able to pull anything together."
Around the horn
• Harrison was given a day off Wednesday, which was scheduled before the homestand began.
"It's based on a lot of different things, a lot of different indicators," Hurdle said. "We're looking for days for different guys at different times. I believe being proactive is the best way."
• Left-hander Antonio Bastardo (left quad strain) is throwing off the mound at the club's Pirate City complex in Bradenton, Fla., Tomczyk said. Bastardo, who has been out since April 25, has a 16.20 ERA in six appearances this season.
Bastardo will continue to work off the mound and increase the intensity of his sprinting before getting into a game in the "near future," Tomczyk said, adding that the early reports about Bastardo's progress have been positive.
Adam Berry has covered the Pirates for MLB.com since 2015. Follow him on Twitter and Facebook, read his blog and listen to his podcast. This story was not subject to the approval of Major League Baseball or its clubs.