Mariners' Seager heating up after another HR
Third baseman goes deep in 8th for second straight night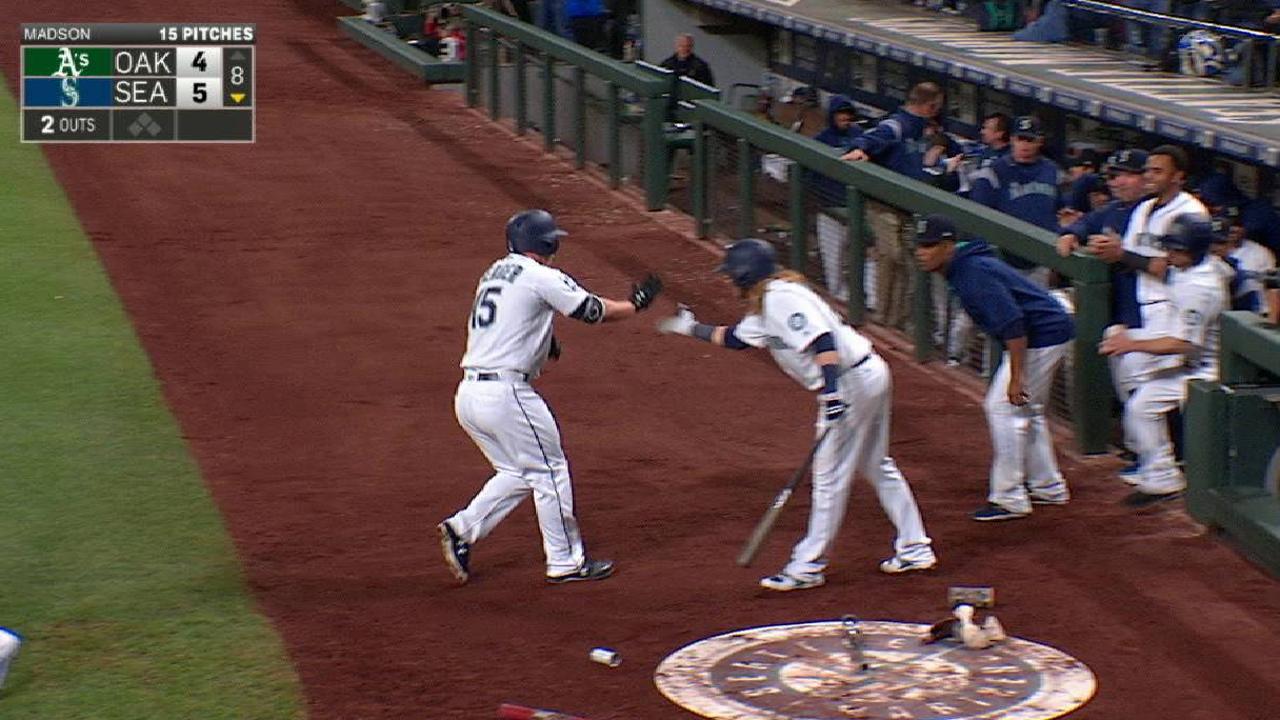 SEATTLE -- Spring has seemed like winter this year in Seattle, where the Safeco Field roof was protecting the field from another rainy Tuesday night during the Mariners' 9-6 loss to the A's.
But at least one thing might be heating up -- Kyle Seager's bat.
The Mariners third baseman, who entered the game with un-Seager-like offensive numbers, homered for the second consecutive night -- a go-ahead solo shot in the eighth -- and continued to show that he might be breaking out of an early-season slump.
On Monday night, Seager's two-run homer in the eighth gave the Mariners insurance in a 6-5 win. And Seager's solo shot off Ryan Madson in the eighth on Tuesday gave the Mariners a 5-4 lead, after they had trailed 4-1 entering the seventh. If not for the bullpen blowing the lead in the ninth, Seager's homer would have been a game-winner.
Seager had no homers in his first 21 games this season, but he has gone deep four times in his last 16 games, including the pair over the last two nights. He is hitting .254/.340/.396 with 22 RBIs.
"I haven't felt that bad for the last little while," Seager said. "I made a couple of little adjustments, kind of cleaned some stuff up, but it feels good and it's always nice to have results."
Seager was close to having major results Tuesday. He hit fly balls to the warning track in the fourth and sixth innings, before unloading for the high-arcing homer into the right-field seats in the eighth.
"He's certainly hot in the eighth inning, there's no doubt," manager Scott Servais said with a smile. "He's gotten big home runs for us and really been clutch, stepped up and had good at-bats. The power stroke's starting to come for him, which is a great sign."
With Robinson Cano on the disabled list, Seager has been moved into the cleanup spot. He realizes that the team is counting on him for run production, but he said he doesn't look at it as an individual issue or reason to put pressure on himself.
"We have a good team," Seager said. "We have a good offense. And there's a lot of fight in this team. We believe in ourselves. We believe that we're going to score runs. We never feel out of it. And we were able to put up some runs late, which is a good sign."
Doug Miller is a reporter for MLB.com. Follow him on Twitter @DougMillerMLB. This story was not subject to the approval of Major League Baseball or its clubs.