A's offense continues to rely on home runs
Team has scored 80 of its 154 runs on long balls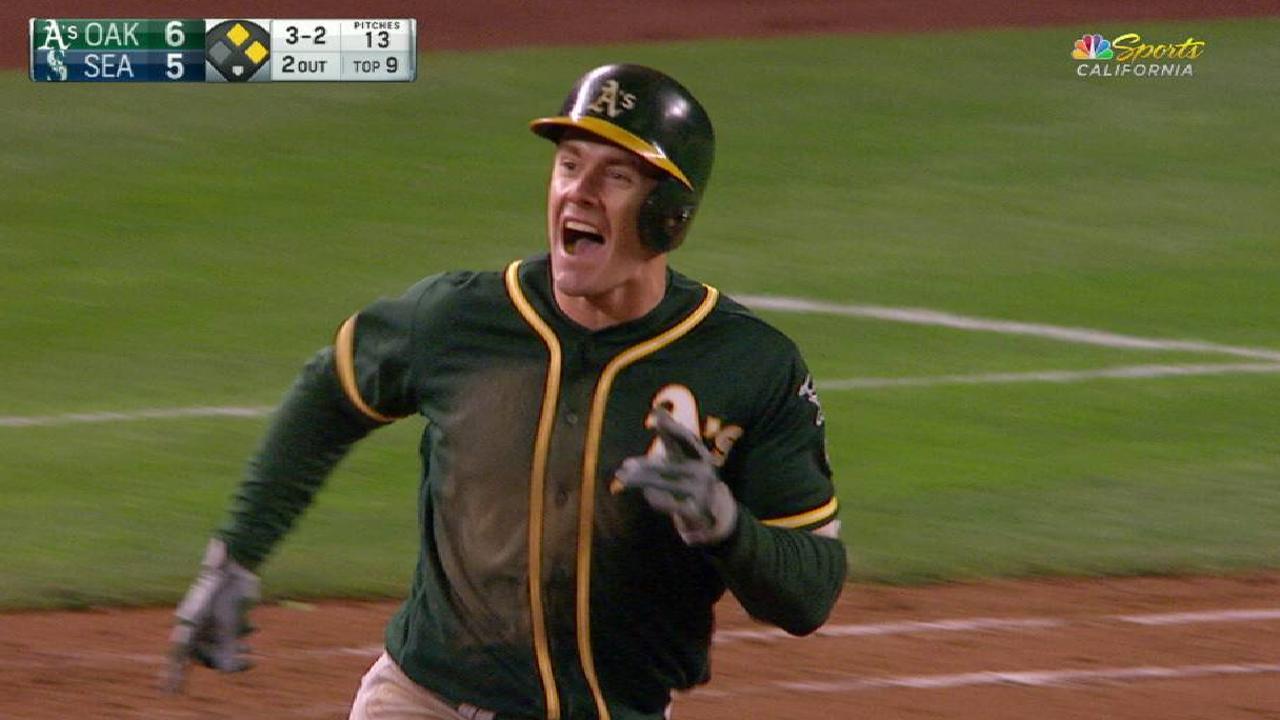 SEATTLE -- The A's continue to live and die by the long ball.
On Tuesday, it saved them from another embarrassing late-inning meltdown and a fifth straight loss, instead powering back for a 9-6 win over the Mariners.
The A's first win in five games on this road trip -- which concludes Wednesday -- featured three game-changing homers, including a two-run shot from Matt Joyce that gave the A's a 6-5 lead after they blew a three-run lead in the seventh and fell behind, 5-4, in the eighth.
Joyce's blast sent a shot of relief into Oakland's dugout.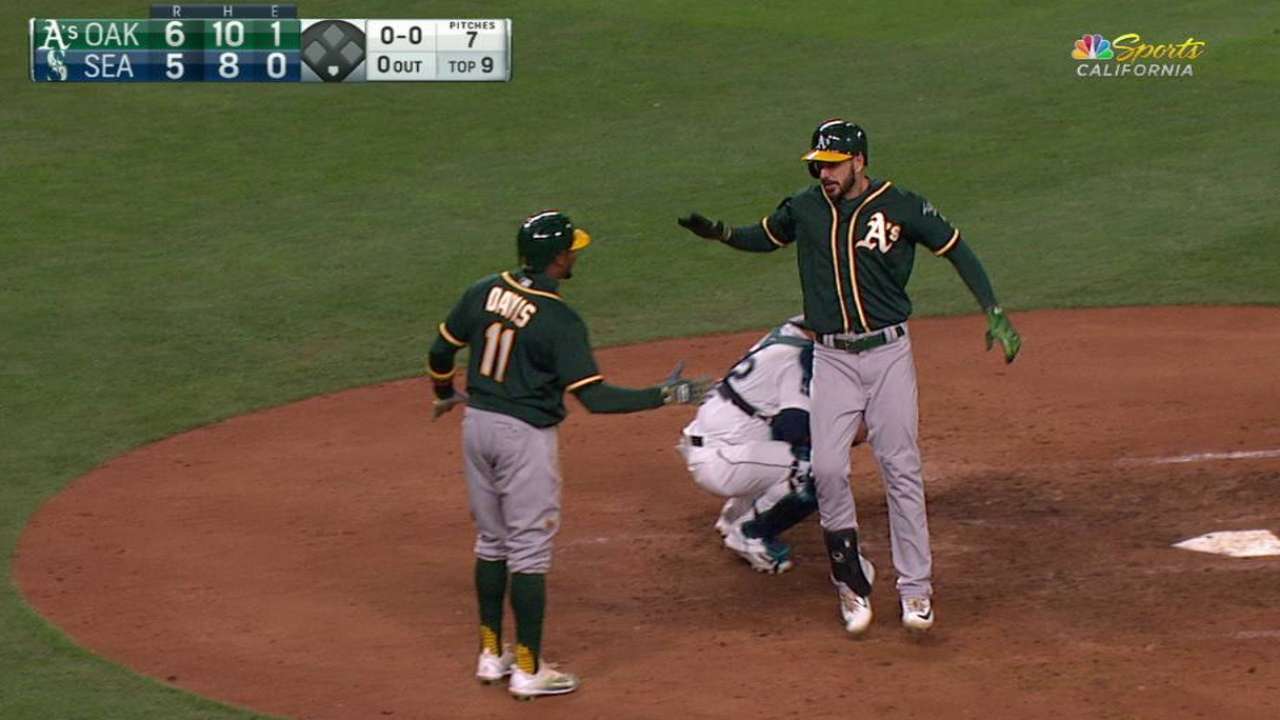 "Like 'Oh my God, we've dug back,'" Mark Canha said. "The game goes like that sometimes, it feels like everything is going against you and not going your way, and bad bounces and all that. Just really uplifting."
The A's first homer, a two-run blast in the second that put them ahead, 2-1, came from Ryon Healy, whose shot had a projected distance of 443 feet, according to Statcast™. But in the seventh, Healy let a potential inning-ending, double-play ball go through his legs, bringing in two runs. Seattle tied the game before the inning ended, then took the lead -- temporarily -- in the eighth when Kyle Seager homered off Ryan Madson.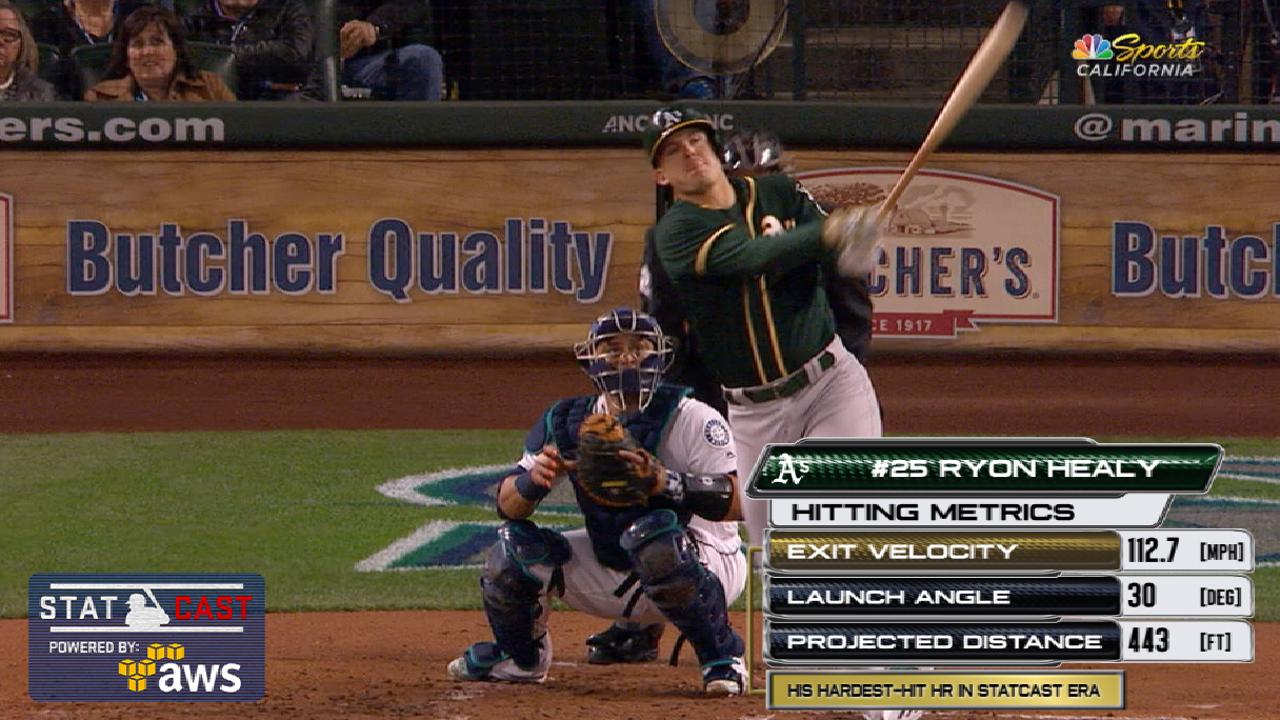 Then, there was Canha's three-run shot, his third hit of the night. The ninth-inning long ball -- which pushed the lead to 9-5 -- netted the A's some needed insurance; their bullpen has allowed 13 earned runs over its last five games, racking up four blown saves in that span.
"When you go through streaks like this, you've got to find some fight," A's manager Bob Melvin said. "We've been losing games by … a defensive play, one pitch, little things during this whole stretch, and at some point in time, you have to overcome it and find some grit and do some good things late in games when we're behind, and we finally did it tonight. So, hopefully this is something we can build on."
Of the A's 154 runs scored this season, 80 have come on home runs, which is nearly 52 percent. The trend isn't sustainable -- as the A's have quickly learned -- but with it comes a daily feeling that a homer could change the course of a game at any moment.
"Canha's home run was big, but certainly the Joyce home run gave us a little spark after what was like Groundhog Day for us," Melvin said.
"It's huge for us to be able to come back and win that game," Joyce said. "Obviously, we didn't have some things go our way late in the game, but to be able to grind through it and fight back, and walk away with a win there, is huge for us. We haven't had a great road trip. The good thing is we've been in every game, we've had a chance to win every game, we just have to figure out how to do it, how to win those games we're in."
Worth noting
• Reliever John Axford (shoulder) allowed a leadoff hit before striking out the side in the first during his 1 1/3 innings of work in his second rehab appearance for Triple-A Nashville. Axford is expected to pitch for the Sounds again Thursday, before being activated from the disabled list during the A's next homestand.
Jane Lee has covered the A's for MLB.com since 2010. This story was not subject to the approval of Major League Baseball or its clubs.