Lovullo: 'Blind luck' led to Goldy's steal of home
Botched signals result in key run of 5-4 win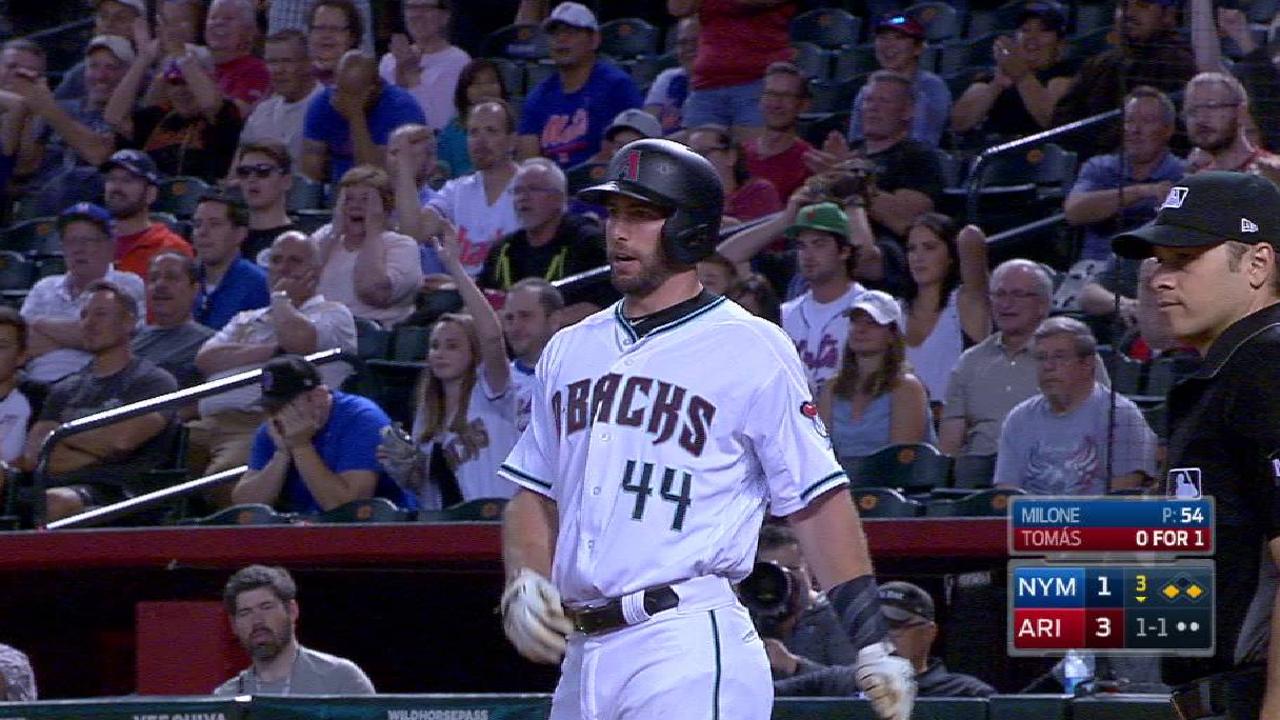 PHOENIX -- D-backs manager Torey Lovullo could have taken credit. He could have said that yes, he had called for the third-inning double steal that netted his team an important run in a 5-4 win over the Mets.
Instead he told the truth.
"No it was not," Lovullo said when asked if that was a called play. "That was a mixup between the coaches, so I'm going to wear that one. That was absolutely our fault, my fault."
With three runs having already scored in the inning, the D-backs had Paul Goldschmidt at third, Chris Owings at first and Yasmany Tomas at the plate with two outs.
Owings broke to steal second and stopped about three quarters of the way there when he realized that the throw to second was going to beat him and proceeded to get into a rundown.
Goldschmidt read the play, and when second baseman Neil Walker threw the ball to first baseman Lucas Duda, Goldschmidt took off and slid safely into home as the ball skipped away from catcher Rene Rivera.
Owings then tried to advance to third, but was thrown out to end the inning.
"I'm going to be transparent with you guys," Lovullo said. "I don't want to sound like we're geniuses. That was definitely not the play that we wanted to run. Unfortunately, we didn't give Yas a chance to have the at-bat and we left him there, but we scored a run and it made a difference in the game."
What play did they have on?
"Nothing," Lovullo said. "Zero. Zippo."
The D-backs do have a play where the runner gets in a rundown like that, though, right?
"We do," Lovullo said. "But that wasn't the right time for it. We have a system in place of signals and the signals got a little mixed up."
But had that been the play they were supposed to run they ran it well, right?
"No," Lovullo said. "It wasn't even run anywhere close to how we wanted to run it. So, it was blind luck. If the play was on and we were supposed to run it the right way, that is not how we run it. We got lucky."
Goldschmidt declined to comment on whether it was a signal mixup, but explained what he saw on it.
"It was not really something I had practiced before," Goldschmidt said. "Just trying to look for an opportune time to break home. Almost went early, but second baseman Walker stopped me and then once he gave it up I had to just take a chance there when Duda got the ball."
Interestingly, it was the Mets who ran the play correctly.
"We ran it right," Mets manager Terry Collins said. "[Walker] checked him twice. Goldy took off right when he let the ball go. Lucas, the ball just got away from him a little bit."
Steve Gilbert has covered the D-backs for MLB.com since 2001. Follow him on Twitter @SteveGilbertMLB. This story was not subject to the approval of Major League Baseball or its clubs.