Renfroe shows off cannon against Brewers
Padres right fielder fires 98.4 mph throw to plate to complete DP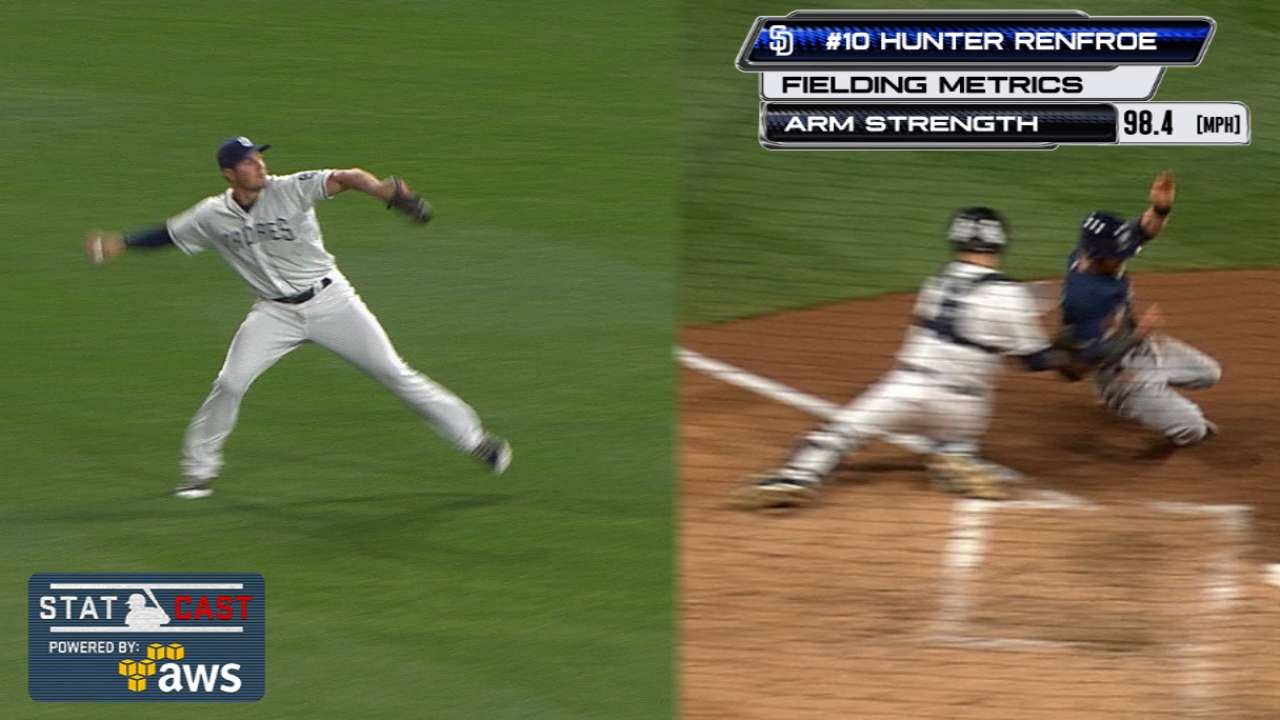 SAN DIEGO -- Count this as his warning to baserunners across the big leagues: Hunter Renfroe has a cannon.
The Padres' rookie right fielder showed off his arm in Tuesday night's 6-2 loss to the Brewers with one of the strongest outfield assists of the season.
He fired a 98.4 mph strike to the plate to nail Brewers third baseman Eric Sogard and complete a double play to end the top of the fourth inning. Only Bryce Harper -- who unleashed a 99.7 mph rocket a week ago -- has made a stronger throw on an outfield assist this year, according to Statcast™.
"It's one of [my favorite things to do]," Renfroe said. "I love throwing people out. It came from college, when I played catcher, I loved throwing people out stealing, picking people off. Then I just got moved to outfield."
For Renfroe, it marked the third consecutive game in which he has recorded an outfield assist, tying a franchise record -- one that includes Tony Gwynn, Gene Richards and Dave Winfield. Bubba Trammell was the most recent Padre to accomplish the feat, in April 2002.
Renfroe's arm has always been one of his most impressive tools. In fact, he unleashed a 100.5 mph toss on Opening Day against the Dodgers, but didn't come up with the out. That throw and Tuesday's comprise two of the six hardest throws by an outfielder this year.
But in the early stages of the season, Renfroe perhaps got a bit overaggressive, committing a pair of throwing errors -- once when he threw to an unoccupied base and once when he uncorked an off-balance throw from right field to third.
"I hadn't really made bad throws," Renfroe said. "One time there was just nobody there, the other time, I just missed the target. But otherwise, it's been on target. Sometimes you get the out, sometimes you don't. ... It's felt the same, really. My arm's always been accurate, always been strong. I've just got to harness it to the right spot."
During his sophomore season at Mississippi State, Renfroe made the switch from catcher to a full-time outfielder. He said his throws began sailing all over the yard.
"I quieted it down from there," he said. "And it got refined to what it is now. I take pride in it."
It's been a bit of a similar transition this year, after a shaky opening month in right field.
Renfroe hit a walk-off home run in the 10th inning Monday night. But without his rocket to second to rob Domingo Santana of extra bases in the eighth, the Padres might not have gone to extras.
"He's thrown the ball well lately," said Padres manager Andy Green. "That's a good thing to see. Early in the year it was a little bit off. He didn't really have as many opportunities as he's had here recently.
"That was a very good throw he made to nail the runner at the plate and pick us up. I feel good about the way he's throwing. I still think there's more in him, defensively."
AJ Cassavell covers the Padres for MLB.com. Follow him on Twitter @ajcassavell. This story was not subject to the approval of Major League Baseball or its clubs.