Harrison shows off power, acrobatic skills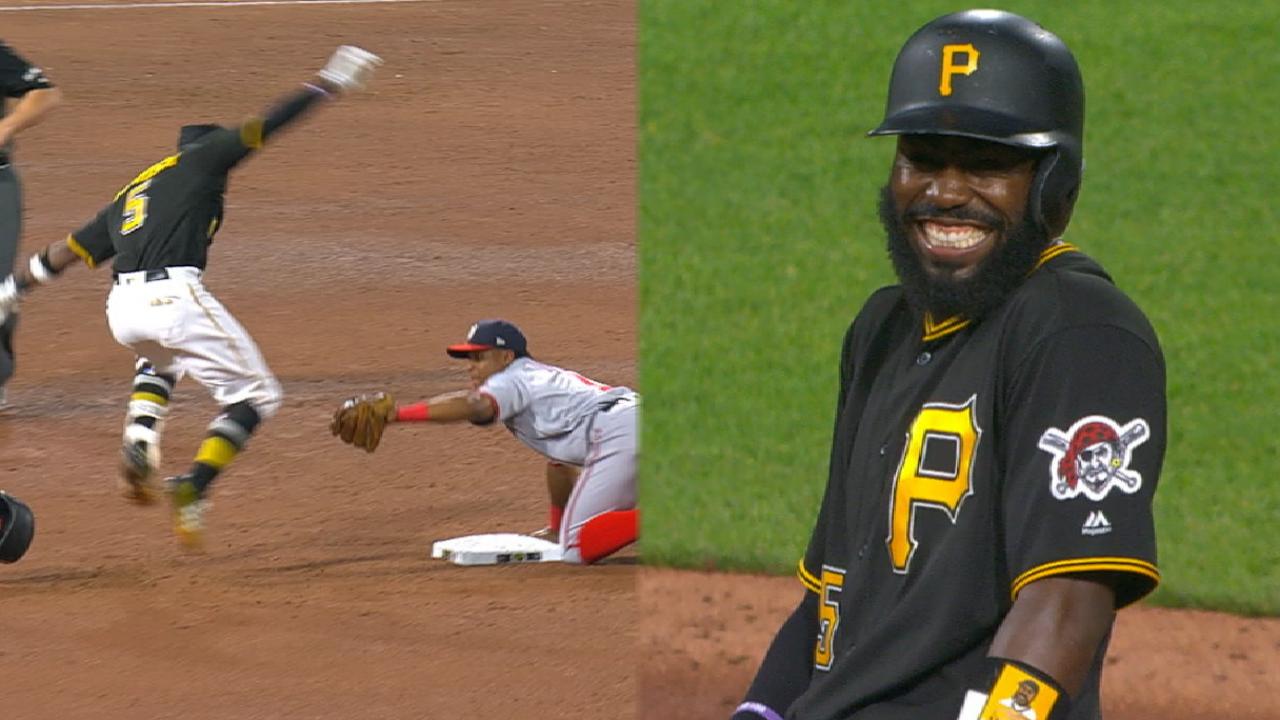 PITTSBURGH -- Hitting a home run and avoiding a tag however possible, Josh Harrison brought back fond memories of his breakout 2014 season in the Pirates' 8-4 loss to the Nationals on Tuesday at PNC Park.
Harrison homered off Nats right-hander Stephen Strasburg in the first inning, turning on a 2-2 changeup and pulling it over the left-field fence. His sixth homer of the season traveled a Statcast-projected 376 feet with an exit velocity of 96.4 mph and a 37-degree launch angle.
Curiously, Harrison's long ball had only a 13 percent Hit Probability, according to Statcast™. But Harrison continues to defy the numbers, as he did when he went from role player to a 5.3-WAR National League All-Star in 2014.
Harrison has hit six homers in 38 games this season after totaling only four each of the past two years, but he has yet to record a Barrel, Statcast™ terminology for ideally hit balls. Only one of his home runs, in fact, came with an exit velocity over 100 mph.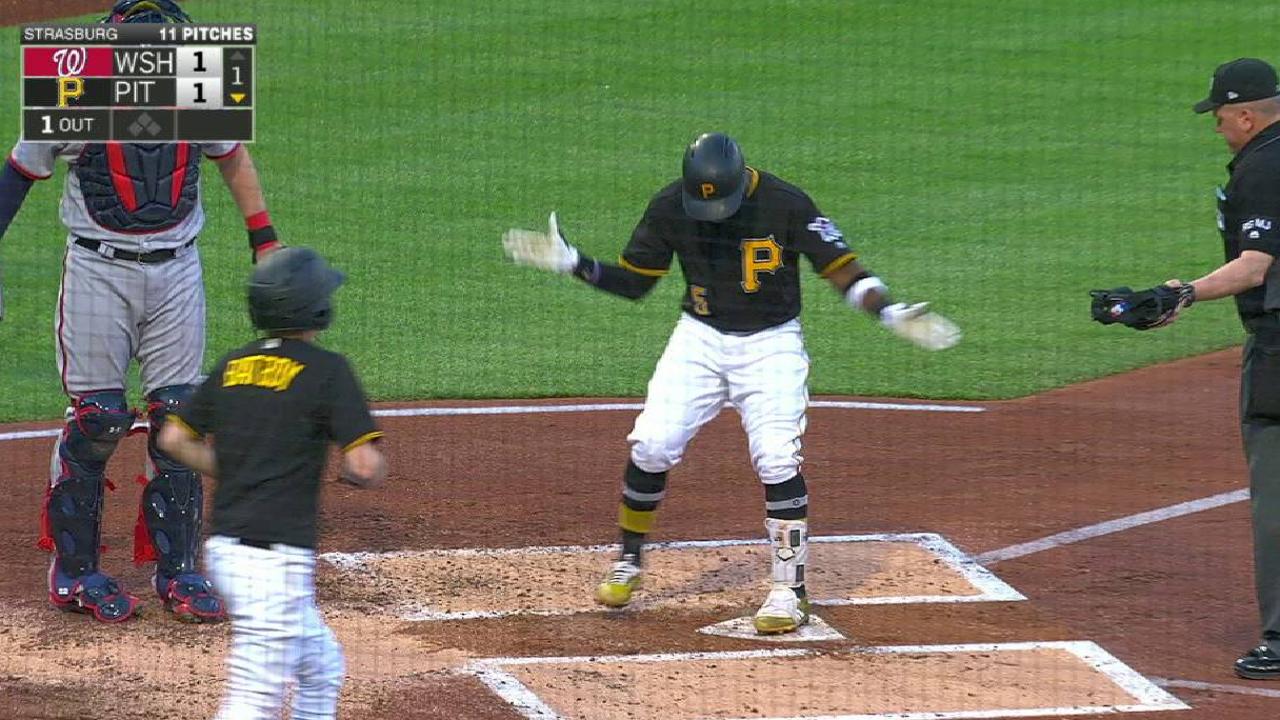 But no one can deny that Harrison, healthy again after a 2015 thumb injury that lingered into last year, has been the best everyday hitter in the Pirates' struggling lineup this season. Shuffling between second and third base and occasionally the outfield, Harrison is hitting .292/.355/.482 with six homers and 13 RBIs.
The 29-year-old super utility player couldn't come through in two big spots Tuesday, hitting into a hard double play in the seventh and striking out to end the game, but he was nearly the entirety of the Pirates' offense for six innings at PNC Park.
Harrison accounted for half of the Pirates' four hits off Strasburg, and both of his hits went for extra bases. He had to earn the last one, however.
Harrison led off the sixth with a line drive to center field and rounded first base with his eyes on second. Nats center fielder Michael Taylor fielded the ball, and his throw to second baseman Wilmer Difo beat Harrison to the bag.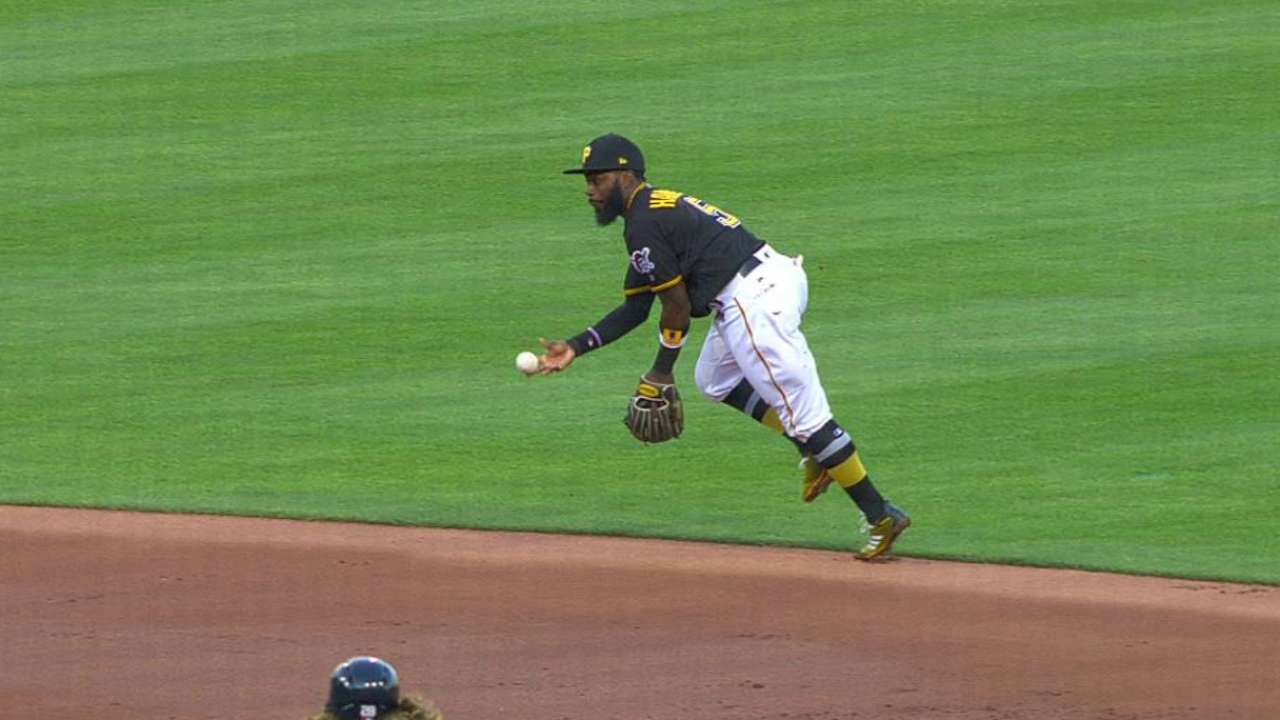 No matter. Harrison abandoned his slide into second base and sprang to his right foot as his helmet fell behind him. Harrison hopped forward on his right leg and swung his left leg around Difo's outstretched glove. Harrison's left foot touched the bag before Difo's left hand reached him.
Harrison was ruled safe, and the call withstood the Nats' challenge. Harrison wound up stranded at second base, but he had another acrobatic escape to add to his personal highlight reel of hustle plays.
"He plays the game with his heart outside his chest. I've never seen anybody avoid tags like he does," Pirates manager Clint Hurdle said. "I think it'd be a waste of my time telling him, 'Hey, could you slow down? Could you be a little more careful?' That's one of the things that got him to the big leagues, keeps him playing, got him to an All-Star Game, is that zest, that effort, that energy to play."
Adam Berry has covered the Pirates for MLB.com since 2015. Follow him on Twitter and Facebook, read his blog and listen to his podcast. This story was not subject to the approval of Major League Baseball or its clubs.