Nelson relies on improved curveball in win
Brewers righty strikes out eight in six-plus innings vs. Padres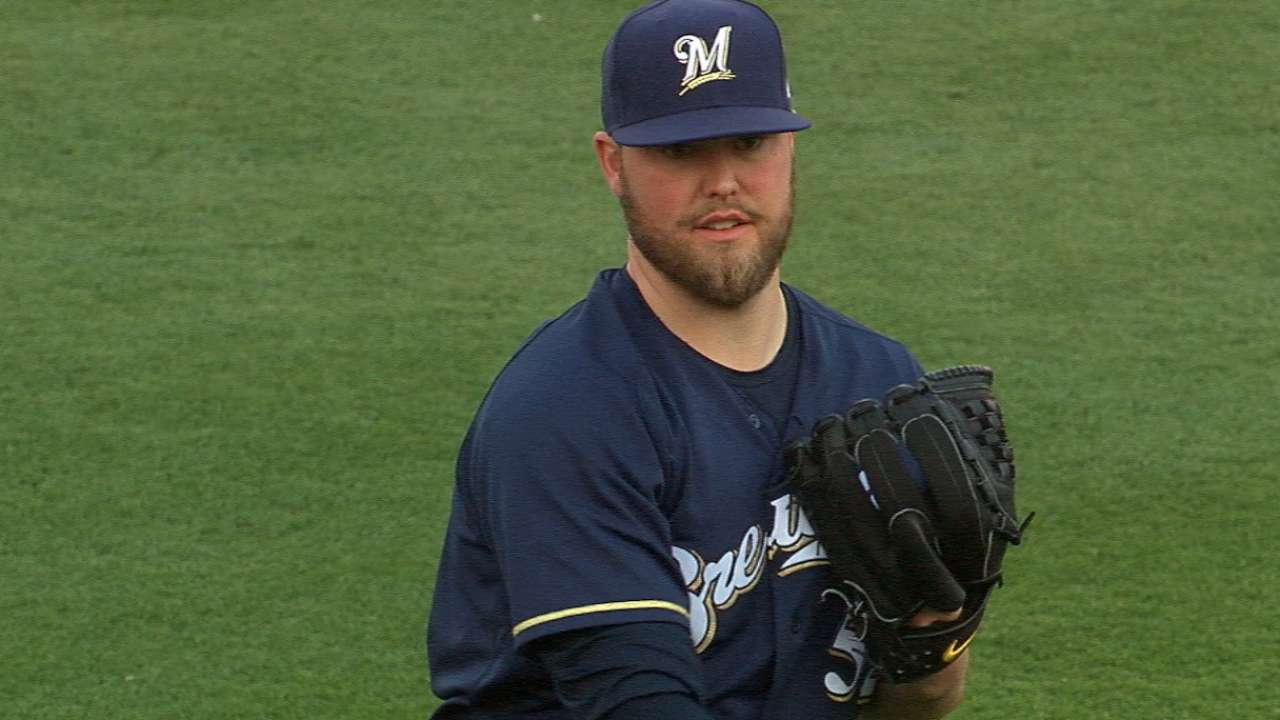 SAN DIEGO -- Milwaukee starter Jimmy Nelson pitched his second consecutive stellar game. Unlike his previous outing, this one came with a win. Nelson stymied the Padres, 6-2, on Tuesday night.
The Brewers ambushed Padres lefty Clayton Richard with a five-run first inning. Before Nelson toed the rubber, the Brewers' offense had shown its mettle.
"It's huge, it's big,'' Nelson said of the early cushion. "It's always nice for sure."
But with the lead comes a reminder that there's still 27 outs to collect.
"Sometimes for me as a pitcher, it mentally helps to not get comfortable and [to] act like it is a 0-0 game,'' Nelson said. "Then go out there with a 0-0 mentality so you don't get complacent.''
Nelson kept his edge, bobbing and weaving through San Diego's lineup with guile and gumption. The right-hander worked six-plus innings, allowing two runs on seven hits with a walk. His eight strikeouts matched his season-high and his number from his previous start.
In that one on May 11, he limited the Red Sox to an unearned run and four hits over 6 2/3 innings. His reward was plenty of backslaps from his teammates, but little else.
This time he got his second win, which he's been seeking for more than a month. What he's been doing over those roughly four weeks was refining his curveball.
"We've been working on slowing it down a little bit and giving it a curveball shape,'' Nelson said. "Earlier this year it was getting too hard and turning into a slider or slurve. So we changed the grip a couple of starts ago. So I got the shape and speed I wanted, and it's more of a curveball action now.''
Like an angler sticking with an effective bait, Nelson wouldn't go away from his curve once the Padres proved they couldn't hit it.
"It kind of happened in game,'' Nelson said. "[Catcher] Manny [Pina] did a good job of recognizing that. Today I didn't throw any changeups because the curve was so good. I just kept going to it.''
His tour through the Padres' order wasn't pristine. But on the occasions, San Diego got some traffic on the bases, Nelson delivered the appropriate pitch. The Padres had single runners on in the second and third innings but were turned away.
In the fourth Yangervis Solarte doubled and Austin Hedges singled with one out. But Nelson hitched up his britches and went to work. He retired Erick Aybar on strikes and got Hunter Renfroe, the walk-off hero of Monday's game, on a comebacker.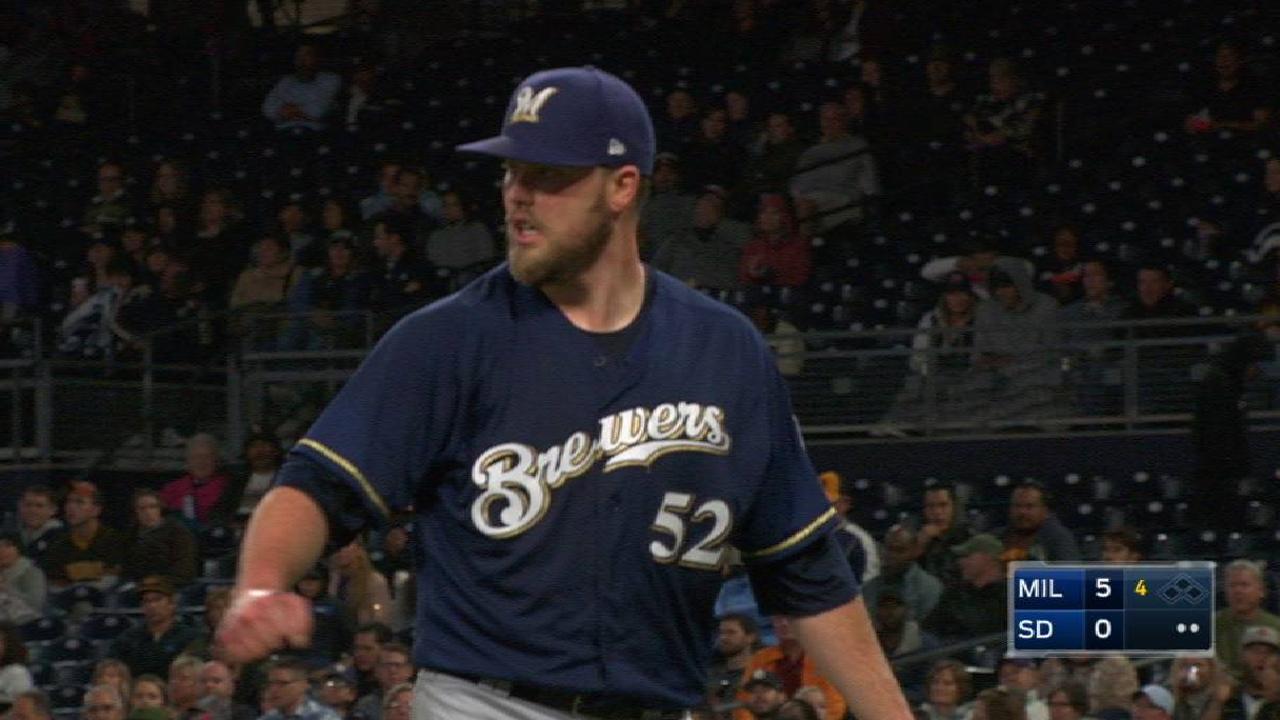 Manuel Margot smacked a two-out triple in the fifth, but he was stranded when Nelson got Cory Spangenberg to ground out.
But Nelson's tank, while not flicking with a bright red light, was starting to run low. Wil Myers led off the sixth with a 424-foot home run to center field, but Nelson survived. He wouldn't be around after consecutive doubles by Renfroe and Matt Szczur to start the seventh, but Nelson had done enough with his season-high 102 pitches to find the winner's circle.
"The six innings were really solid,'' Brewers manager Craig Counsell said. "He had a really good breaking ball tonight. His curveball was really good. His fastball wasn't his biggest velocity of the year, but it was a fastball that was getting by hitters tonight. Eight strikeouts in six innings, that's a good number for sure.''
Good enough for Nelson to get victory No. 2.
Jay Paris is a contributor to MLB.com based in San Diego. He covered the Brewers on Tuesday. This story was not subject to the approval of Major League Baseball or its clubs.