Marlins option Koehler after rough start
Determined right-hander: 'I truly believe I belong in the big leagues'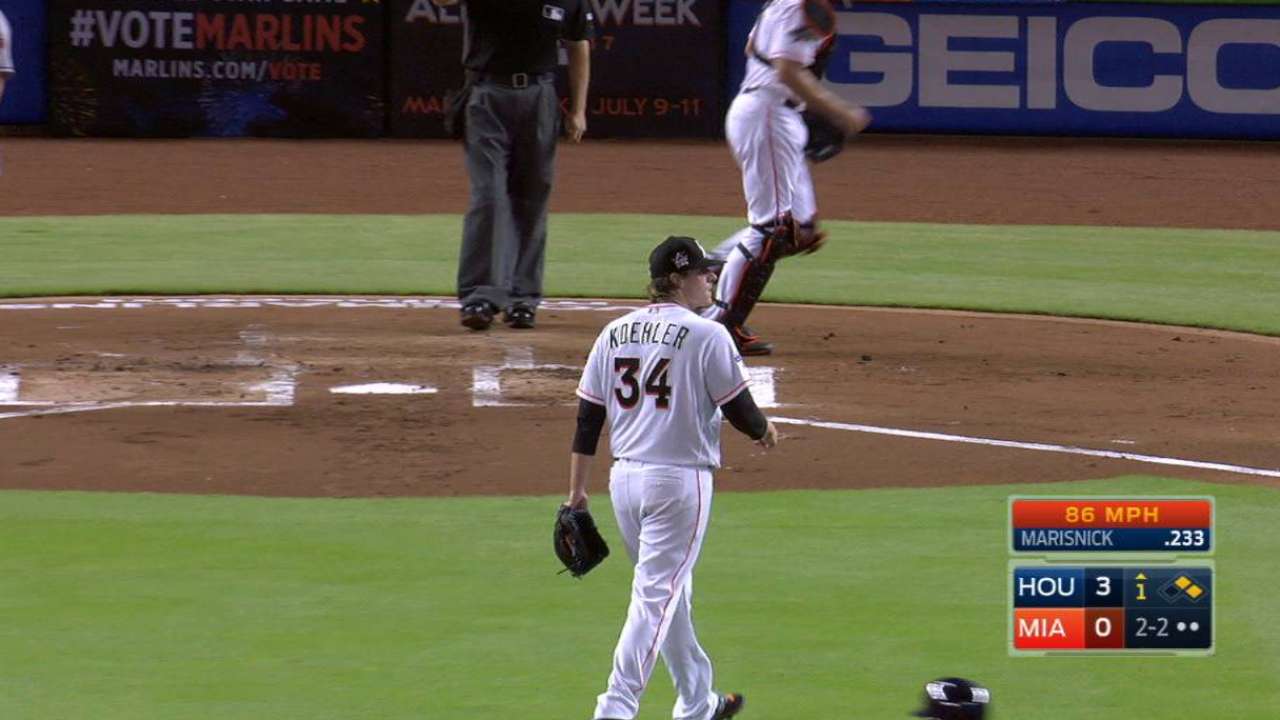 MIAMI -- There was more fallout for the Marlins besides losing, 12-2, to the Astros on Tuesday night at Marlins Park. After the club's seventh loss in eight games during the homestand, right-hander Tom Koehler, who allowed eight runs in three innings on the night, was optioned to Triple-A New Orleans.
The surprising transaction removes one of the anchors of Miami's rotation since 2013. Koehler has made at least 30 starts in each of the club's last three seasons, and he opened 2017 as the No. 3 starter.
The Astros made Koehler's eighth start his roughest, tagging him for the second most earned runs he's ever allowed in an outing. The 30-year-old's ERA rose to 7.04 after giving up seven hits and eight runs with four walks and three strikeouts.
"I've dealt with adversity my whole baseball career," said Koehler, an 18th-round pick in 2008. "That doesn't stop now. I truly believe I belong in the big leagues. I've shown that. I've done this a long time now. It's just getting back to what I do well and getting back to finding ways to help this team win."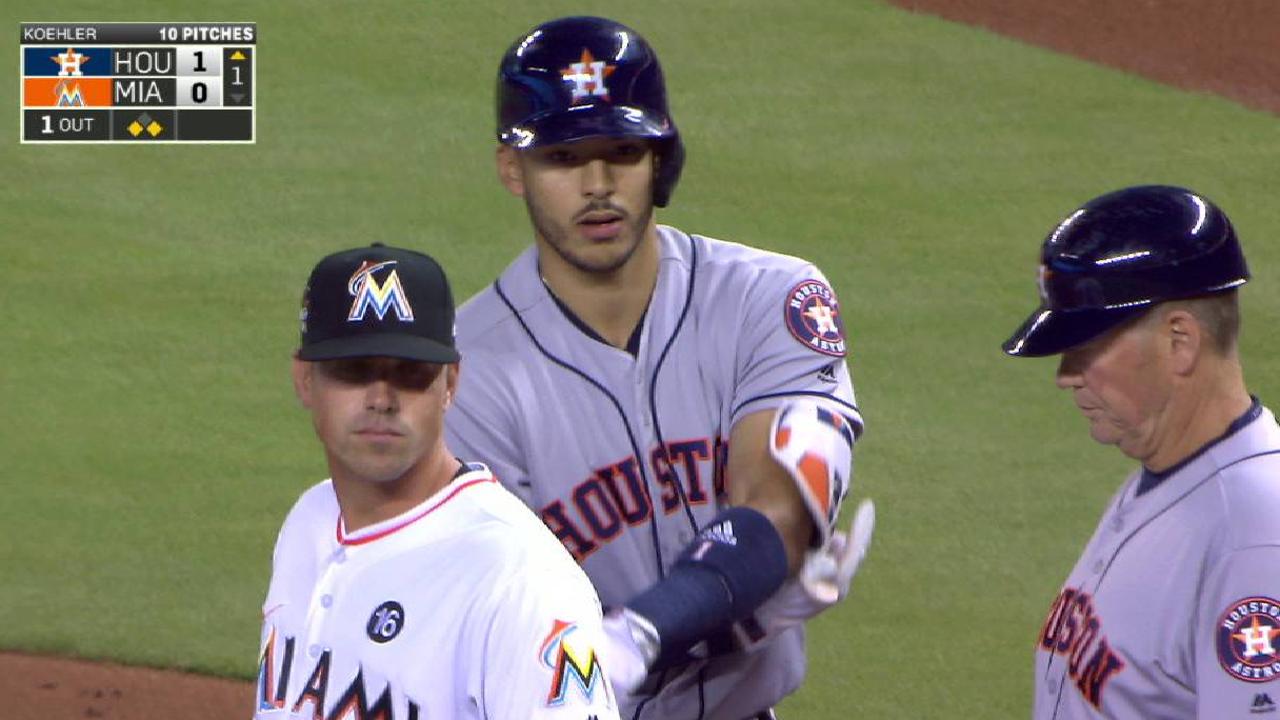 Sending Koehler to Triple-A is the latest in a series of moves regarding Miami's rotation.
Left-hander Adam Conley was also recently optioned to New Orleans due to struggles, and left-hander Wei-Yin Chen, the No. 4 starter to open the season, is on the disabled list with left arm fatigue. Chen is dealing with an elbow issue, and he had an MRI on Tuesday, and could miss extended time.
Edinson Volquez, the club's Opening Day starter, also spent time on the DL with a right thumb blister issue. But Volquez is back.
The Marlins were hopeful Koehler would step up, but he's struggled to go deep into games. Of his eight starts, just two have been at least six innings.
"Tom is a pro, so he handled it," manager Don Mattingly said. "You don't expect him to handle it great. The one acknowledgement is, this has got to get better. Simple as that."
The Astros jumped on Koehler for three runs in the first inning on Tuesday, and added three more in the second on Brian McCann's three-run, two-out double.
And in the third inning, Jake Marisnick belted a two-run homer.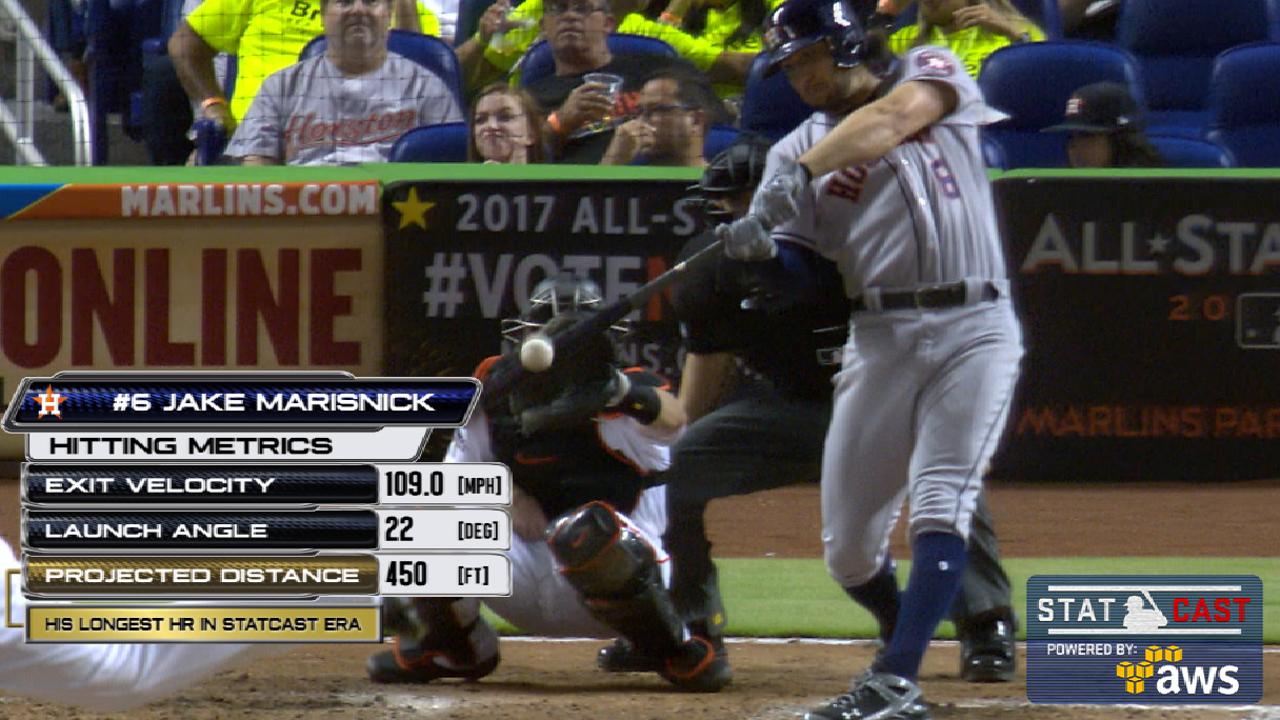 "Just making too many mistakes over the plate, in situations," Koehler said. "Those moments of the game kind of dictate whether you win or lose. I'm not making the pitch to get out of it. That's when I'm making my mistakes. Things kind of escalated from there."
The Marlins didn't announce any corresponding moves, but right-hander Odrisamer Despaigne is expected to be called up from New Orleans. On Wednesday, the Marlins also are expected to place right-hander Junichi Tazawa on the disabled list with an unrevealed injury. Right-hander Brian Ellington is lined up to be recalled from Triple-A.
Joe Frisaro has covered the Marlins for MLB.com since 2002. Follow him on Twitter @JoeFrisaro and listen to his podcast. This story was not subject to the approval of Major League Baseball or its clubs.