Spangenberg displays Zobrist-like versatility
Padres utility man getting playing time at 3B, 2B and left field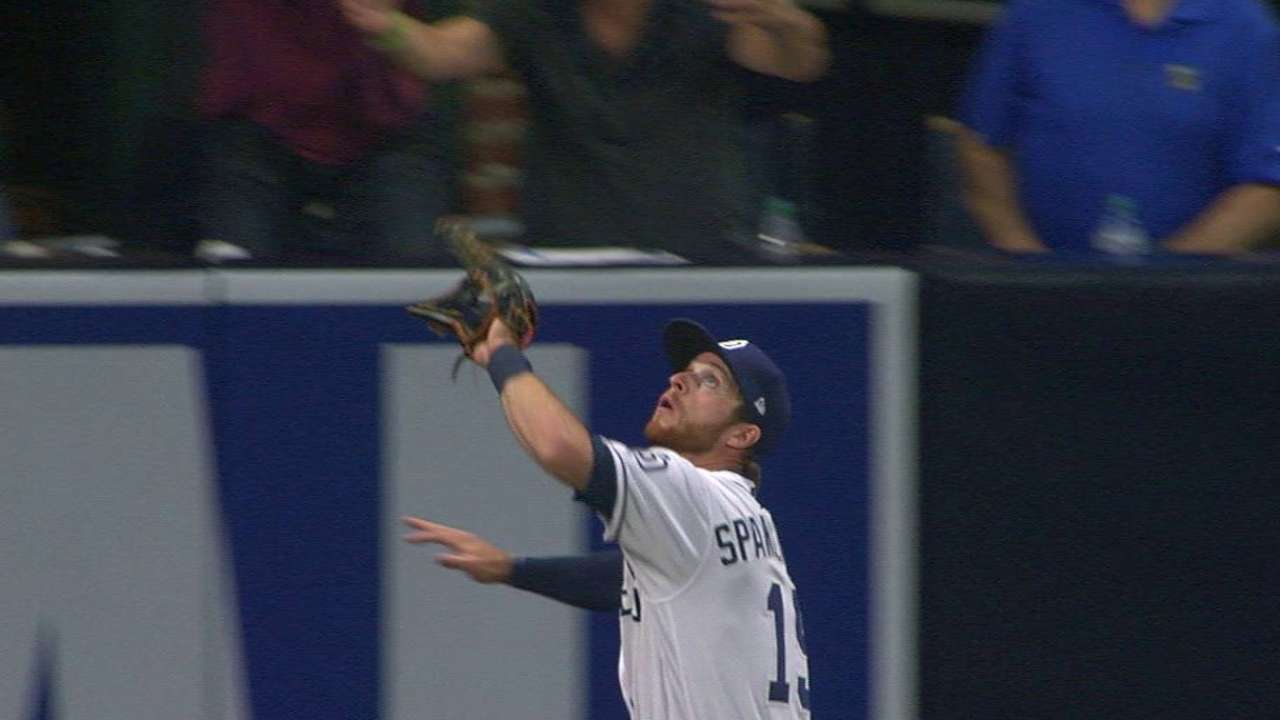 SAN DIEGO -- A month ago, Padres manager Andy Green said Cory Spangenberg wouldn't receive a callup unless everyday playing time was available for him at the big league level.
Whether it's been third base, second base or left field, Spangenberg has practically created that playing time for himself with his versatility.
"The more positions you play, the more opportunity you give yourself," Spangenberg said. "I'm playing three positions, and that's more opportunity to get my bat in the lineup."
Spangenberg started at third base Tuesday, having split his previous six starts evenly among second, third and left. He's batting .273 since his late-April callup.
Even if he keeps hitting, Green doesn't foresee a need to pin Spangenberg down to one position.
"Right now, I don't have a problem with [moving him around] at all," Green said. "Those pieces are incredibly valuable. ... Guys that come off the bench -- and I wouldn't say he's coming off the bench, because he's playing way more than he's sitting -- but with those types of guys, you usually lose a little bit offensively. You don't lose anything offensively with him."
Of the three positions, it's likely Spangenberg sees the least time at second base going forward, as the Padres are committed to Yangervis Solarte. But left field has been wide open since Travis Jankowski went down with a right foot fracture, and Ryan Schimpf has struggled lately at third base.
"Right now, [Spangenberg is] playing consistently because of [his versatility]," Green said. "He's filling in at second, plays left, plays third. He bounces around, as long as he keeps swinging it."
On more than one occasion, Spangenberg has pointed to the Cubs' Ben Zobrist as an example he'd like to follow. Zobrist has parlayed his ability to play across the diamond into regular playing time for the past decade.
"Not too many guys are able to flip-flop like that and be versatile and athletic enough to do that," Spangenberg said. "It's gotten him in the lineup every day, and it got him a contract."
The constant shuffling of positions also keeps Spangenberg on his toes. On certain days, he takes the field early for ground balls so he can get additional work in the outfield during batting practice.
"It's a lot of fun," Spangenberg said. "No position gets old when you're always flip-flopping and doing something different every night. It's always a challenge, and I enjoy being challenged."
AJ Cassavell covers the Padres for MLB.com. Follow him on Twitter @ajcassavell. This story was not subject to the approval of Major League Baseball or its clubs.