Doubles no trouble, but bunt stumps Travis
Second baseman adds 2 two-baggers to record month, strikes out trying to lay one down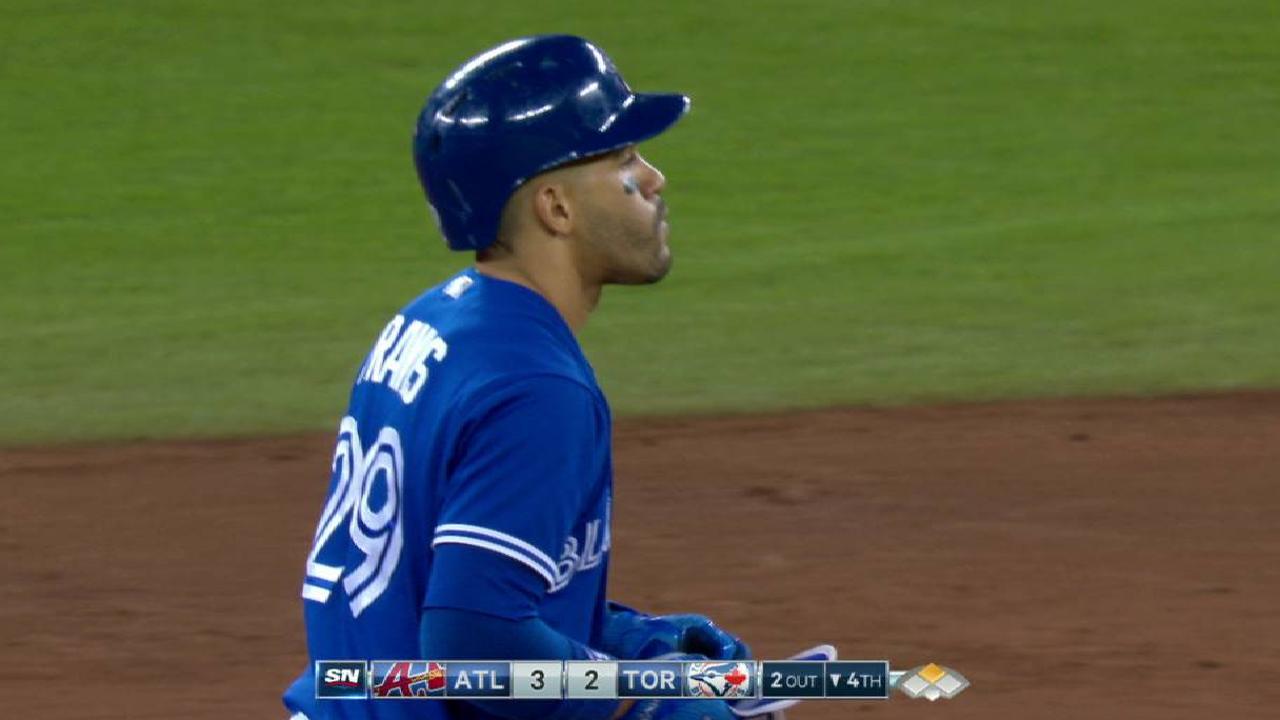 TORONTO -- Devon Travis' slow start of the season appears to be in his rearview mirror, and all of a sudden the third-year second baseman has become one of the Blue Jays' hottest hitters.
Travis set a franchise record for most doubles in one month by a Blue Jays second baseman when he increased his May total to 12 during Tuesday's 9-5 loss to the Braves. He finished 2-for-4 with a pair of RBIs, and after starting the month with a .130 average, the 26-year-old has since jumped up to .205.
Travis has six doubles over his last three games alone, and his 14 on the season are one shy of Boston's Mitch Moreland for the most in the Major Leagues. All but one of those doubles have come during Travis' last 17 games, and he has brought some much-needed production to the bottom half of Toronto's lineup.
"I've been seeing the ball pretty good," Travis said. "Early on in the season I was seeing the ball fine, too, just the results and maybe my swing weren't how I liked it. Continuing to grind every single day. ... A lot of it has honestly been from [hitting coach] Brook [Jacoby] and guys in this clubhouse continuing to motivate me and pump me up in tough times. I'm just thankful things are starting to turn my way a little bit more."
Travis has been on fire at the plate recently, but that didn't stop Blue Jays manager John Gibbons from making a rather peculiar decision during the eighth inning of Tuesday's loss. In a one-run ballgame, with runners on first and second and nobody out, Gibbons asked Travis to lay down a sacrifice bunt.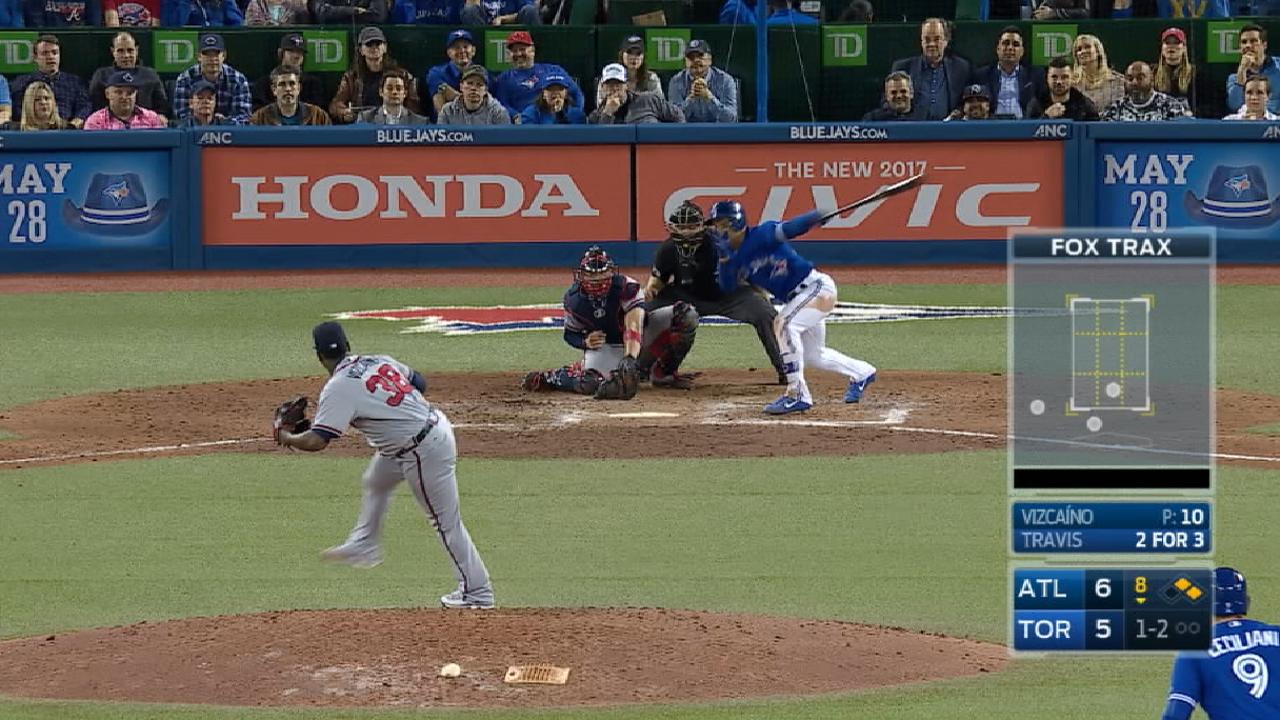 The move backfired almost immediately as Travis could not get the bunt down on his first two attempts. With two strikes, Travis then struck out swinging at an 87-mph slider from Braves reliever Arodys Vizcaino that was just outside the zone. Darwin Barney followed in the next at-bat by lining into a double play, and just like that, the rally was over.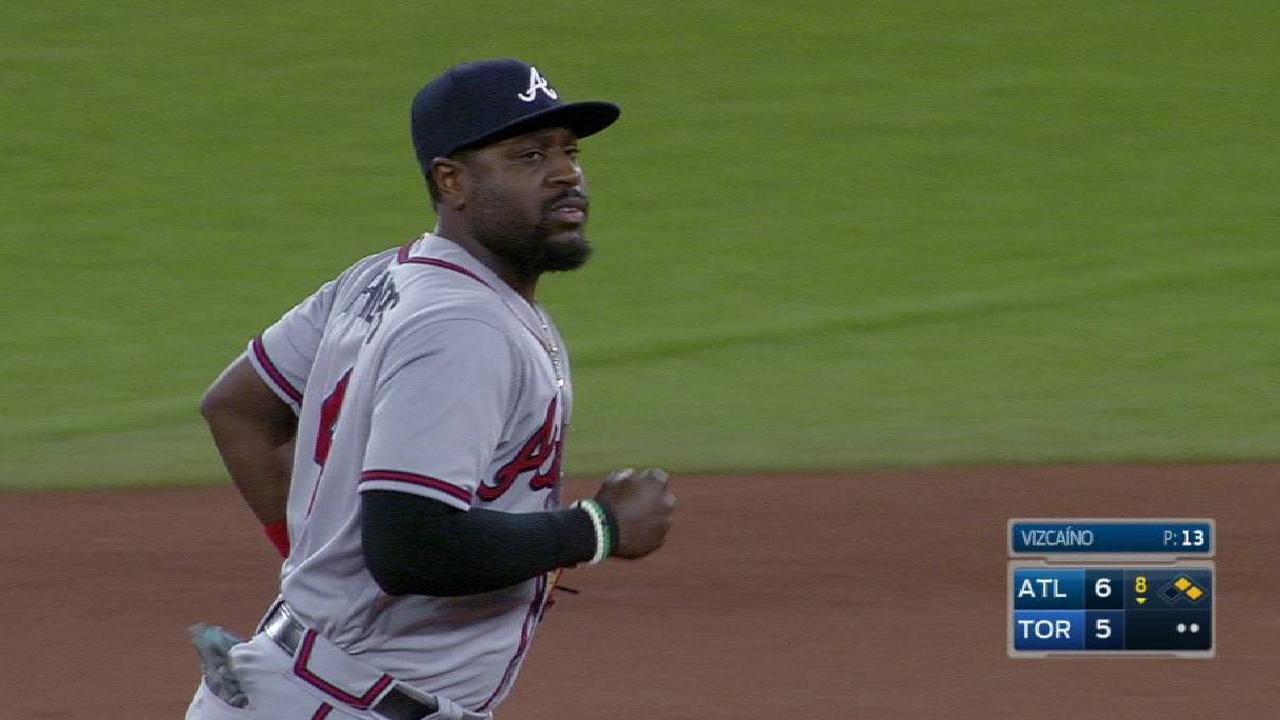 Gibbons typically doesn't like to play small ball. The Blue Jays have consistently ranked near the bottom of the league in sacrifice bunt attempts during his time in Toronto, but clearly an exception was made for this situation, and it did not work out.
"We were down a run and wanted to get a guy at third base, contact, maybe at least score the tying run," Gibbons said after the loss. "If you get a big hit, you take the lead."
The failed bunt attempt and the ensuing loss took some of the shine away from Travis' productive day at the plate. He was accountable after the game for not being able to get the bunt down, but this is still someone who is hitting .320 (16-for-50) this month, with six RBIs, nine runs scored and all of those doubles.
"I wouldn't say I was surprised," Travis said when asked about receiving the bunt sign. "Guys on first and second, no outs, down a run, eighth inning. I have to do my job.
"I try not to get too caught up in what happened in the past. It's nice to walk up to the plate with two doubles, two hits, whatever the case may be, but when you're told to do your job, especially bunting, that's important for this team. That wins games, and I have to do my job. It's that simple."
Gregor Chisholm has covered the Blue Jays for MLB.com since 2011. Follow him on Twitter @gregorMLB and Facebook, and listen to his podcast. This story was not subject to the approval of Major League Baseball or its clubs.