Dickerson's performance #ASGWorthy for Rays
Comfortable out of leadoff spot, outfielder hits two homers vs. Cleveland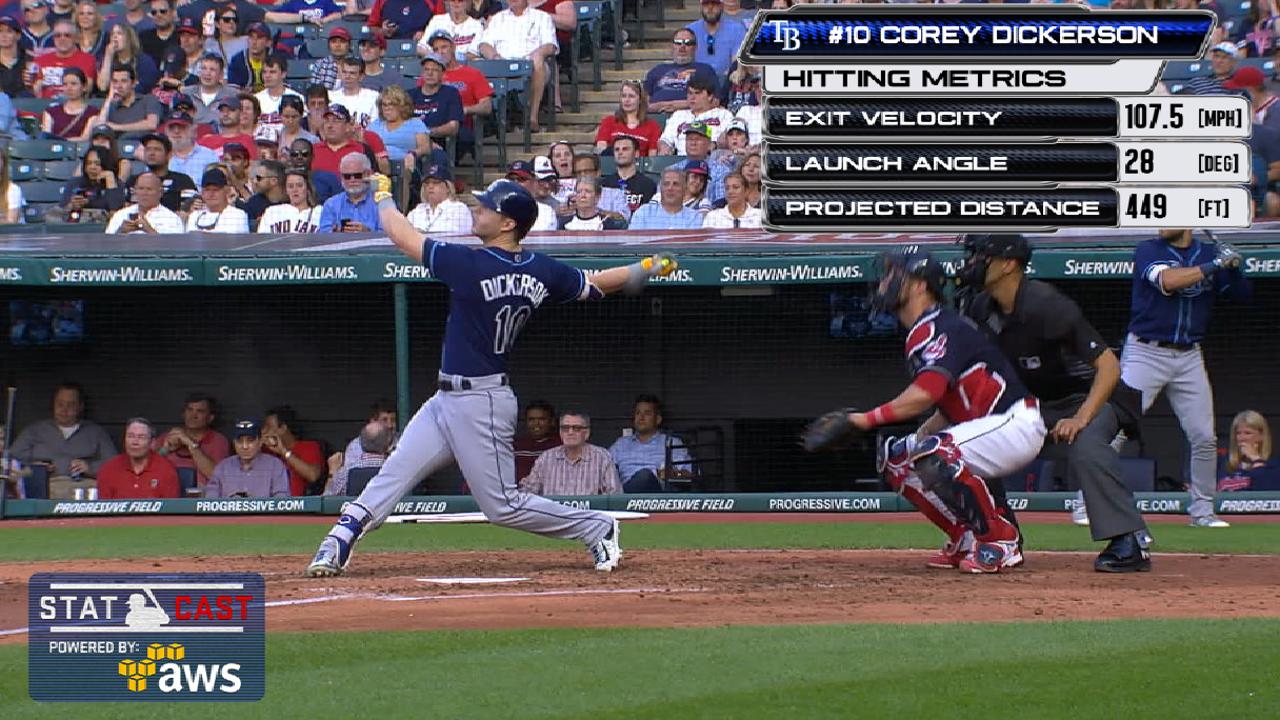 CLEVELAND -- Corey Dickerson has adjusted to the American League, the DH, and just about anything else that might have hindered the Rays slugger in the past.
Tuesday night, Dickerson highlighted the Rays' 6-4 win over the Indians by hitting two of the team's five home runs -- one of them was a 449-foot blast that ranks as the longest of the 56 home runs the Rays have hit this season.
• Cast your Esurance All-Star ballot for Corey and other #ASGWorthy players
"He's having a lot of good at-bats right now," Rays manager Kevin Cash said. "He's not missing too many pitches. That ball he hit to center, that's one of the farthest ones I've seen hit here, spending two years here.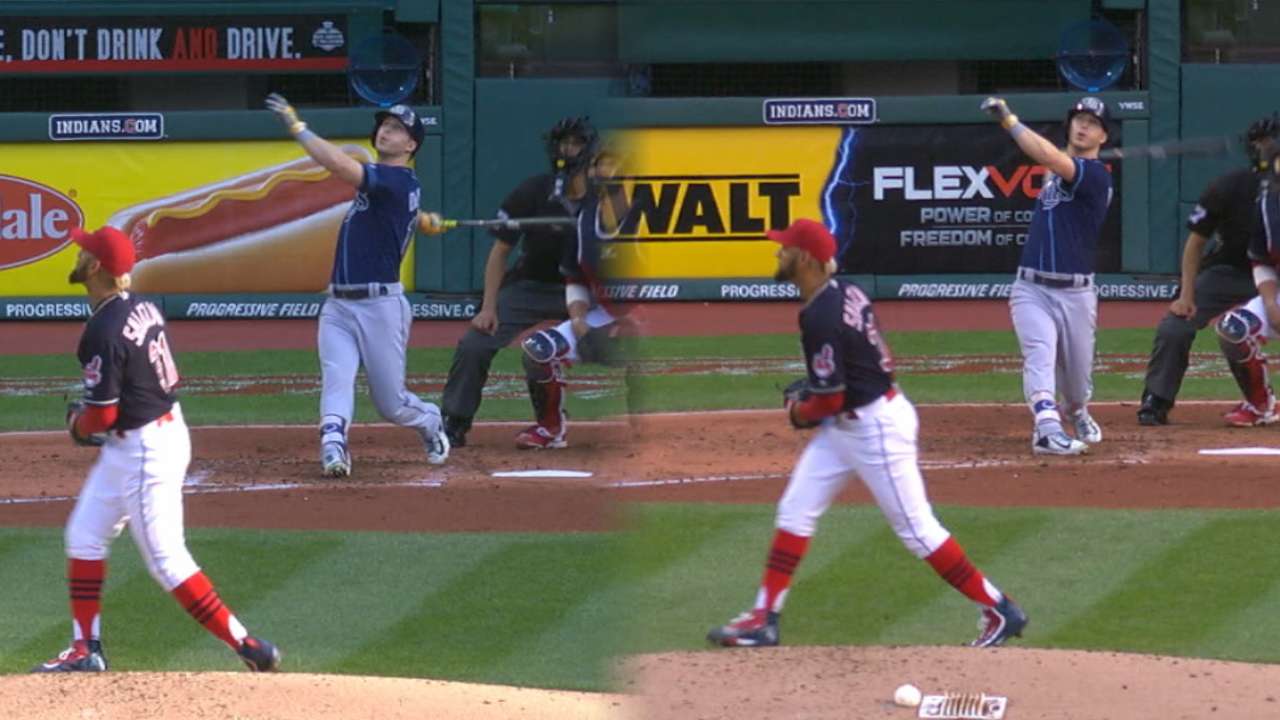 "I don't know what [Statcast™] said, but it went a long way. Corey is doing a tremendous job of setting the tone, giving quality at-bats, and then obviously the home runs are a bonus."
Dickerson called his second home run of the night "one of my top ones."
"To be able to hit it clean like that and to know it's gone," Dickerson said. "Always the ones to dead-center feel good. Thought it was further than 450 [feet], though."
Dickerson has always been serious about his craft, but he tuned up the intensity this season and focused on the things he could control.
For starters, he felt too heavy last season and did something about it by dropping 25 pounds in the offseason. And he didn't worry about whether the Rays would play him in the field or at DH -- because he couldn't control what the team did. He could only influence the decision.
The Rays traded Jake McGee to the Rockies for Dickerson prior to the 2016 season because they thought he could bring something special to the offense. And while he did hit 24 home runs with 70 RBIs, he batted just .245. That brought whispers about Dickerson's Rockies numbers having been artificially inflated by Coors Field.
"I'd never had a bad year before," said Dickerson, who hit .299 with 39 home runs and 124 RBIs in 265 games with the Rockies. "And to have a bad year, I learned from it. At the beginning of the offseason it was like, 'What did I learn? What went wrong? When did it go wrong?' And not to let it happen again. That was the biggest thing, forget about it. Baseball is hard, you're going to struggle sometimes."
Dickerson is now the Rays' most productive hitter and he just seems to be getting stronger and stronger. The Coors Field talk has been silenced.
"I feel like I'm getting back to my old self," Dickerson said. " ... I feel like I changed a lot last year. I was coming off an injury season -- I didn't feel like I had to make up at-bats, but probably really did. I took it to heart this offseason. Be myself and no matter what, have fun, and make sure I compete the way I compete."
Cash likes to hit Dickerson in the leadoff spot for the simple reason he has good at-bats, and hitting first gives him more opportunities to punish opposing pitchers.
"There's not as many guys on base [when he's hitting leadoff]," Dickerson said. "Of course, that's just the way it is being the leadoff hitter. The only decision I feel like I have to make is whether to swing at the first pitch or not. That first pitch I'm battling. I'm trying to compete."
After Tuesday night's game, Dickerson is hitting .333 with eight home runs and 15 RBIs. And he's racked up his numbers while playing DH (21 starts) and left field (14 starts). He allowed that he feels more comfortable being used at DH now.
"Last year I think I felt like I wasn't a part of the game, like I couldn't help unless I did something good at the plate," Dickerson said. "And this year I take it as I'm part of the team. And I'm going to give my best every opportunity. I know the guys behind me want me up there."
Bill Chastain has covered the Rays for MLB.com since 2005. This story was not subject to the approval of Major League Baseball or its clubs.