Red Sox tab Velazquez for Thursday start
Right-hander called up from Triple-A for MLB debut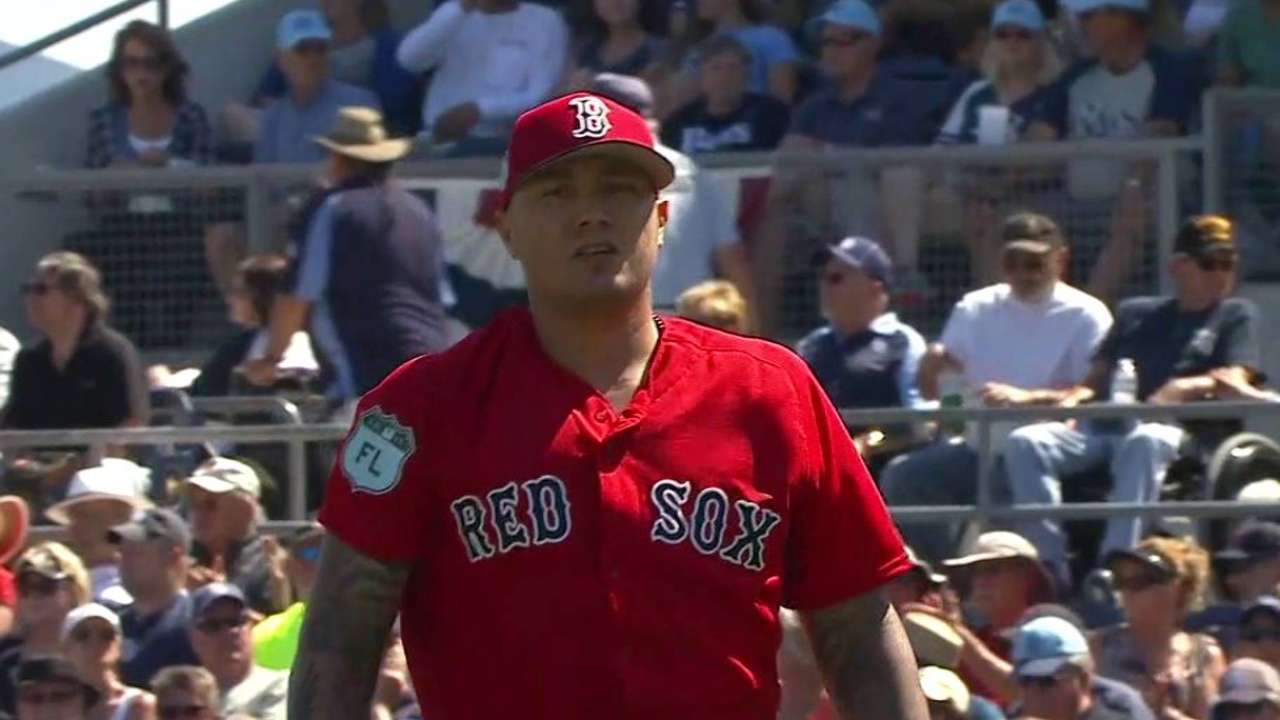 ST. LOUIS -- The Red Sox will reinsert a fifth starter into the rotation on Thursday, when right-hander Hector Velazquez is called up from Triple-A Pawtucket to make his Major League debut on the road against the Oakland Athletics.
Velazquez's contract was purchased by the Red Sox from the Mexican League on Feb. 18. In five starts for Pawtucket, the 28-year-old Velazquez is 2-1 with a 1.55 ERA.
Thanks to the off-day the Red Sox had on Monday, they could have waited until Saturday to start Velazquez.
But manager John Farrell instead opted to use this as an opportunity to split up Rick Porcello and Chris Sale in the rotation. Porcello starts the finale of this two-game series against the Cardinals on Wednesday, and Sale will start Friday night in Oakland.
The way the rotation sets up right now, Sale will pitch when the Red Sox face the White Sox in Chicago from May 28-30 in his first meeting with his former team since the trade to the Red Sox in December.
Velazquez's stint with the Red Sox could be one or two starts, depending on when David Price returns to action. Price hasn't pitched this season due to a left elbow strain incurred on Feb. 28.
What was supposed to be the first start of Price's Minor League rehab assignment on Sunday for Pawtucket turned into a 75-pitch, indoor sim game. The lefty will start for Pawtucket in Buffalo on Friday and will throw 85-90 pitches.
Farrell has left open the possibility Price could pitch for the Red Sox on May 24 against the Rangers. If not, his debut for 2017 would probably be in Chicago against the White Sox on May 29.
Sale would be lined up to pitch either the first or second game in Chicago, depending on when Price is slotted in.
Meanwhile, the Red Sox look forward to getting at least one look at Velazquez. What has worked for the right-hander in the early stages of his career in the United States?
"Just the overall command," Farrell said. "The strike-throwing ability, the overall command in the strike zone, the performance that he's had there. While Brian Johnson has thrown the ball well there as well, [we] just felt like with the number of left-handers in our rotation currently, another right-hander would give us another different look."
Ian Browne has covered the Red Sox for MLB.com since 2002. Follow him on Twitter @IanMBrowne and Facebook. This story was not subject to the approval of Major League Baseball or its clubs.