Bryant back as injured Cubs make strides
Prospect Happ center of attention; Wrigley to commemorate Jackie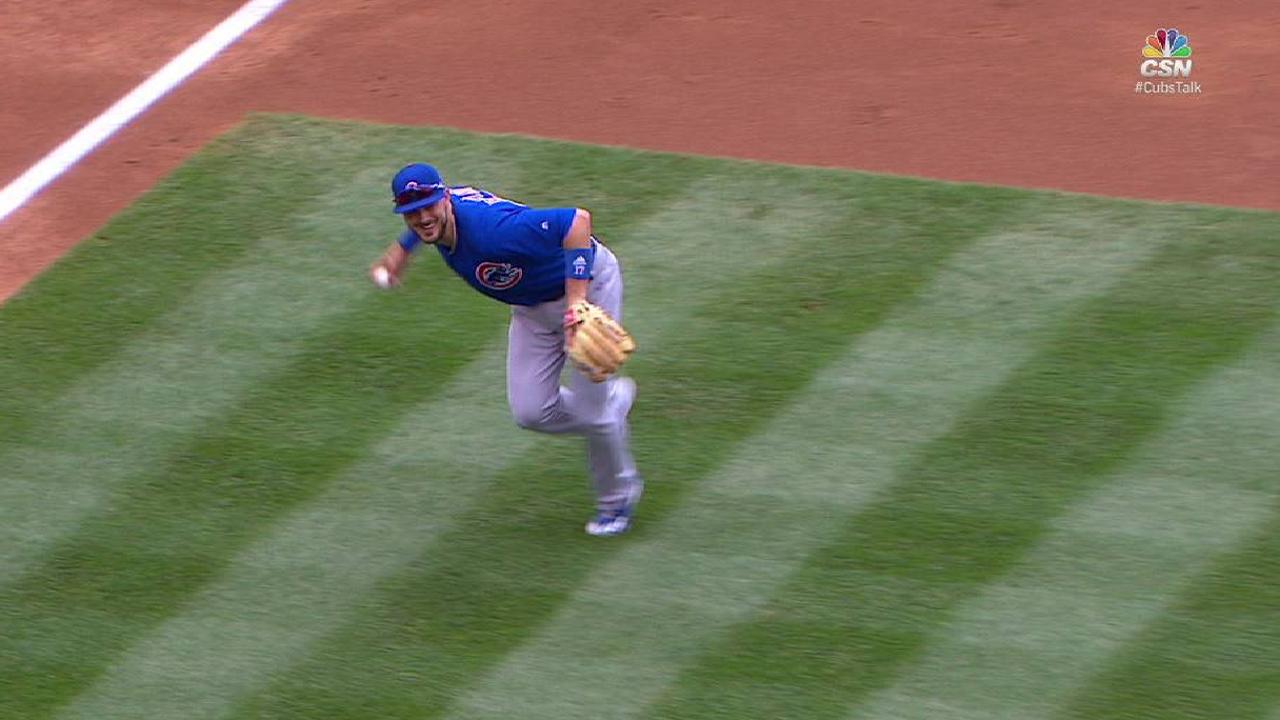 CHICAGO -- Kris Bryant returned to the Cubs' lineup on Tuesday after missing three games because of what the medical staff called an upper respiratory infection and early pneumonia, something the third baseman said he'd never experienced before.
"I was wiped out -- it was terrible," Bryant said.
The reigning National League Most Valuable Player isn't sure what happened either.
"It just hit me and came out of nowhere," he said. "I've never felt that before, and it was weird to me."
• Jason Heyward took batting practice on the field Tuesday for the first time since he was placed on the disabled list with a sprained right index finger. He could be activated by the end of the week. He was eligible to come off the DL on Tuesday.
"The biggest thing is to not [have a relapse]," Heyward said.
There is no ligament damage to his hand, and all the pain is in his right knuckle, which has limited his ability to hit. He was injured on May 5, when he fell trying to catch a ball against the Yankees.
"It's one of those tedious [injuries] because it feels like it takes so much time to heal," he said.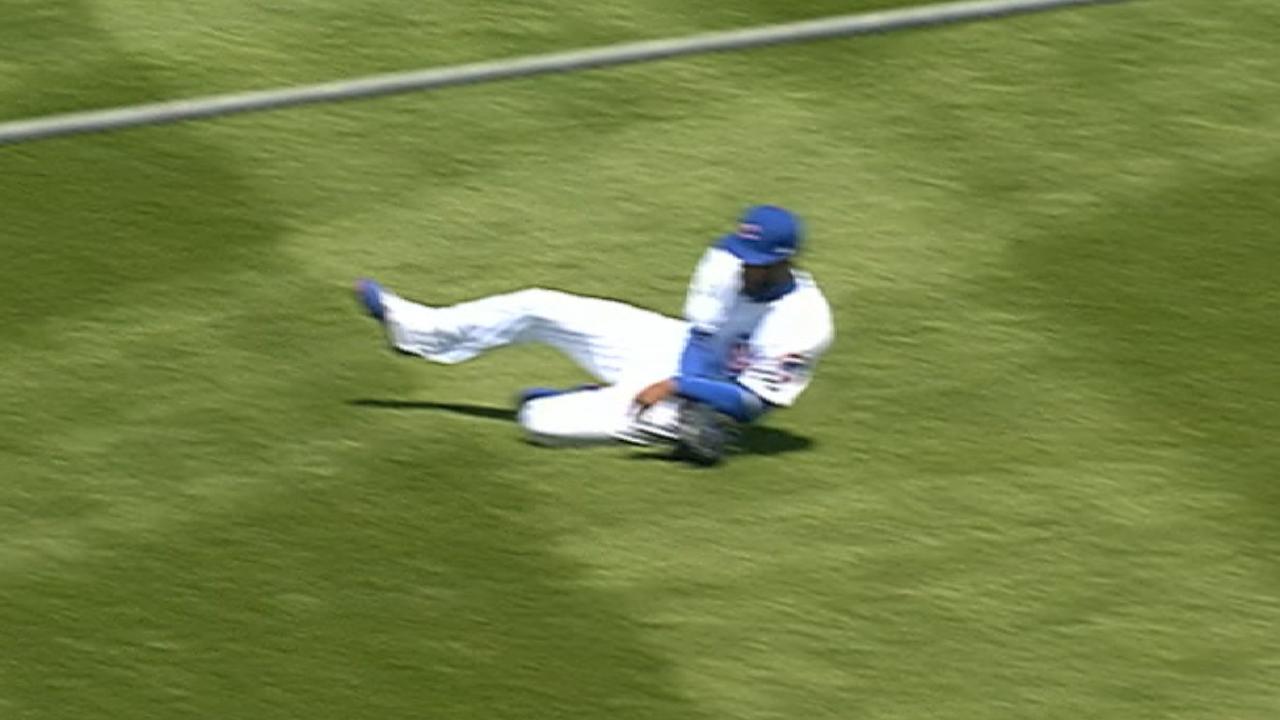 Ben Zobrist, who has been bothered by a sore back, was kept out of Tuesday's lineup more as a precautionary measure.
"I just want to be very careful with him, quite frankly, and that's all I'm doing," manager Joe Maddon said.
Jon Jay, who has not played since he was sidelined on Friday with back spasms, was "effervescent," Maddon said, and available to come off the bench.
• Ian Happ, the Cubs' No. 2 prospect who was promoted on Saturday, made his third straight start Tuesday, this time in center field. The Cubs' Minor League staff has told Maddon that Happ can play all three outfield positions. Maddon said his only concerns are Happ's first exposure to the brick wall at Wrigley Field and making sure he communicates with the other outfielders.
Said Bryant of Happ: "He's a stud. He was ready coming out of Spring Training. I hope he's here to stay."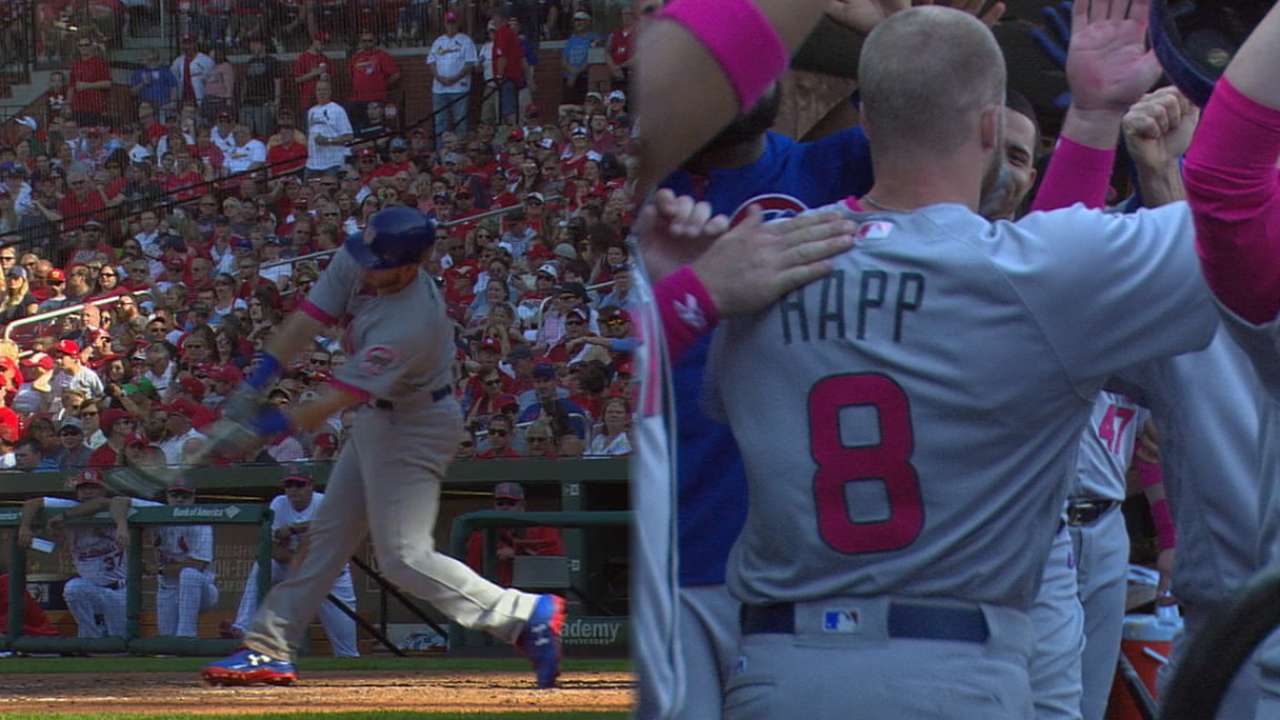 How long will Happ be with the big league team?
"When you call someone up, you always have plans in pencil," Cubs president of baseball operations Theo Epstein said. "He's feeling great at the plate right now. He tends to be streaky, so when he's on a hot streak, he's really hot. He's got a great temperament and seems comfortable up here already.
"We'll play it by ear and do the appropriate thing for Ian and his development."
• On Thursday, the Cubs will commemorate the 70th anniversary of Jackie Robinson playing his first game at Wrigley Field, which is the only remaining Major League ballpark in which he played. The game on May 18, 1947, drew a paid crowd of 46,572 fans to Wrigley, which remains the largest paid regular-season crowd in ballpark history.
Jackie Robinson's granddaughter, Meta Robinson, will help raise a new flag honoring his legacy on the ballpark's right-field foul pole. The team had previously flown a "JR 42" flag on Wrigley Field's rooftop following the retirement of Robinson's No. 42 by Major League Baseball in 1997.
Carrie Muskat has covered the Cubs since 1987, and for MLB.com since 2001. She writes a blog, Muskat Ramblings. You can follow her on Twitter @CarrieMuskat and listen to her podcast. This story was not subject to the approval of Major League Baseball or its clubs.