Baker: Scherzer a 'medical marvel'
Nats manager amazed line drive that hit pitcher didn't do more damage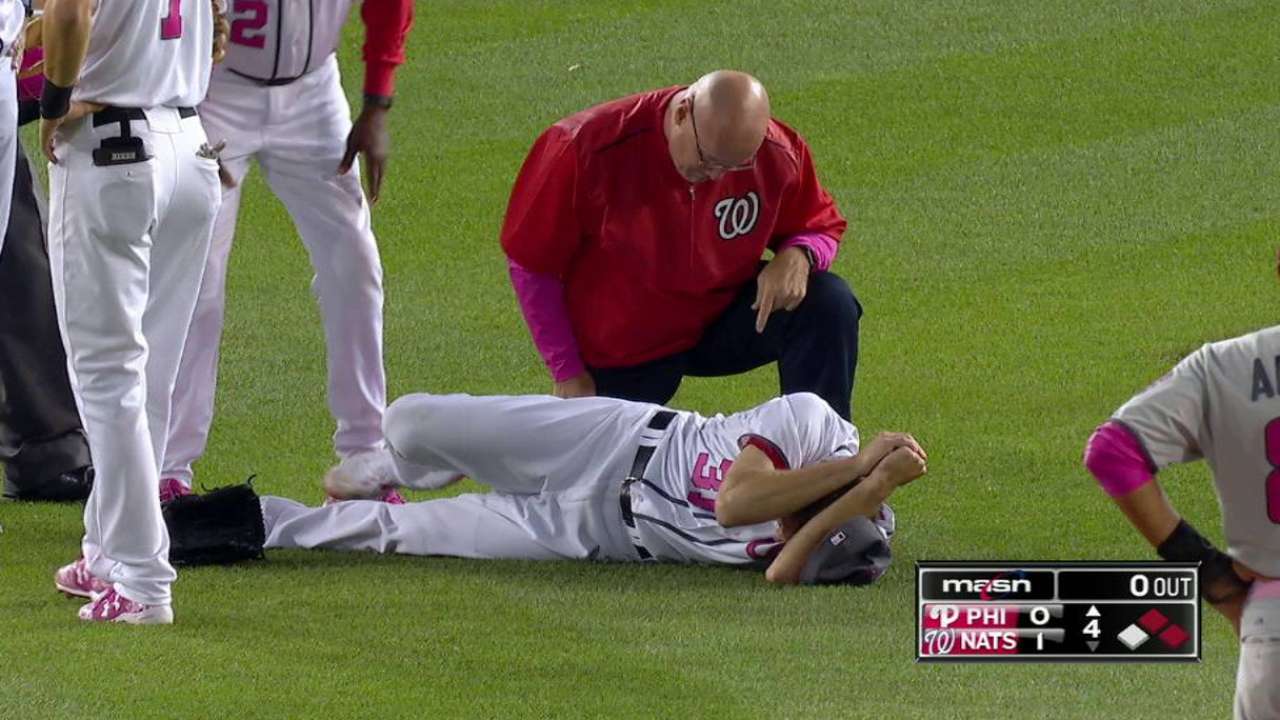 PITTSBURGH -- Two days after Max Scherzer took a 100-mph line drive off his right knee Sunday, Nationals manager Dusty Baker said his ace right-hander might qualify as a "medical marvel."
"He still has the stitches from the ball," Baker said before Tuesday's game against the Pittsburgh Pirates at PNC Park. "He says he was a little sore, he couldn't do his normal running. He did some jogging. Max will be fine."
Scherzer was hit by a drive off the bat of Philadelphia's Michael Saunders. He immediately crumpled to the turf before getting up and trying to walk off the pain. After a few steps Scherzer collapsed again and writhed in pain for several seconds. Remarkably, he not only stayed in the game, he struck out the side on nine pitches in the next inning.
Baker said he visited the Roberto Clemente Museum here on the off-day Monday and saw a photograph of Cardinals Hall of Famer pitcher Bob Gibson after being struck by Clemente's line drive during a game in 1967. Gibson suffered a broken leg.
"That's what I was afraid of the other day," said Baker, who added that Scherzer, who once did a book report on Gibson, told him the same thing. Baker said he is "very confident" Scherzer will make his next start Friday or Saturday.
Scherzer has been wearing a patch on the knee that reduces swelling and relieves pain.
"These patches are amazing," Scherzer said. "Freaking magical."
Werth in, Murphy out
Nats right fielder Jayson Werth returned to the lineup Tuesday after leaving Saturday's game with tightness in his groin and missing both games of Sunday's doubleheader. But second baseman Daniel Murphy did not start.
Baker said he planned on resting Murphy in the second game Sunday, but a loss in Game 1 prompted Baker to play Murphy in the nightcap.
"A day off is necessary sometimes," Baker said. "We got to keep him healthy and strong, and I saw his bat slowing down a little bit the other day, so I figured today was as good a day as any."
Bob Cohn is a contributor to MLB.com based in Pittsburgh and covered the Nationals on Tuesday. This story was not subject to the approval of Major League Baseball or its clubs.