Tigers glad to return to Detroit for homestand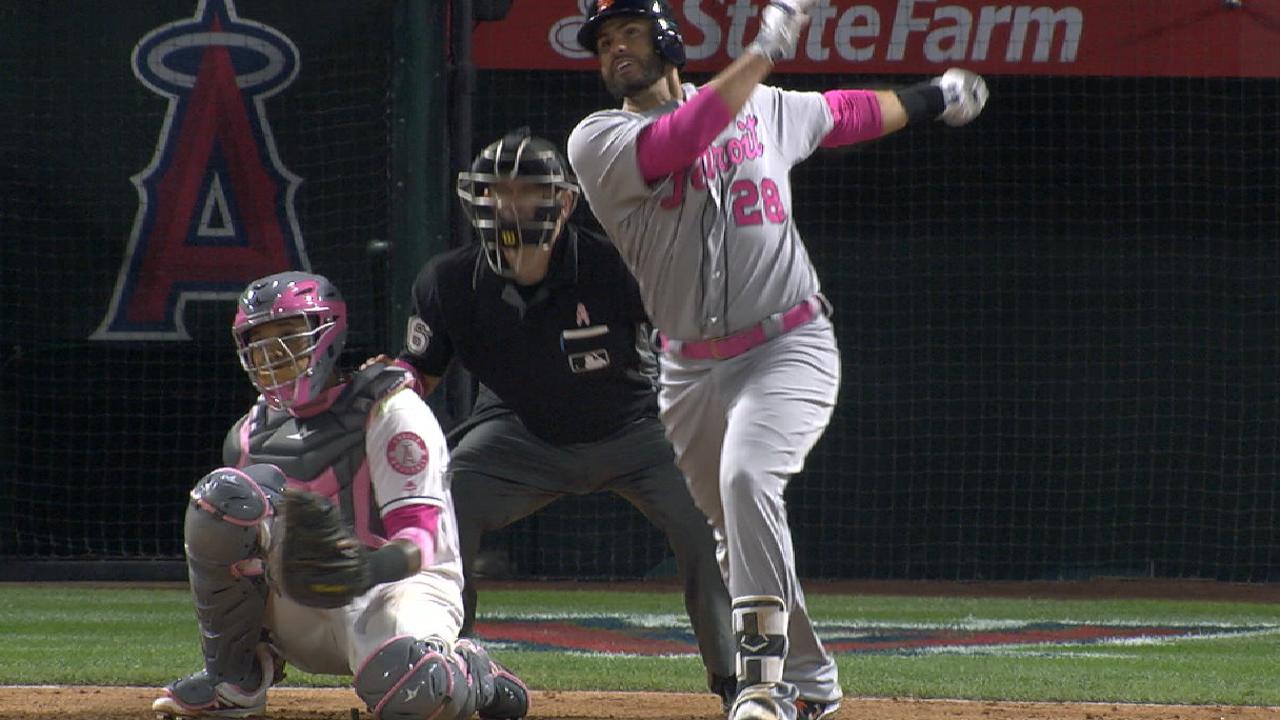 DETROIT -- After finishing 4-5 on their recent West Coast trip, the Tigers are happy to be back in Detroit to start a string of six games at Comerica Park. Being home adds a layer of routine, which could help Detroit (18-18) get back on the good side of the .500 mark. There are other perks that come with it, too.
"Sleeping in your own bed," manager Brad Ausmus said. "Getting back to our home field, home fans, familiarity, you know where you like to eat lunch. It's just more comfortable."
Like many teams in the Majors, the Tigers are statistically more potent on home turf. This season, they're slashing .256/.334/.426 at Comerica and .230/.311/.391 elsewhere. They also have the same number of wins at home as they do on the road, but in four fewer games.
No one on the Tigers will have as significant a homecoming as outfielder J.D. Martinez, who is playing at home for the first time this season after rejoining his teammates on the field May 12 during the recent series against the Angels.
"It's just exciting to be back," Martinez said. "Back in the clubhouse, back in Comerica. Coming in on the drive and everything like that, it's been a while since I've done it."
Last season, Martinez batted .362 with 43 RBIs in 60 home games, while batting just .254 with 25 RBIs in the same number of games on the road.
Since his return to the Detroit lineup Wednesday, he's 4-for-9 (.444) with two home runs. And though the season is a month and a half old, and he's already been back for three games, Martinez is taking a unique approach to his first game back at Comerica.
"For me, it's Opening Day here," he said. "Not for everyone else, but I'm going to take it like it is."
Worth noting
• Detroit signed outfielder Matt den Dekker to a Minor League deal Tuesday, and it assigned him to Triple-A Toledo. den Dekker had most recently been in the Marlins' system. He has a .236 average in 154 career MLB games over four seasons between the Mets and Nationals.
• Tigers first baseman Miguel Cabrera is batting just 5-for-32 (.156) with 12 strikeouts in his past eight games. Ausmus isn't concerned about his slugger, however, saying, "He's human, believe it or not. Happens to everybody."
• Tigers Minor League pitcher Tommy Collier received a 100-game suspension without pay Tuesday after testing positive for a drug of abuse for the third time. Collier, a right-hander with Double-A Erie, will begin serving the suspension immediately following the completion of his current 50-game suspension, also for a drug of abuse.
Jordan Horrobin is a reporter for MLB.com based in Detroit. This story was not subject to the approval of Major League Baseball or its clubs.