Renfroe walking into some really big hits
Notes on walk-off homers, homers, Perdomo, etc.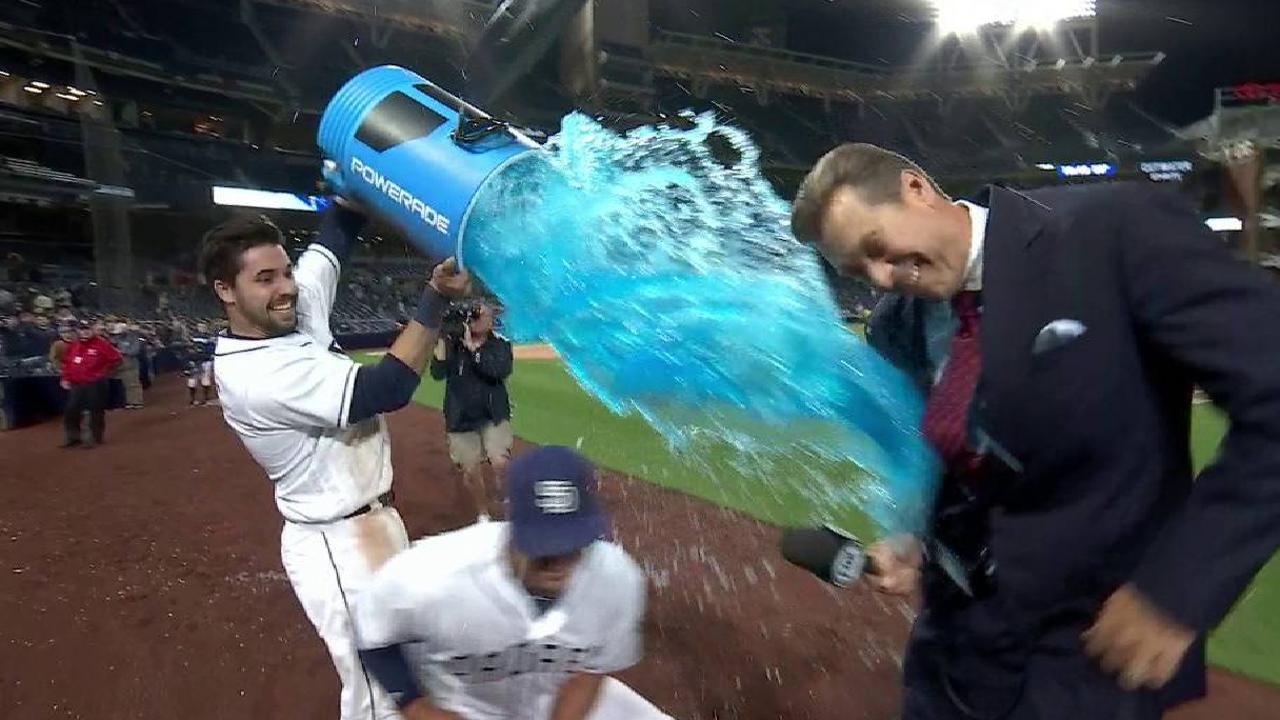 Bill Center, longtime sportswriter for U-T San Diego, is an employee of the Padres.
It's not a subject that Hunter Renfroe is overly eager to discuss, which lends merit to Andy Green's argument that once the rookie right fielder starts taking walks he'll become a more dangerous hitter.
Well, that might be a bit of an over-simplification . . . but it does look like the base of the Padres manager's argument is valid.
It's called plate discipline.
The time-tested theory goes that once a hitter stops swinging at bad pitches outside the strike zone - and taking balls that lead to walks - the pitcher will have to start throwing more strikes. That leads to more hittable pitches.
Although he reluctantly talks about drawing walks, Renfroe's recent production is an argument in favor of plate discipline.
Renfroe drew four walks in his first 34 games as his batting average bottomed out at exactly .200 May 9. In six games since, Renfroe is 6-for-18 with two doubles and two homers for seven RBIs and five runs scored. He has also drawn seven walks and has walked at least once in each of his last five games.
Coincidence?
Green thinks not.
"Drawing walks shrinks the strike zone," said Green Monday night after Renfroe's two-run walf-off homer in the 10th to defeat the Brewers 6-5 at Petco Park. It was Renfroe's second homer in as many games after not homering since April 26.
"He's forcing pitchers to come back to him," Green continued.
GAME NOTES:
• Several more notes on Renfroe's homer. His two-run blast marked the first time since Fred McGriff in 1993 that a Padre hit a walk-off homer in extra-innings when the Padres trailed. It was also the first walk-off homer of Renfroe's career. It was also the seventh walk-off homer by a rookie in the history of Petco Park with the last to do it being Ryan Schimpf last Aug. 19.
• Plus this from Jeff Praught, the home run expert of Petco Park. Milwaukee's Eric Sogard, a former Padres minor leaguer, was the 499th different player to homer at Petco Park since it opened in 2004 - which was three seasons before the Padres drafted Sogard in the second round.
•RHP Luis Perdomo attempted to single-handedly defeat the Brewers Monday night. He allowed three runs on five hits with a career-high nine strikeouts over six innings and had a double and triple in his two-at-bats with a RBI and a run scored. Perdomo did set one Padres record. He has made six starts this season and has yet to get a decision. The old record for starts to open a season without getting a decision was five by Bob Owchinko in 1977.
• 2B Cory Spangenberg was 3-for-5 Monday night to raise his batting average to .273. He also stole two bases in the same inning. One of his three hits was a drag-bunt single
Bill Center, longtime sportswriter for U-T San Diego, is an employee of the Padres.