Gardner finding stroke at right time for Yanks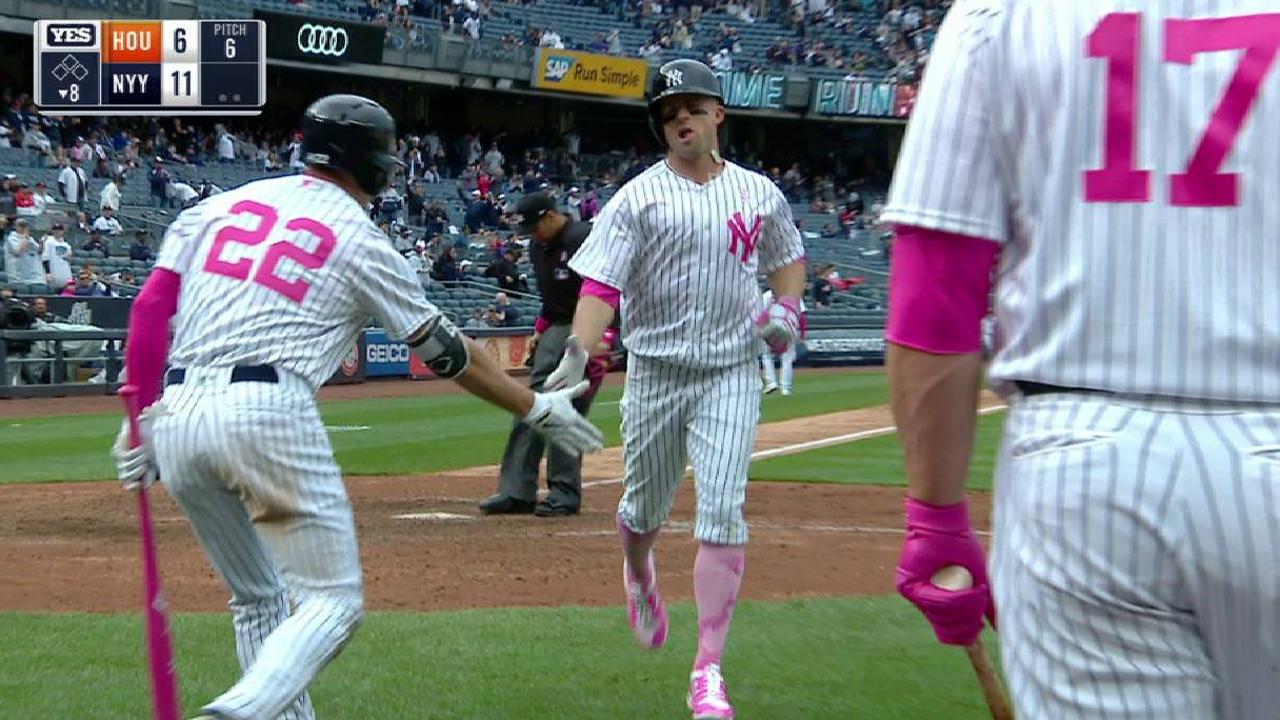 NEW YORK -- Left fielder Brett Gardner has re-emerged as a force for the Yankees thanks to his recent hot streak at the plate.
Already known for his defensive prowess, Gardner is batting .289 with a .902 OPS in 32 games this season. He ranks 11th among all MLB position players and sixth among outfielders with a 2.0 WAR, according to Baseball-Reference.
Over his past 15 games entering Tuesday, Gardner boats a .387 batting average with seven home runs and a 1.231 OPS. Before that, he was batting .186 with a .561 OPS. His average exit velocity has increased to 87.3 mph from the 81.6-mph mark he carried through the first 16 games, according to Statcast™.
"I think it's really big for us, because he has the ability to do more than just get on base," said Yanks manager Joe Girardi earlier this month as Gardner started to heat up. "He has the ability to hit the ball out of the ballpark. He has the ability to hit doubles and steal bases."
There's no single clear-cut reason for the 33-year-old's recent surge, especially given that he's had only 69 plate appearances since April 28, but there are a few possible reasons.
Following Sunday's day-night doubleheader, in which he went 6-for-9 with two doubles and a homer, Gardner was asked whether he altered his approach at the plate or tinkered at all with his mechanics.
"I'm trying to make it a point to stay down on my legs a little more," Gardner said. "Just stay down on my legs and use my lower half."
An emphasis on using his legs when he swings could help explain why Gardner is hitting for more power, which comes when hitters transfer their weight at the point of contact. The additional power that comes from him using his lower half could be what's allowing him to hit the ball harder.
While Gardner's adjusted approach at the plate probably has something to do with his improved performance, it isn't the only factor for his success. He's also getting better pitches to hit.
During his slow start, Gardner was seeing more pitches located on the low-and-outside part of the strike zone, according to Statcast™, which usually is a good spot to pitch left-handed hitters -- especially at Yankee Stadium. Since April 28, though, more pitches to the left fielder have caught the middle of the zone.
The reason why Gardner has seen better pitches lately probably has something to do with the depth in the Bombers' lineup. In that 15-game stretch, both catcher Gary Sanchez -- who normally bats second, behind Gardner -- and shortstop Didi Gregorius returned from the disabled list.
It would make sense that opposing pitchers are throwing more pitches over the plate to Gardner because they don't want to walk him with all the impressive hitters the Yankees have batting behind him. They'd rather challenge him, instead of giving him a free trip to first. Gardner has clearly answered the call.
Matt Martell is a reporter for MLB.com based in New York. This story was not subject to the approval of Major League Baseball or its clubs.