Cain shows strength in milestone night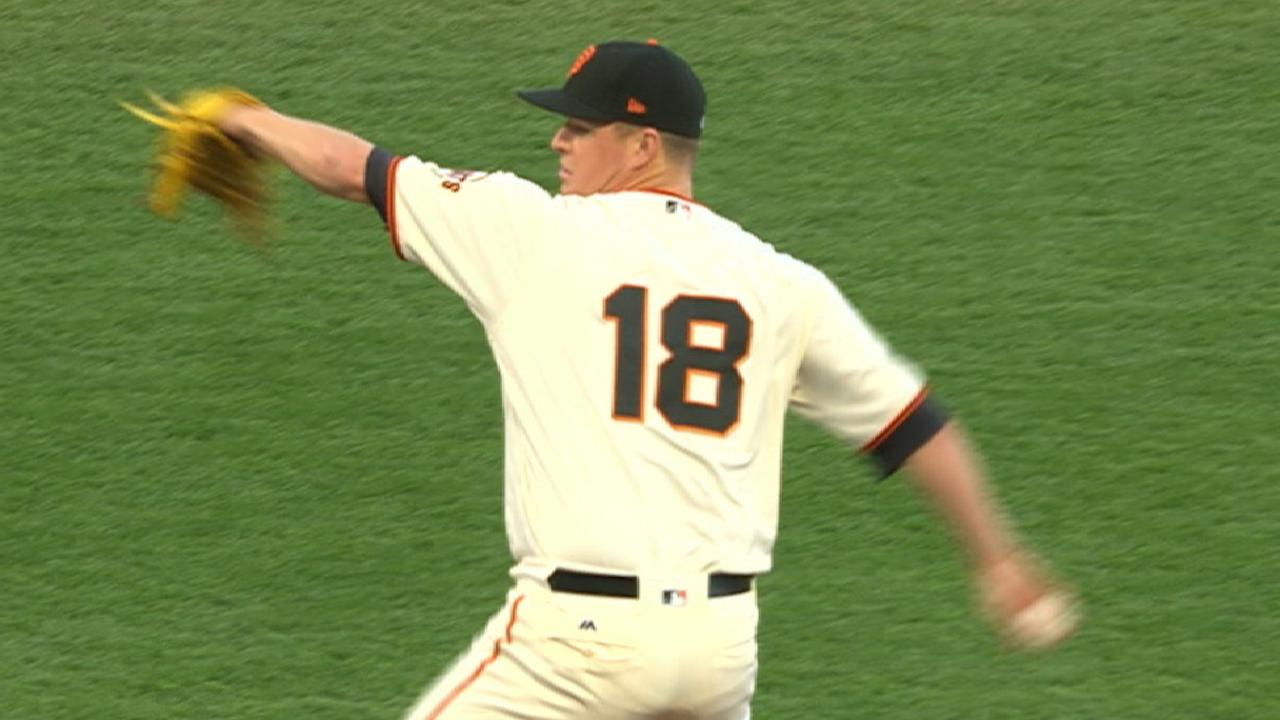 SAN FRANCISCO -- Matt Cain etched his name once again alongside the Giants' greatest pitchers. But the ink on his signature will have been dry, possibly for decades, before he understands the significance of his handiwork.
Cain claimed not only the decision but also a slice of posterity in the Giants' 8-4 victory Monday night over the Los Angeles Dodgers. He reached the 2,000-inning level after finishing the third, becoming the 12th pitcher to amass that total as a Giant.
A three-time All-Star, a key starter in San Francisco's postseason rotation during two World Series-winning seasons and the author of a perfect game in 2012, Cain joined eight Hall of Famers in accumulating 2,000 innings. The most recent one was Gaylord Perry in 1970.
"You always like the milestones, the big number, whether it's 1,000 or 1,500," Cain said. "You see the number but you're not exactly sure what you did. It'll be something I'll cherish and probably understand a lot more later on."
Cain's victory was easier to comprehend. He lasted 6 2/3 innings while yielding one run and five hits. His performance extended the Giants' winning streak to four games and cooled off a Dodgers club that won 12 of its previous 16 games.
The right-hander who has weathered significant injuries since 2013 threw 112 pitches, his highest single-game figure since he totaled 116 during seven innings in a 1-0 loss to Colorado on April 12, 2014.
"His stamina's back," Giants manager Bruce Bochy said. "His strength is there and he made great pitches all night."
Cain established himself immediately, blanking the Dodgers in the first inning after Joc Pederson doubled to open the game. That escape act included called third strikes on Corey Seager and Cody Bellinger.
"That kind of showed you how good his command was," Bochy said.
Cain credited catcher Buster Posey's pitch-calling with helping to subdue Los Angeles' offense.
"He did a good job of mixing it up ... [and] keeping those guys off-balance," Cain said.
Luck also benefited Cain. Some of Los Angeles' hard-hit balls found Giants gloves, including Chase Utley's second-inning line drive that resulted in a double play and Corey Seager's fifth-inning smash that first baseman Brandon Belt dove to smother.
Mostly, however, Cain relied on his own skill. Continuing his transition from hard thrower to pitcher, he threw a couple of 73 mph curveballs to Kiké Hernandez, the final hitter he faced, en route to recording a strikeout. For a pitcher whose deliveries have hovered above 90 mph through most of his 12-year career, it was an unusual sight.
"The curveball was a big pitch for him tonight," Posey said. "He's doing a nice job of giving them different looks."
Chris Haft has covered the Giants since 2005, and for MLB.com since 2007. Follow him on Twitter at @sfgiantsbeat and listen to his podcast. This story was not subject to the approval of Major League Baseball or its clubs.