McCarthy's mistake costly in big inning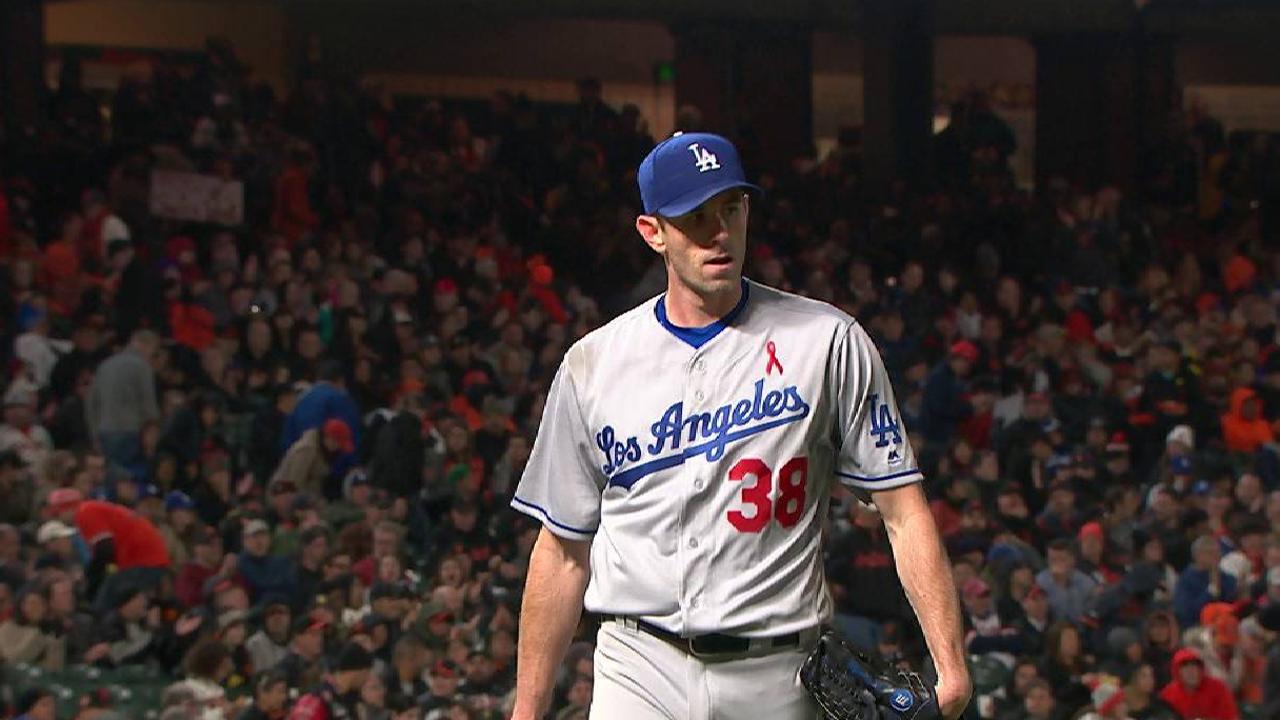 SAN FRANCISCO -- Brandon McCarthy came off the disabled list to start Monday night for the Dodgers, but in the fourth inning he was just in the wrong place at the wrong time.
The rest of his start after dislocating his left shoulder lifting weights was good enough. He retired the first seven batters, was throwing strikes and getting weak contact. But the difference in the Giants' 8-4 win was a four-run rally that inning in which things went haywire for McCarthy, capped by Eduardo Nunez's two-run broken-bat single fielded by shortstop Corey Seager.
Runners were on second and third with no outs and the Giants had just taken a 2-1 lead on Brandon Crawford's double that exploded past first baseman Chase Utley. Seager was playing Nunez to pull, but his shattered bat sent a Statcast-measured 76.7 mph dribbler with a 6 percent hit probability up the middle that Seager chased down in shallow center field.
Buster Posey had already scored from third and Seager threw toward the plate to keep Crawford from doing the same. But McCarthy, instead of backing up the plate, remained on the mound. He caught Seager's throw, which froze Crawford halfway between third and home. But McCarthy never looked Crawford back, instead trying to keep the hitter from taking second.
"I turned and looked and saw the ball coming in and that's when I froze and was going to at least try to get back to third or get in a rundown so Nunez could keep going," said Crawford. "McCarthy cut it off and didn't really look at me. So I thought I might as well go home."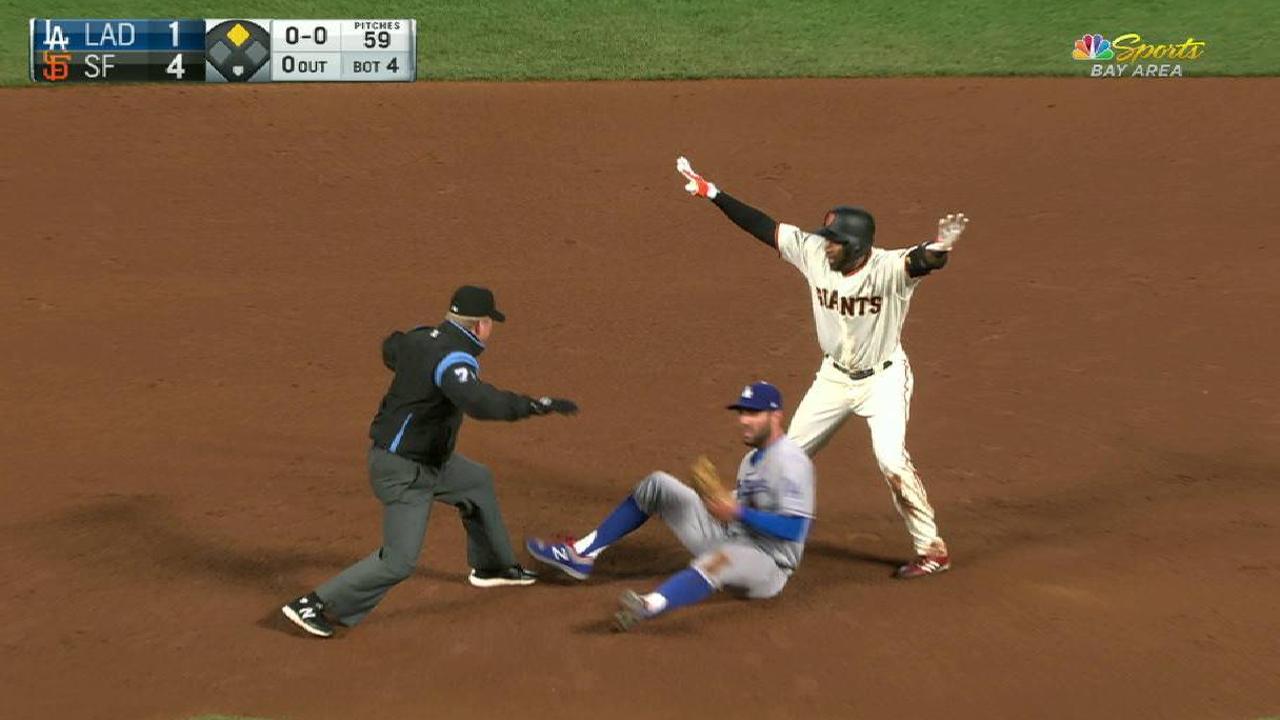 Crawford reaccelerated to score the second run on the play and Nunez was safe at second base anyway, because both middle infielders had chased the ball into the outfield and second baseman Chris Taylor couldn't beat Nunez to the bag. On the next pitch, Nunez stole third without a throw, putting him in position to tag and score on Christian Arroyo's sacrifice fly.
If anybody should have been on the mound to cut Seager's throw, it would have been first baseman Utley, but the mound was occupied.
"[McCarthy] shouldn't have been in the middle of the diamond, that's No. 1," manager Dave Roberts said. "The mechanics of the play, he should be behind home plate, and that's where it gets funky."
McCarthy said he won't watch video of the play until Tuesday, and he might just scrap the viewing altogether because he won't be pleased after pitching better than a line of six runs in 5 2/3 innings would indicate.
"Not a lot of loud contact, just quality aiming," said McCarthy. "It was kind of a blur. The pitch to Nunez, a good pitch, blew his bat up and it gets through. I saw the bat first and didn't see the ball, get out of the way of that, then tried to stab at the ball, turned around kind of in disbelief that it was going to get through and stopped right there. Didn't occur to me to go back up. A lot of things going on, I guess."
This was McCarthy's first game in 15 days. Roberts said his pitcher was sharp early on, but McCarthy said the theme of his start was, "I wasn't terribly sharp, but I was OK."
Ken Gurnick has covered the Dodgers since 1989, and for MLB.com since 2001. This story was not subject to the approval of Major League Baseball or its clubs.