That's a relief: 'Pen prevails, keeps A's at bay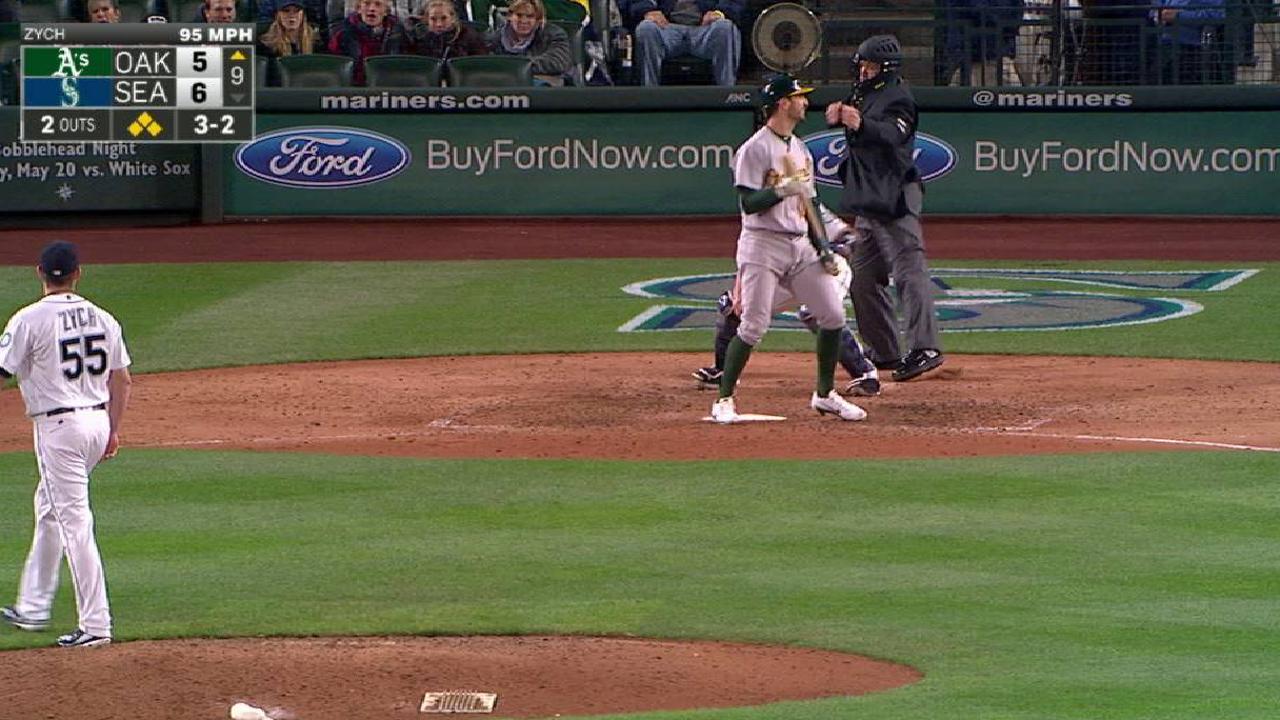 SEATTLE -- The Mariners entered their homestand coming off a heartbreaking three-game sweep in Toronto and with four of their presumed Opening Day starters -- Felix Hernandez, James Paxton, Hisashi Iwakuma and Drew Smyly -- on the disabled list.
In other words, the bullpen has been hugely important and often used. It's had good days and bad days and strange days with a revolving cast that has had some injuries of its own. On Monday night against the A's, the Mariners got a little bit of everything from their bullpen, including a much-needed 6-5 victory.
Starter Yovani Gallardo went 6 1/3 innings but departed in the seventh with one out and runners on second and third and a 4-3 lead. Enter the first reliever, Dan Altavilla, who had been struggling with command and was sent down to Triple-A Tacoma earlier in the season. Altavilla walked the first batter he faced on four pitches but rebounded with a strikeout and a groundout to exit that frame.
"He didn't start off that great, but he worked his way through it," Mariners manager Scott Servais said of Altavilla. "Hopefully it's a big confidence booster for him."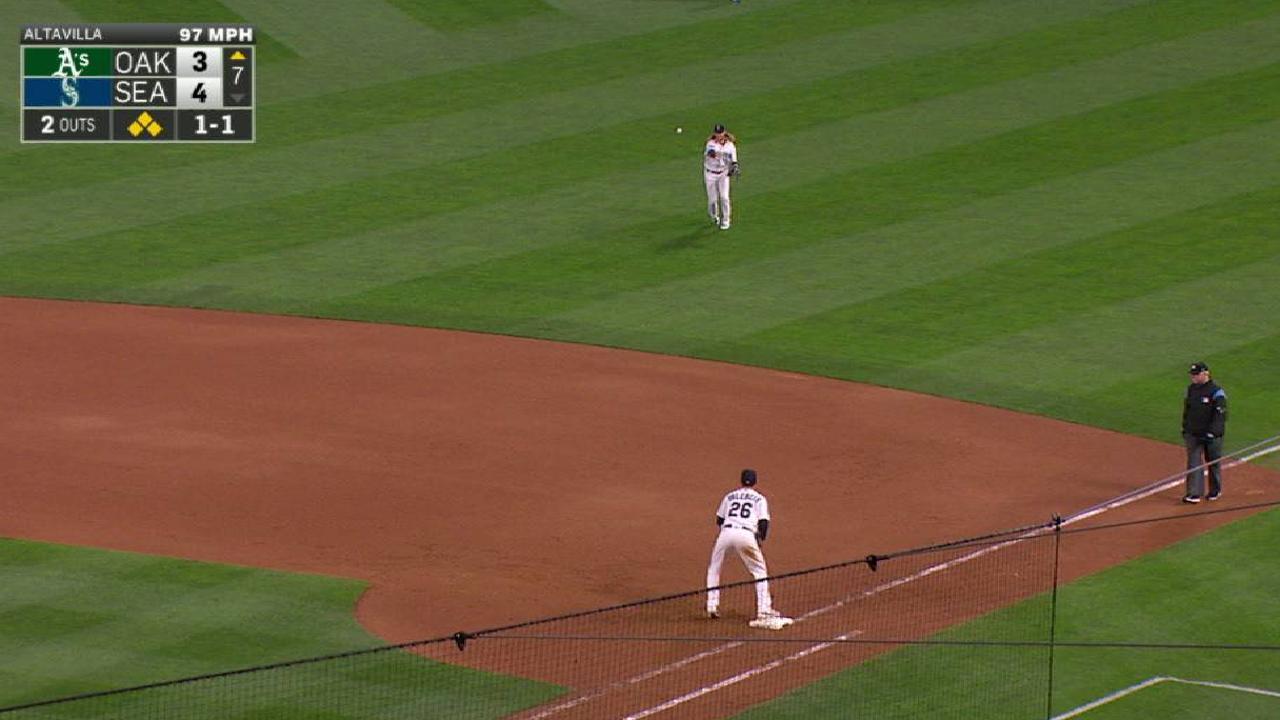 Prior to the game, the Mariners welcomed former closer Steve Cishek back from the DL, where he'd been since hip surgery last October. He was called upon right away to face right-handed slugger Khris Davis, who had already homered in the game, and Cishek got him on a groundout. Then Servais went to lefty Marc Rzepczynski to face left-handed hitter Yonder Alonso, who struck out. Then righty Nick Vincent came in to face righty Ryon Healy, and Healy hit a high pitch barely inside the right-field line for a ground-rule double. Vincent took back the momentum, however, and struck out Trevor Plouffe to escape that threat.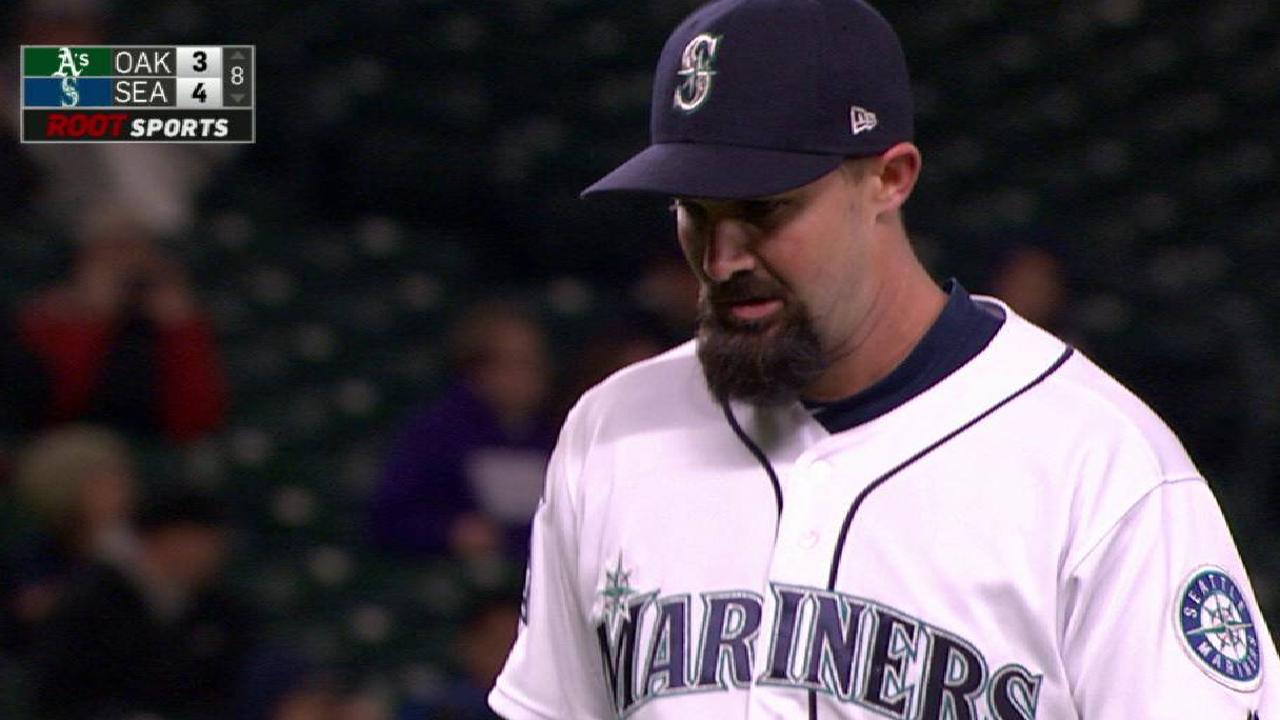 Things looked great heading into the top of the ninth after Kyle Seager's two-run home run in the bottom of the eighth gave Seattle a 6-3 lead, but that's when the game got interesting again.
Edwin Diaz, who had surrendered Kevin Pillar's walk-off homer in the Sunday loss in Toronto, got one out and then walked four batters in a row to make it 6-4. With the bases loaded and Diaz already 28 pitches in, Servais turned to Tony Zych, who wasn't supposed to pitch at all Monday.
Zych got a run-scoring groundout and then intentionally walked Alonso to load the bases again. Another walk or a wild pitch would now tie the game, and Zych took it to the limit, pitching Adam Rosales to a full count. But Zych's fastball hit the corner and was called a strike by home-plate umpire Carlos Torres.
Zych, a closer in the Minors, had his first save in the Majors. And the Mariners' bullpen, shaken but not stirred, had wiggled out of another jam.
"Everyone was all jacked up after the game," Zych said.
There are concerns, to be sure, but the Mariners realize that right now their pitching situation is more about mettle than mastery.
"We're out here busting it every day, the guys are working hard, we know our backs are against the wall a little bit with the injuries," Servais said. "We have to enjoy the wins, no matter how they come out."
Doug Miller is a reporter for MLB.com. Follow him on Twitter @DougMillerMLB. This story was not subject to the approval of Major League Baseball or its clubs.