Manaea shows grit after rocky DL return
A's lefty struggles with command early but fans 7 over 5 innings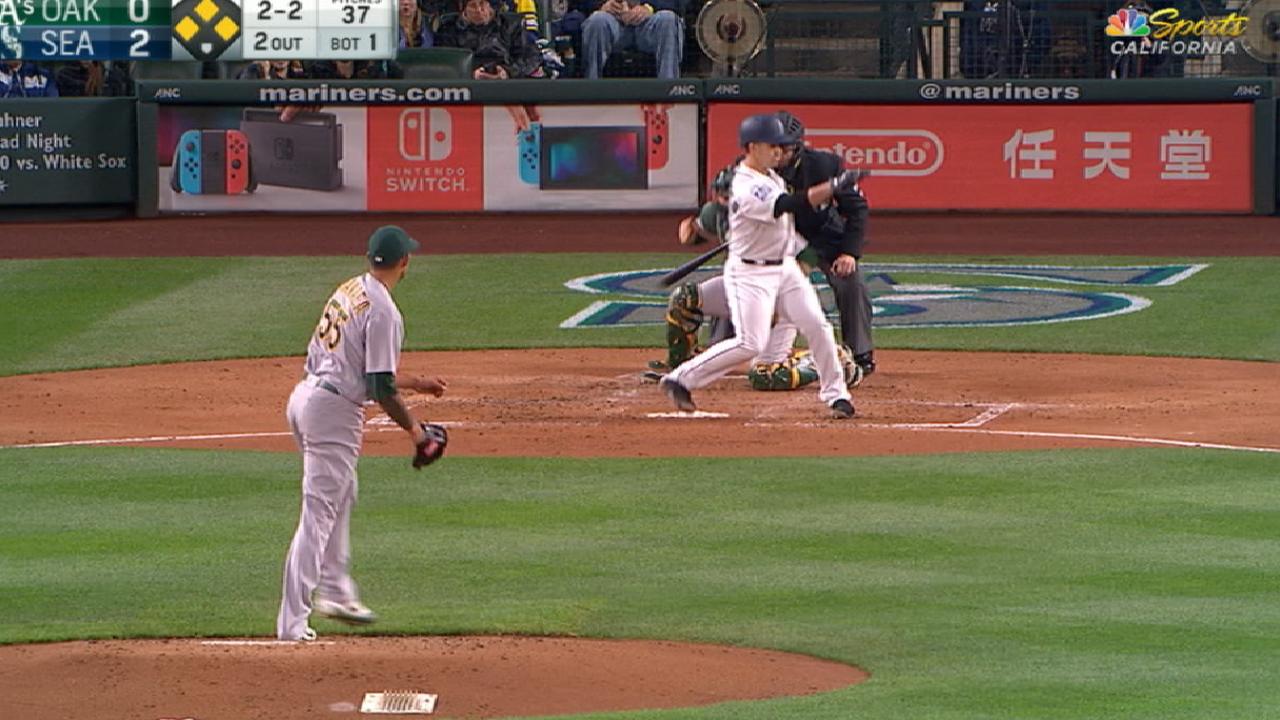 SEATTLE -- A wobbly beginning proved costly for Sean Manaea in Monday's 6-5 series-opening loss to the Mariners, but the A's lefty ended his night on a positive note, and with health on his side.
The A's are getting used to taking the bad with the good, but far too often this season the former has triumphed.
Manaea, returning from a shoulder strain that sidelined him for two weeks, walked four of his first seven batters -- and five by the time he recorded his second out in the second inning, tying his career high. By the time the inning was over, he was staring down a 4-0 deficit.
Astonishingly enough, though, Manaea was able to give the A's five innings before a rundown bullpen took over, finishing at 88 pitches -- 58 of them thrown in the first two innings.
"You know what, he was rusty at the beginning, and I was surprised we got five innings out of him," A's manager Bob Melvin said. "Ninety pitches was as far as he was gonna go, and he gave us pretty much exactly that. In the first inning, he's one more hitter away from coming out in the first inning, so he looked a little rusty early on but got it together.
"We needed it. With him, too, last thing you want to do is have an outing like that where you're just coming back and in the first inning you have a chance to come out of the game, so he showed some grit."
Manaea walked in a pair of runs in the first and surrendered a two-run homer to Nelson Cruz in the second, mixing in five strikeouts. From that point on, he retired his final 10 batters, finishing with seven strikeouts in all.
"First and second inning, I was just shying away from contact," Manaea said. "I was just hoping that they wouldn't hit it and trying to make things too fine when I should be out there making guys put the ball in play and trusting my defense. I just didn't do that. I finally figured it out after the second inning and had to bear down and get through whatever else I could.
"Overall, it was a pretty bad outing. Definitely not one I want to repeat, but going out and minimizing pitches for the third, fourth and fifth innings, it was a lot better and I felt like I left the game on a strong note. Obviously it doesn't make up for the first and second."
Harnessing command has been on Manaea's to-do list all season. The young southpaw has 34 strikeouts in 29 1/3 innings, but he's also issued 17 walks, covering up his seemingly explosive talent -- which revealed itself a little too late on this night.
"What a turnaround those last three innings were," catcher Stephen Vogt said. "I think that shows who he is. It would've been real easy for him to cave and crumble after the first two, and he didn't. He gave us a chance to win, and we should've won that ballgame, bottom line. He didn't have much command, kind of where he left off before he was injured, and for him to come back those last three innings and show what he can do, that has us very, very excited."
Jane Lee has covered the A's for MLB.com since 2010. This story was not subject to the approval of Major League Baseball or its clubs.