Straily's right arm bruised by liner
Righty nailed in fifth, loses no-hitter two batters later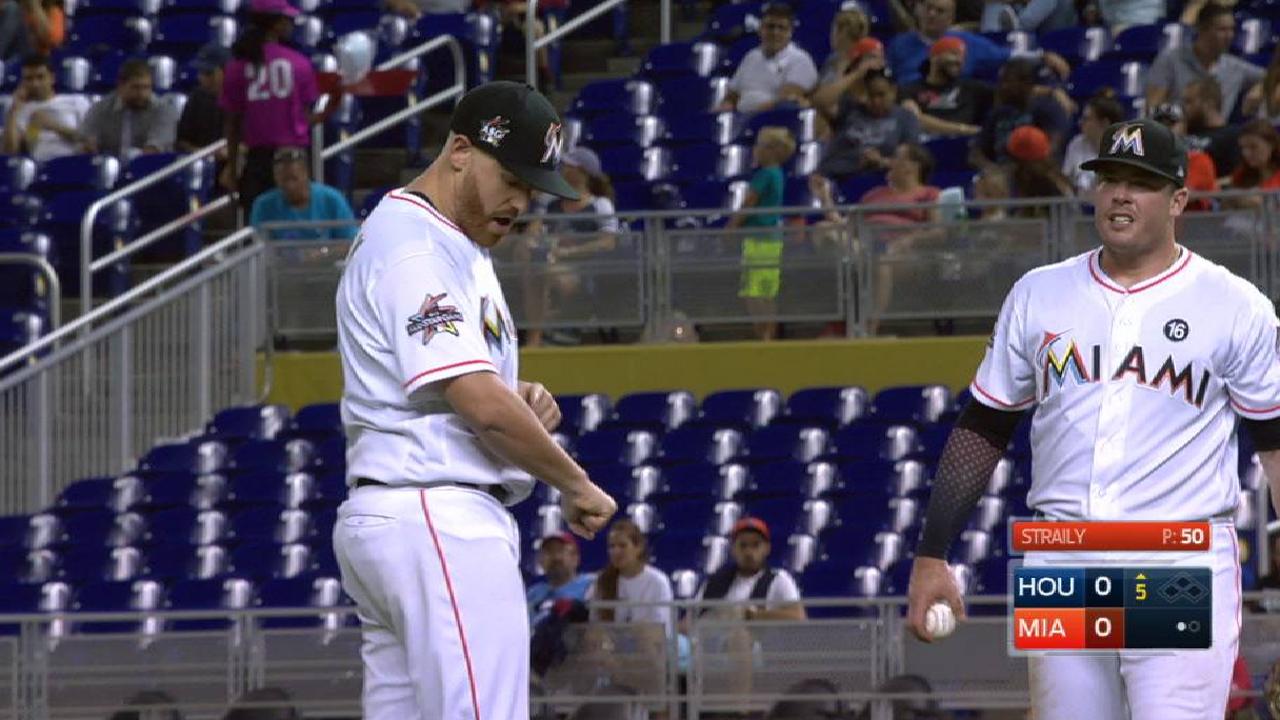 MIAMI -- Dan Straily may have lost a no-hit bid on Monday night in the Marlins' 7-2 loss to the Astros, but the Miami right-hander feels fortunate to have avoided serious injury.
Straily threw four no-hit innings, but things got rough in the fifth inning when he was struck on his throwing arm by Evan Gattis' comeback liner. His bid to hold the Astros hitless ended with two outs when Alex Bregman doubled to left-center field.
After having the arm checked by Miami's training staff, the injury is considered a bruise. No X-rays were needed, and Straily declared to reporters: "I'll pitch in five days. I'll be fine."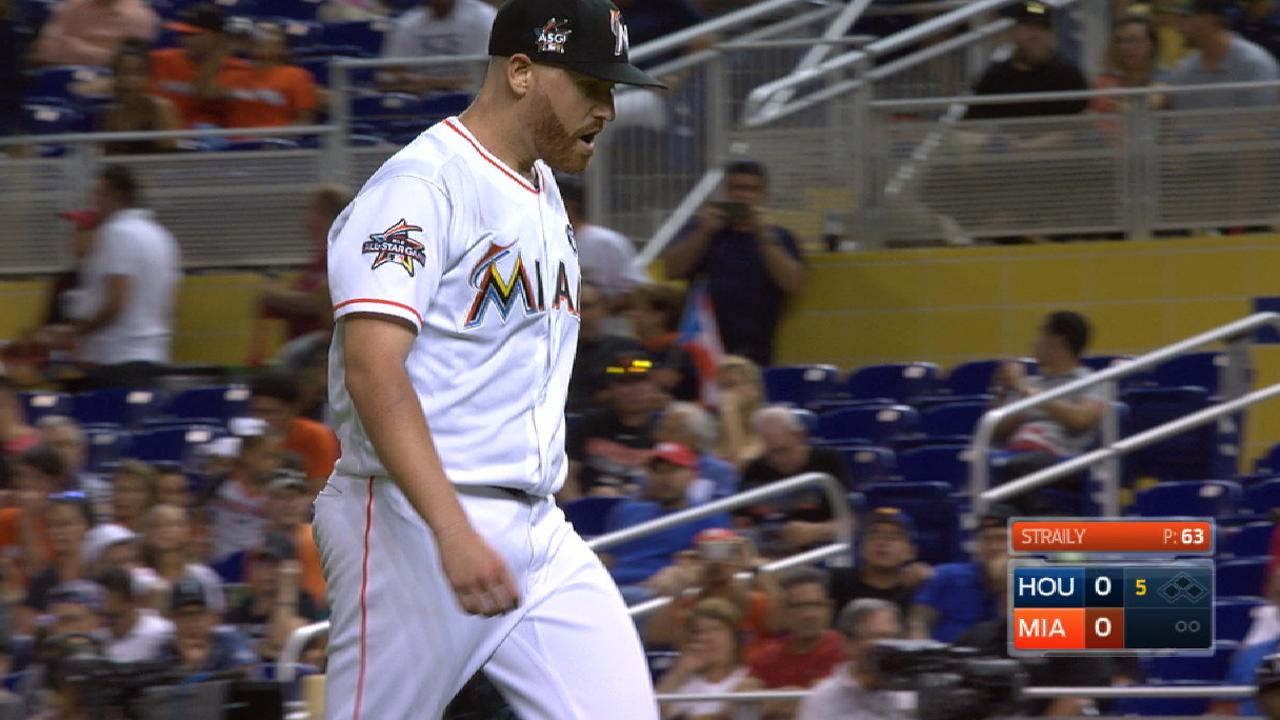 The scary moment came when Gattis led off and blistered a liner, clocked by Statcast™ at 108.3 mph, that struck Straily on the right forearm. Straily stayed on the play, and got Gattis out at first.
"It caught me right on some muscle on my forearm," Straily said. "Very fortunate that it wasn't at my face, and any bones on my arm. Pretty lucky in that regard. Hopefully, it's just a sore muscle tomorrow, and that's it. We can keep going."
Marlins manager Don Mattingly and trainer Dustin Luepker raced to the mound as Straily checked his forearm. The right-hander threw four warmup pitches and remained in the game.
"Obviously, he got hit pretty good," Mattingly said. "That thing was swelling up quick. He was moving his fingers, no damage as far as structural. He got hit pretty good."
The next batter, Yuli Gurriel lined out to deep center before Bregman delivered the Astros' first hit. Straily intentionally walked Norichika Aoki, and got out of the jam by striking out pitcher Joe Musgrove.
"There's no pain around it," Straily said. "It got pretty swollen. It looked like a baseball was inside my arm. Then everything just kind of started going down. I spent the rest of the game in [the training room] taking care of it. Hopefully, that's the end of that."
The liner by Gattis was the second-hardest-hit ball Straily has allowed this year, and it went for an out. The hardest hit off Straily this year came in his first start, a double to Bryce Harper that was 113.9 mph, at Washington on April 5.
Bregman's double had an exit velocity of 102.5 mph.
In the bottom of the fifth inning, Straily, wearing a compression sleeve, dropped down a sacrifice bunt, which set up Christian Yelich's RBI single.
"Nothing can stop that, apparently," Straily quipped, of his bunting ability.
But Straily, who threw 63 pitches, was replaced after the inning by Junichi Tazawa.
Straily has given up fewer than four hits in seven consecutive starts.
"I'm really just trying to compete with every single pitch, and not give them anything to hit," he said. "That was the most frustrating thing about the whole situation; I had to come out of that game. That's what really bothered me."
Joe Frisaro has covered the Marlins for MLB.com since 2002. Follow him on Twitter @JoeFrisaro and listen to his podcast. This story was not subject to the approval of Major League Baseball or its clubs.