White Sox want prospects to keep developing
Infante gets callup ahead of Burdi, other youngsters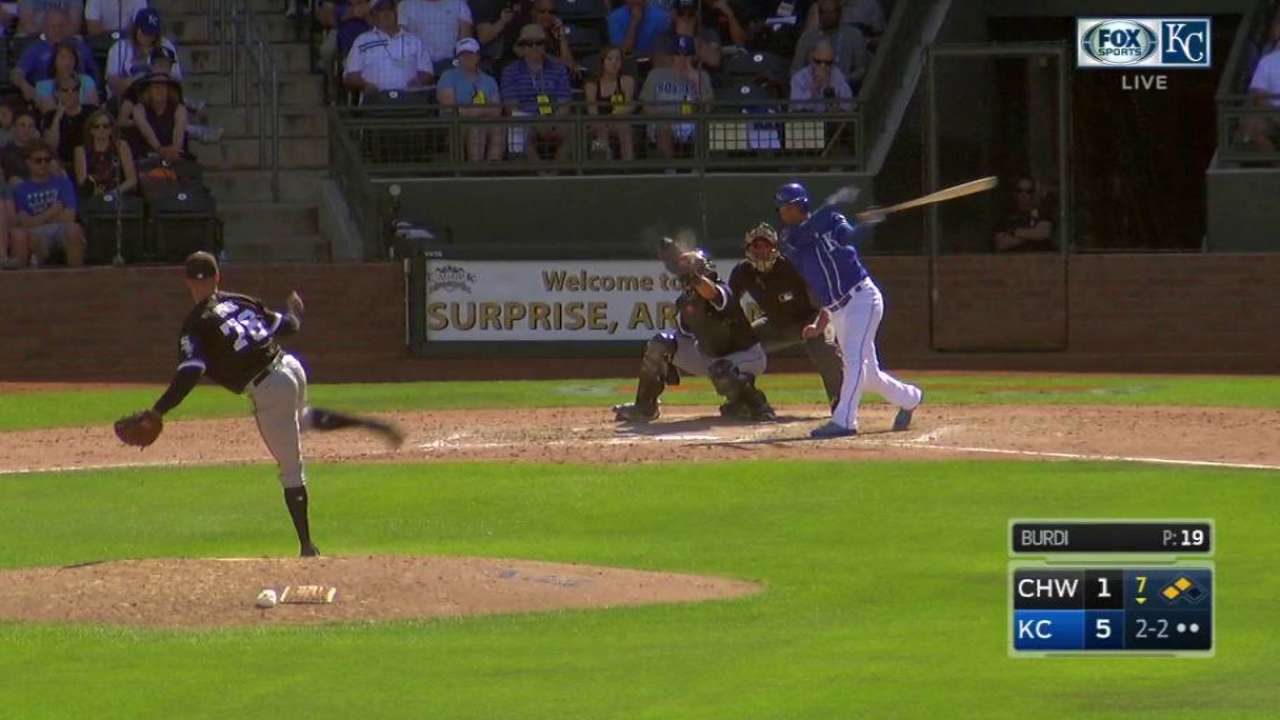 CHICAGO -- The murmurs began on social media shortly after the White Sox optioned infielder Cody Asche to Triple-A Charlotte following Sunday's win over the Padres.
Could this move mean the arrival of Yoan Moncada, the No. 1 prospect in all of baseball per MLBPipeline.com?
When the White Sox quickly advised a pitcher would be added prior to Monday night's series opener in Anaheim, the guessing switched to potential additions for right-handed hurlers Reynaldo Lopez (No. 39 prospect overall), Carson Fulmer (No. 63) or Zack Burdi (No. 7 for White Sox). Ultimately, the White Sox purchased the contract of Gregory Infante from Triple-A to fill the roster spot, a 29-year-old who had pitched well in the Minors and had a brief stint with the White Sox in '10.
Some people point to service time as an issue for the big league start with these top prospects. But as part of the ongoing rebuild, fully developing these players stands as more important than anything contractually related.
General manager Rick Hahn addressed that point during a recent conversation with MLB.com in relation to Burdi, who has 23 strikeouts and four walks over 13 2/3 innings for the Knights.
"We want him to be in a position to succeed when he gets here and not just survive," Hahn said of Burdi but also making a point applicable to all of these prospects. "His stuff is probably good enough to survive. Now we are getting close to the point where you see that level of consistency that makes you feel comfortable to give him that next challenge here up in Chicago."
A goal for the White Sox in regard to this critical mass of talent is having them stay in the Majors once they arrive. They don't want Moncada to come up for a month, not quite be ready, and then have to go back to the Minors for more seasoning.
Obviously, that callup process doesn't rank as an exact science. Aaron Rowand and Joe Crede, two accomplished Major Leaguers who made major contributions to the 2005 White Sox World Series championship, had to go back to the Minors after original big league struggles.
So while there's an overall desire for what shapes up as an exciting future to begin as soon as possible for the South Siders, the organization understands the wait should be worth it.
"You do want them to be as well-equipped as possible," Hahn said. "You make adjustments to a player's defensive approach, and you want that to become second nature at the Minor League level. When you get to the bigs, the game is a little quicker and everything moves a little faster.
"If those alterations aren't ingrained at that point, it might be a little harder to execute up at this level. You want to be as confident as you can any changes you've made have taken hold and become second nature for the player."
Scott Merkin has covered the White Sox for MLB.com since 2003. Read his blog, Merk's Works, follow him on Twitter @scottmerkin, on Facebook and listen to his podcast. This story was not subject to the approval of Major League Baseball or its clubs.