Brewers show grit despite tough loss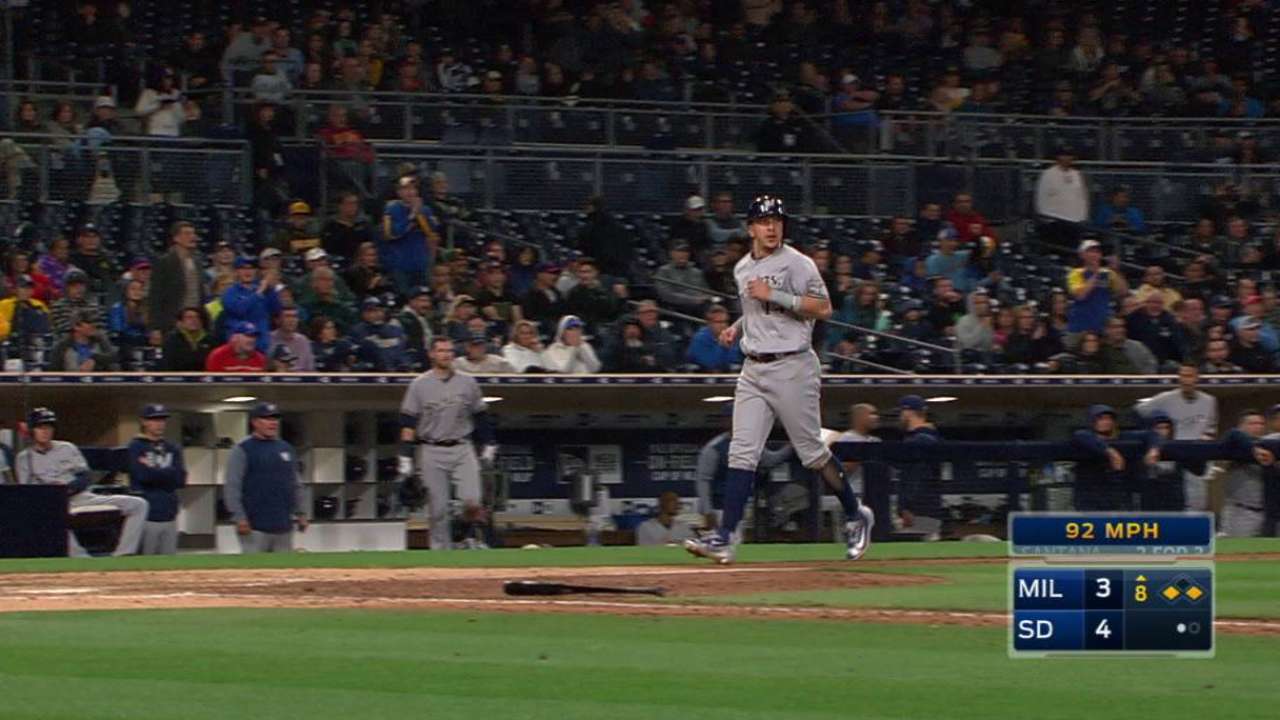 SAN DIEGO -- It wasn't quite Sunday's Miracle in Milwaukee, but the Brewers proved again on Monday there's plenty of fight in their dugout.
The Brewers fell to the Padres, 6-5, in 10 innings at Petco Park. That Milwaukee was still around in extras was nearly a victory in itself, considering it overcame deficits of 3-0, 3-2 and 4-2.
"We scrapped back, kept answering and kept coming back,'' Brewers manager Craig Counsell said.
The Brewers arrived in San Diego after sweeping the New York Mets, which included Sunday's epic rally. Milwaukee trailed by six runs before producing an 11-9 win. It was its largest come-from-behind victory since 2011.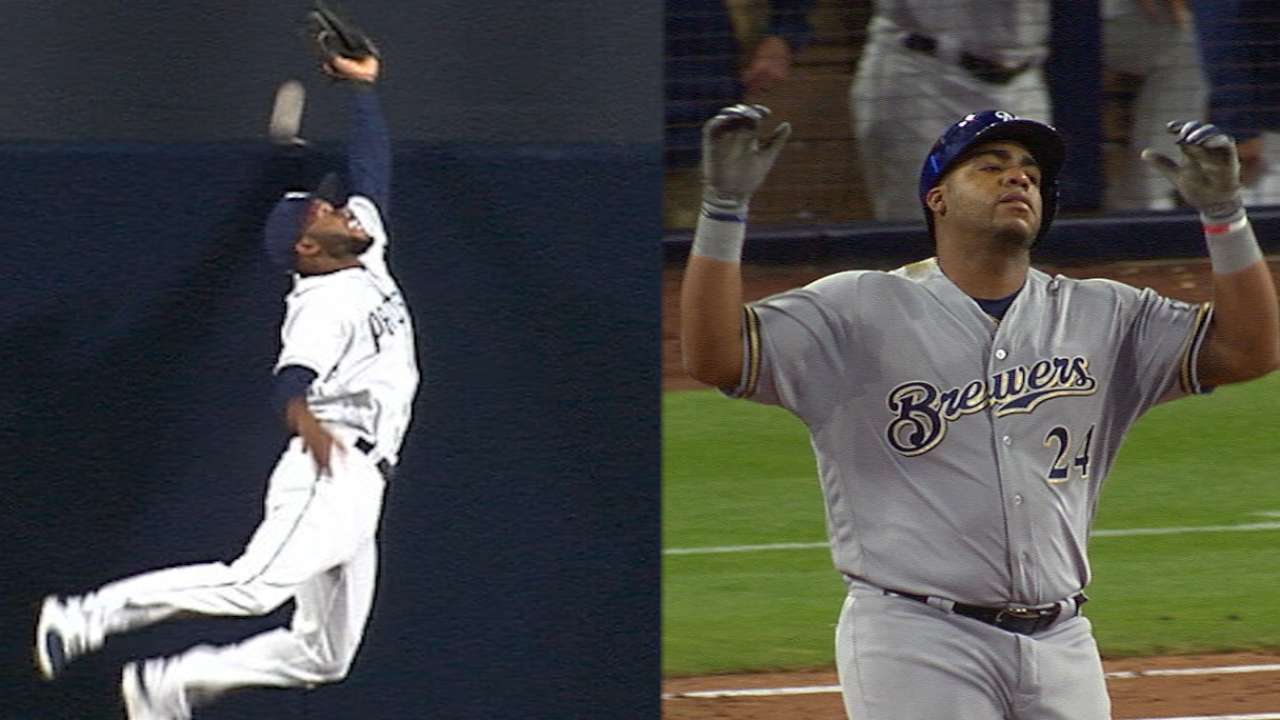 "We come to play, we battle for all 27 [outs],'' said Jesus Aguilar, who had a home run among his three hits against the Padres. "Tonight, we made a push and kept playing and playing.''
Some squandered chances in the later innings, however, will be dissected. The Brewers were handed three walks and a wild pitch in the seventh inning but came away with no runs.
"We weren't able to get a run in the seventh when we had a rally going,'' Counsell said.
Among those unable to produce was someone who was nearly the game's biggest star.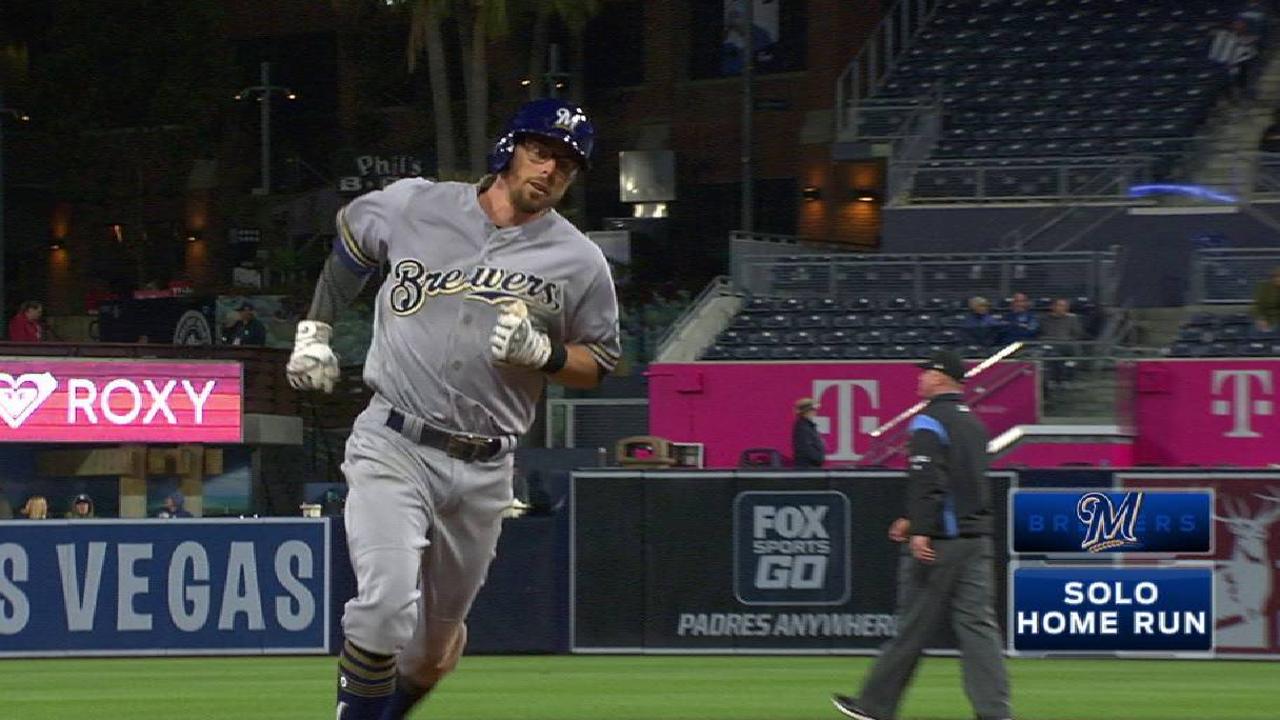 Eric Sogard, a light-hitting shortstop who was drafted by the Padres in 2007, put the Brewers ahead with his homer in the 10th inning. But Sogard also grounded out in the seventh when the Brewers were poised for a big inning.
"Those are the times we need to come through in that situation and I was one of the batters with the bases loaded and obviously didn't get the job done there,'' Sogard said. "I was happy to get it done later.''
The eighth provided a chance when Domingo Santana drove in Aguilar with a game-tying single, after Aguilar's bloop triple. But Santana was gunned down by Hunter Renfroe when trying to advance to second.
"We put some rallies together again,'' Counsell said. "Every inning but the ninth, we had something going on from the sixth on. We put pressure on them, for sure.''
The loss keeps the Brewers 1 1/2 games back of the National League Central-leading Cardinals. Milwaukee also missed out on a chance to climb five games over .500 for the first time since Sept. 20, 2014.
But even in the loss, the Brewers revealed a grit that could serve them well.
"We fight to the last out,'' said Sogard, who has hit two home runs in six at-bats since being recalled on Friday from Triple-A Colorado Springs. "I think that is going to be a big part of our success the rest of the season, because of that fight until the end. I think it is going to be exciting to watch.''
Jay Paris is a contributor to MLB.com based in San Diego who covered the Brewers on Monday. This story was not subject to the approval of Major League Baseball or its clubs.