Hedges rare power threat at catcher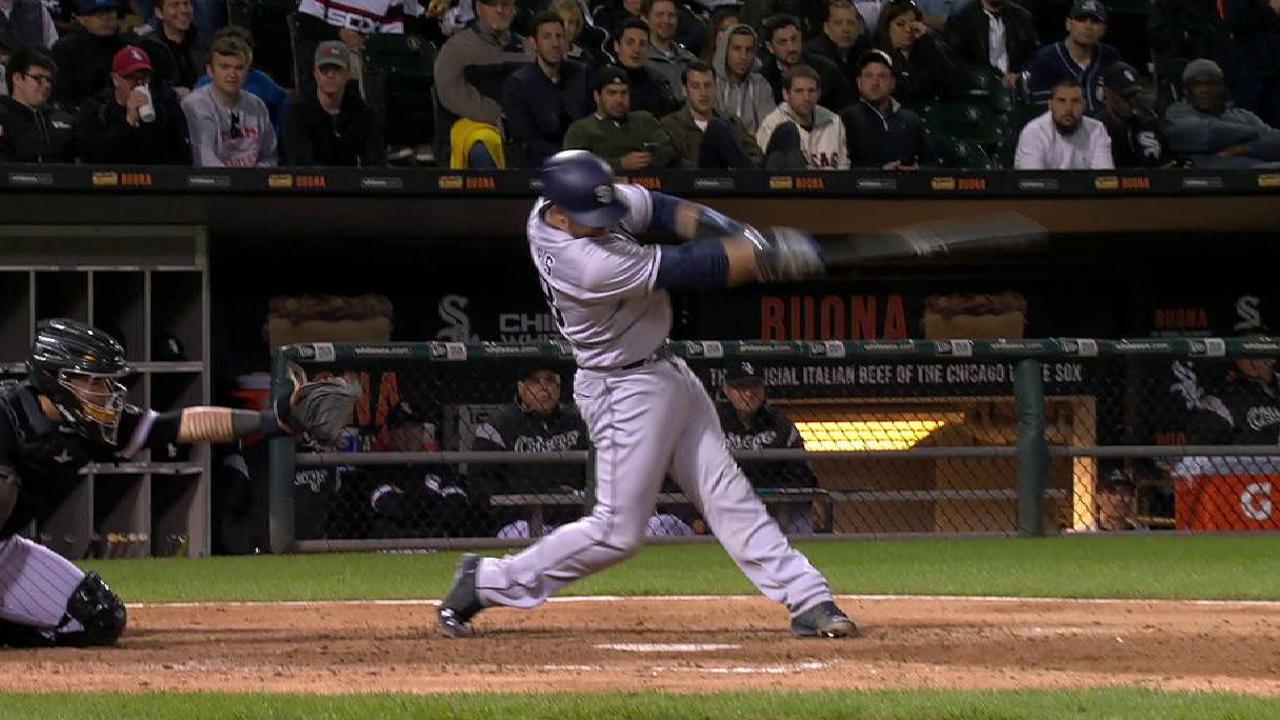 SAN DIEGO -- Nearly a quarter of the way through the season, Austin Hedges is nearly a third of the way to 25 home runs.
The Padres' catcher has long been highly regarded for his defensive tools. Anything he provided offensively -- specifically power -- was supposed to be an added bonus.
And yet, entering play Monday, Hedges led all big league catchers with eight home runs. There's obviously a long way to go, but he's on pace to become the first Padres backstop to crack the 25-home run plateau, an extremely elusive mark for catchers. (Only three have reached it in the last four seasons.)
Hedges credits an adjustment he made during Spring Training in 2016 in which he and hitting coach Alan Zinter added a leg kick to his swing. Now, Zinter and the Padres view Hedges as a legitimate power threat going forward.
"Is it sustainable? Yeah, it's sustainable, as he starts to really understand controlling his body," Zinter said. "I think the leg kick just puts him in a stronger position, sooner. It allows him to fully utilize his swing."
Said Hedges: "Going into the 2016 season, we incorporated that leg kick, and it helped me get a timing mechanism. That was the most important thing. I was putting myself in the strongest position possible -- on time. It was something I don't think I ever really did in previous seasons."
Mike Piazza owns the Padres' record for home runs by a catcher with 22 in the 2006 season. Terry Kennedy hit 21 in 1982 and Gene Tenace hit 20 in '79. No one else has reached 20.
"When his hands move in rhythm with his leg kick, he can turn anything around," said Padres manager Andy Green. "He's only going to get better because he's a cerebral kid. He's going to continue to grow because he learns. He's got high aptitude. So yeah, I could see [20-25 homer seasons] happening for him."
It's an especially impressive run for Hedges, who had never posted more than 10 homers in the Minor Leagues until he hit 21 for Triple-A El Paso last year.
Thus far, that power has continued at the Major League level.
"We did a lot of weird things in that 2016 Spring Training," Hedges said. "Some things worked, some things didn't, and ultimately I added a little bit of a leg kick. ... The power just comes from being strong. But at the plate, everyone has their own strongest position. The leg kick was a timing thing that allowed me to get to that position."
AJ Cassavell covers the Padres for MLB.com. Follow him on Twitter @ajcassavell. This story was not subject to the approval of Major League Baseball or its clubs.