CT scan shows Jankowski has fractured foot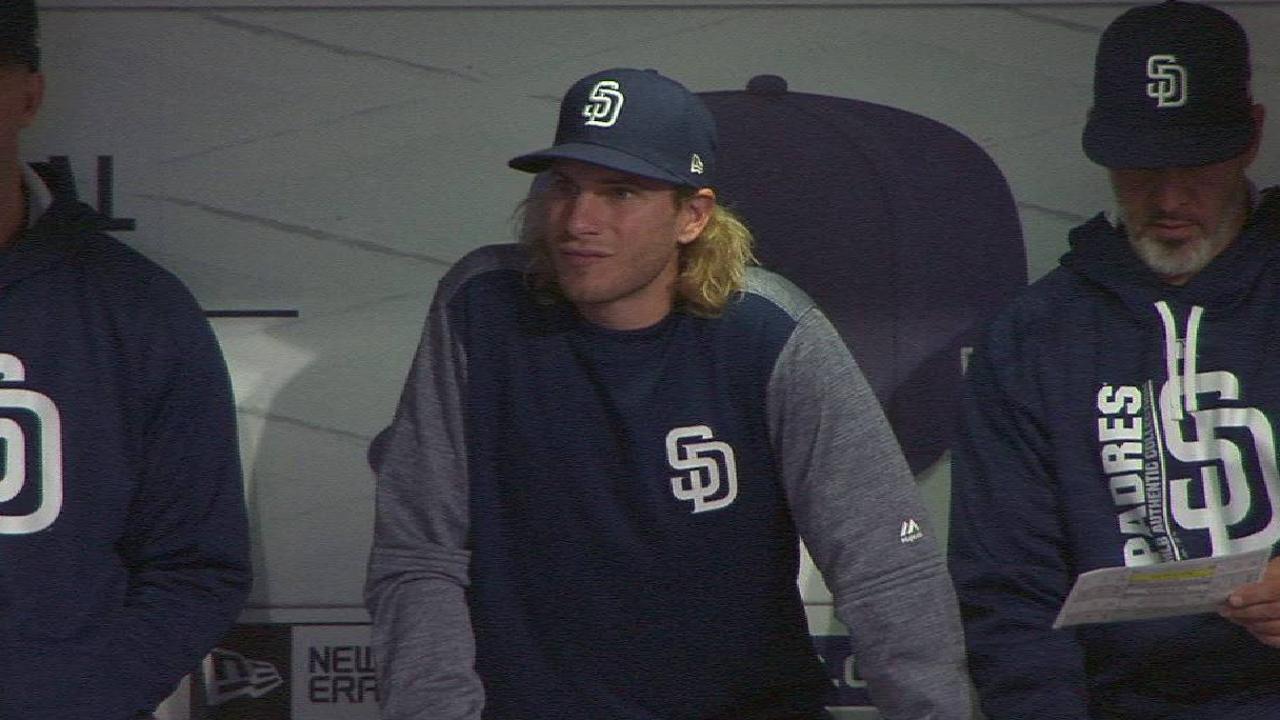 SAN DIEGO -- Padres left fielder Travis Jankowski will be out at least six more weeks after a CT scan revealed a fracture in the navicular bone in his right foot.
Jankowski sustained the injury in an April 14 game in Atlanta when he fouled a pitch off his foot. He hasn't played since April 22.
The initial CT scan last month led to some uncertainty about the extent of Jankowski's injury because of swelling in the area. The Padres shut him down anyway, and he hadn't been participating in any baseball activity.
Sure enough, Sunday's scan left no doubt of a fracture.
"Travis is, needless to say, pretty bummed by that news," said Padres manager Andy Green. "It's something that just takes time to heal. It's my understanding that bone doesn't get a lot of blood flow. With that, it doesn't heal very quickly. ... It's still going to take time, but the timeline is pushed back fairly considerably."
In 19 games this season, Jankowski was batting .160. It's safe to assume the injury played a role in those struggles, as Jankowski played seven games after he first fouled the pitch off his foot.
It's a particularly tough injury for Jankowski, who relies heavily on his speed.
"Ninety percent of his game is his ability to run and make things happen," Green said. "It's how he survives offensively and how he thrives defensively. ... It's tougher on him because of what he does. I don't know how long it takes to get him back to full stride and flying around the field."
After Jankowski sustained the injury, he saw a decline in his range, often asking center fielder Manuel Margot to shade his direction to make up for a lack of explosiveness.
Initially, however, Jankowski believed the injury to be merely a bone bruise, and he attempted to play through it.
"Mechanically, I couldn't really get on my front side to hit," Jankowski said last week. "I couldn't really get in and hit off a firm front side. Again, it's no excuse. ... It just, over time, didn't get better."
Sanchez on the mend
In more positive injury news, Padres catcher Hector Sanchez caught Jhoulys Chacin's bullpen session on Monday. It was Sanchez's first bullpen session since he sustained a right-foot contusion on May 5.
Sanchez went through the Padres' full pregame workout and is hopeful for a return in the near future -- although no timetable has been established.
AJ Cassavell covers the Padres for MLB.com. Follow him on Twitter @ajcassavell. This story was not subject to the approval of Major League Baseball or its clubs.